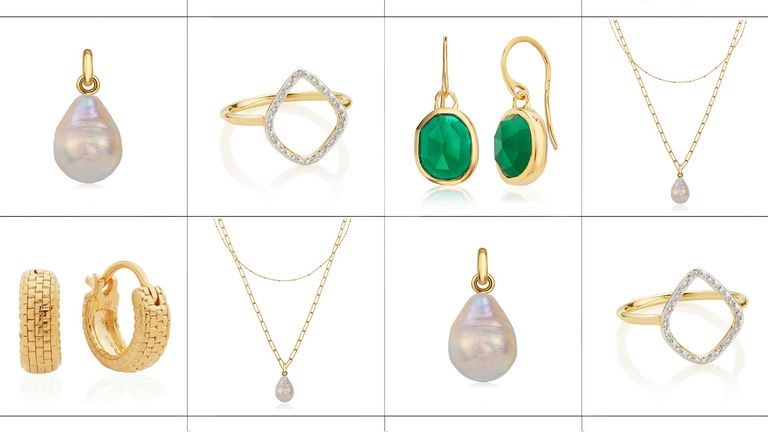 (Image credit: Monica Vinader)
By Sunil Makan
Sometimes flowers and chocolates, however lovely they are, just don't cut it. Sure, they taste and look lovely but they don't last forever. Create gift memories that last a lifetime and step up your gifting game this Mother's Day with a forever piece of jewellery by way of Monica Vinader, a British brand with offerings as stylish as they are covetable.
With a fan base that reads like a red carpet guest list: from Meghan Markle to Kerry Washington and Gwyneth Paltrow to Bella Hadid, everyone from Hollywood to models and Royalty loves their super stylish designs.
There really is something for everyone with everyday pieces that will last a lifetime, ranging from statement earrings which are the perfect finishing touch to an outfit or to necklaces that can be layered for maximum effect. We've rounded up the perfect pieces for mums that will never fail to disappoint.
For the one that keeps things classic
She likes things just-so and almost always is seen in her signature look. Keeping things classic, she favours accessories with neat and clean proportions. Her pearls are part of said signature style and for formal occasions, you can be sure that her precious stones make an appearance. The Riva Diamond Hoop ring, with its ethically sourced diamonds, is just the right amount of contemporary to keep things timeless.
For the one that is all about earrings
Some mums are all about the statement earrings and ever since seeing the Duchess of Cambridge, Kate Middleton wearing this pair she has been obsessed. The Duchess proves that these earrings are timeless having re-worn them on several occasions, and whether it's a simple white button-down shirt, floral print dress, or cashmere knit, they really do go with everything. Natural green Onyx, the May birthstone has a rich and deep emerald colour and is thought to bestow the wearer with protection.
Monica Vinader, Siren earrings
The one that loves to experiment
She's seen a few styles cropping up on Instagram and wants to get in on the action. Not afraid to try new styles and mix and match for an eclectic style that is truly her own. She's a fan of layering, so why not add something to a collection that will not only compliment her style but also enhance it. The brand has done all the hard work for you and has curated the perfect set with three pieces that sit together and compliment each other.
Monica Vinader, Alta Chains and Pearl Necklace set
The thing that you need for yourself
We're fully proficient in the art of self-gifting and it would be remiss to trawl through pages of delectable jewellery without selecting something for yourself. Huggies form the basis of any jewellery collection and go with everything. These, in collaboration with Instagram star Doina, have been updated with chunky detailing to keep things fresh.
Monica Vinader, Doina Huggie Earrings
The most popular piece
There's always one piece that manages to transcendent taste levels and one that everyone wants. For Monica Vinader, this would be The Nura Baroque Pearl, a piece so covetable, that has sold out several times throughout the year. The cultured freshwater pearls exude a natural quality and are beautiful in their irregularity.
Monica Vinader, Nura Baroque Pearl Pendant Charm
So there you have it, five pieces that will ensure smiles all round. Happy shopping.
Sunil Makan is the Deputy Editor of My Imperfect Life.
With over 12 years of publishing experience, working on print publications and their digital counterparts, national newspapers, and digital pure plays he is an Editor, Strategist, Content Producer, and Creative Director. In his most recent role, Sunil was the Associate Editor of British Marie Claire and prior to that he worked at ELLE, InStyle, Shortlist Media and freelanced at titles like Mr Porter and The Times.
Sunil's specialisms include Fashion, Beauty and Grooming, Lifestyle, and Culture. He has reported and covered fashion trends at International fashion weeks in London, Milan, and Paris, smelled and tested countless fragrances, beauty treatments, slathered on more serums, moisturizers, and masks than he cares to mention plus reviewed some of the best hotels in the world—and the worst.
Sunil has appeared on and led workshops and panels like the All-Party Parliamentary Group (APPG) for Creative Diversity roundtable, the British Fashion Council's Diversity and Inclusion Board, and Fujifilm reader events. A lover of—in no particular order—fragrance, fine wine, champagne, Dior, food, and chicken wings.