The most extra bath tray we've ever seen is now just £18.99 this Amazon Prime Day
Fancy a boujee bath? VPCOK's bath tray is what you need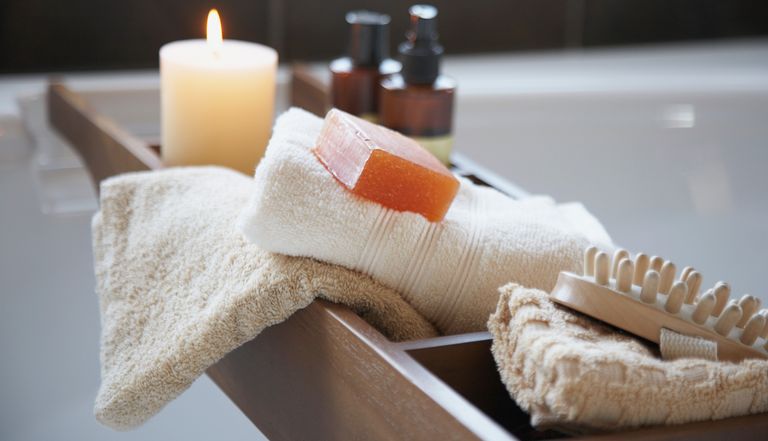 (Image credit: Getty Images)
No self care Sunday is complete without indulging in a warm, leisurely bath to make you feel nice and relaxed after a hectic week. Delicious candles lit, your favourite music playing and maybe even a cheeky glass of wine in hand - there really is no better feeling. 
But one thing that would make the whole experience more practical whilst creating a more luxury feel is of course, a bath tray. It's the ultimate bath time necessity. Where else are you going to rest your vino, or your book (or kindle) if you're a bath reader?
VPCOK Bath Tray | was £30.99, now £18.99
Made out of bamboo, the tray is not only eco-friendly but it's adjustable too and has designated spaces for your candles, electronic devices or books, glass of wine and snacks - everything you might need!View Deal
If you're in need of one or just fancy replacing your old one then now is the time to do it because Amazon is offering 39% off its VPCOK Bath Tray in celebration of Amazon Prime Day 2020. 
Yep, you can get your hands on the popular bath accessory for just £18.99, saving £12 off the original price which is £30.99.
Made out of bamboo, the tray is not only eco-friendly but it's adjustable too, expanding from 72 cm to 104 cm (27½ to 41 inches) in width. Whether your bath is placed by a wall or a corner, the tray can be adjusted making it suitable for pretty much any bath. 
It's also very sturdy, water-resistant ( of course!) and easy to clean. Plus, there is a designated area for all your needs - from your candles, electronic devices and your books, to your glass of wine and any other snacks you may want to bring in the bath with you.
So far, the bath tray has received over 200 ratings on Amazon, with the majority being five star reviews. "I'm very happy with my new bath tray," one happy customer wrote. "The material feels nice. The length is adjustable. The different compartments to place my phone, candle, tablet or even wine glass are great. I would definitely recommend."
Similarly, another customer wrote a review, saying: "Been looking for something like this for a while. It's functional and aesthetically pleasant. My bath tub is quite wide and thankfully It's adjustable and fits well. Has specific slot for drinks, candle and other bath products. Love keeping everything so organised." 
But the VPCOK bath tray isn't the only one on sale at the moment, Amazon's Multi-functional Miro Bamboo Bath Tray is also available for the slightly smaller price of £30.14, down from £37.68. So what are you waiting for? Happy shopping!