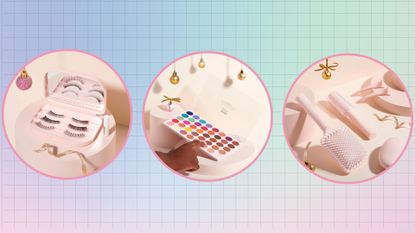 (Image credit: Future/Superdrug)
Tis' the season of slipping out of your cozy fleece and into something fabulously sequinned in order to spend quality time with the important people in your life. But with festive socializing fast filling up your calendar, you'd be forgiven for feeling a little overwhelmed as to how you'll be able to look and feel like your usual shiny self on every occasion.
Because, at the same time, there's much you'll probably be having to juggle throughout November and December—from buying the perfect gifts for loved ones to wrapping up your to-do list as Christmas Day itself approaches. As such, it would be unsurprising that, even if you've found time to treat yourself to a new stylish 'fit, you're rushing to give your look that extra sparkle.
Which is where we come in. To help you navigate the party season as sweetly and smoothly as a glass of Bailey's, we've compiled your essential beauty kit—including many budget-friendly items so you can save your pennies for the celebrations themselves with the likes of friends, family and colleagues. From jewelry to hair accessories and make-up to fake nails, you'll be certain to sleigh (sorry!) at every invitation…
These 9 items will get you Christmas party ready in no time
1. Superdrug Studio Black & White Yin Yang
If you haven't got time to head to the salon before a girly night out with friends, then these false nails in a chic black and white pattern can help rustle up an on-point manicure in a matter of minutes. Each pack features 12 different sizes to fit over your natural nail using the provided glue, manicure stick and application tool for zero stress.
2. Superdrug Studio London Colour Icon Eyeshadow Palette (40 shades)
Going from desk straight to the Christmas party? Jazz up your day-to-day make-up with a dramatic eye. This eyeshadow palette serves up 40 beautiful options so there's plenty of opportunity to get creative. All that's left to do is to choose between a smoky, colorful or shimmery look…
3. Superdrug Studio London Hair Styling Collection (5 Piece Set)
If you're keen to give your locks that extra oomph, then make sure you've—err—brushed up on all the tools you need. This matching all-pink hair styling set will not only look stunning in any bathroom or bedroom, but it works hard too for super-smooth results. There's a detangling brush to remove knots, a paddle brush for a sleek finish and a radial brush for shape, as well as sectioning clips to help you avoid any hairy encounters.
4. Superdrug Studio London Classic Brush Collection (8 Piece Set)
Talking of brushes; you'll want the best in your make-up bag too. This eight-piece brush collection will arm you in highlighting, blending, buffing and bronzing to perfection. En route to your family gathering on the bus or in the back of a car? This set—made from 100% recycled plastic—comes with its own transportable zip bag. Ready, set, go!
5. Superdrug Studio London From Day To Night Lash Set
Stand out beneath the Christmas lights—and maybe mistletoe—and get your lashes aflutter with this gorgeous set. There are three no-budge styles to choose between, so you can mix up your look all festive season long depending on the occasion. If you're taking them to apply while getting ready at a friend's house, then there's a handy storage case with a compact mirror too.
6. Superdrug Studio London Power Pout Lip Gloss Vault
If there's one time of year when you can wear your smile as beautifully reflective as tinsel, it's the festive period. This lip gloss set provides options in five classic shades so you can shimmer your way from dusk to dawn. Are you feeling red or nude tonight? They're also compact enough for the teeniest of on-trend handbags.
7. Superdrug Studio London Green Stone Double Layer Necklace
Want to add some subtle sparkle to a #friendsmas lunch? This stylish gold necklace with an emerald green pendant is an incredibly versatile piece to add glam to even the plainest of tops or dresses. It features a small lobster clasp and a 5cm extender on its 45cm chain so you can discover the most comfortable length for you.
8. Superdrug Studio London Green Jewel Earrings
Don't forget about other jewelry too—because earrings can really elevate a look, particularly if you are wrapped up warm for a trip to a winter market. These emerald hoops will have others green with envy as you sip on hot chocolate, and will go well with plenty in your winter wardrobe. What a gem!
9. Superdrug Studio London Black Crystal Embellished Clips (two pack)
Last but not least, a hair accessory can work Christmas miracles—particularly if you haven't had a moment to style your locks and should've headed out the door 15 minutes ago (we've all been there!). These crystal embellished clips are a perfect way to add some season-appropriate sparkle and get you in the cheeriest of festive moods. You're so welcome.
Want more gift inspiration? Visit our Superdrug Christmas Gift Guide
Lauren is a freelance writer and editor with more than six years of digital and magazine experience. Most recently, she has been the Acting Commissioning Editor of Women's Health—where she co-produced the Going For Goal podcast—and has previously also written news and features for titles including The Telegraph, Grazia, Stylist, Dazed, The Sun's Fabulous, Yahoo Style UK and Get The Gloss. She covers all aspects of lifestyle, specializing in health, beauty, and travel. Can't live without: oat milk lattes, new podcast episodes, long walks, and great skincare.