The best app-controlled vibrators for shared or solo play
These are our tried-and-tested picks for the best app-controlled vibrators around—great for long-distance fun with your beau!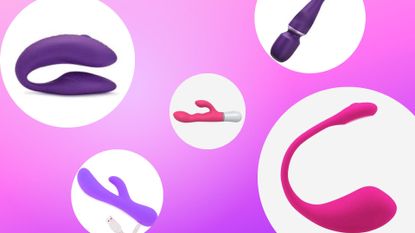 (Image credit: Amazon; We-Vibe)
After much trying and testing, buying and buzzing—hey, somebody's gotta do it—we've finally landed on the best app-controlled vibrators around, for use solo or with a partner. Especially great if long-distance romancing is getting you down, these selects can help bring you closer on those all-important FaceTime calls, or just make your own experiences more pleasurable.
App-controlled vibrators are some of the best sex toys out there, proving just how good investing in one can be. If you're using yours with a partner, you can connect to your hands-free vibrators via their corresponding apps and give your beau access to control them from a distance. While this is also possible with remote controls, using an app means the connection range is unlimited, so that you can almost forget about the distance between you.

Online adult stores like Australia's The Hot Spot (opens in new tab) reported a 230% increase in long-distance relationship (LDR) sex toys during the pandemic, per a press release (opens in new tab). Orders for LDR toys "more than doubled over the period from June to September" in 2020, said Justin Easty, manager of The Hot Spot.
To give you a truthful picture of the genuinely amazing picks, we gave ourselves the oh-so-hard job of taking these saucy gadgets for an IRL test drive. Our pick for the most orgasmic vibrator is hands down the Lovense Nora. It has all of the features you need, like a multi-speed rotating head and an app that works without a glitch.
For a more in-depth look at the very best app-controlled vibrators, here's our writer's detailed breakdown of the top models on the market.
How we tested the best app-controlled vibrators:
On our arduous search to find the best app-controlled vibrators, we did the difficult work of testing them all personally (tough job). When doing so, we tried each product twice: once solo, using the app to control the vibrator for ourselves, and once with a partner located several miles away. This meant we could try out not only the vibrators themselves but also different aspects of the apps, such as Bluetooth connection, long-distance connection and video calling.
During our tests, we assessed the following:
Vibrator strength
Vibrator form
Available vibration patterns
App connection
User-friendliness
Price point
The vibrators we tested were a mix of new products and older favorites from brands known for their teledildonic prowess.
Best app-controlled vibrators to add to your sex life
The best app-controlled vibrator overall
Specifications
Power source: Rechargeable
Material: High-quality silicone (main part) and medical grade ABS plastic (handle)
Wearable?: No
Reasons to buy
+
Flexible vibrating arm
+
Multi-speed rotating head
+
Well-functioning app
+
Pairs with male sex toy
Reasons to avoid
-
Vibrations less powerful in shaft
-
Can be noisy
From our experience of the different types of vibrators, you're pretty much guaranteed a powerful orgasm every time you use one of these rabbit-style app-controlled vibrators. The first time we tested it out, we came faster than ever before. Pleasure possessed our body like a sexy poltergeist and we were no longer in control of our senses. Once you've got the hang of it, however, you can stretch out your enjoyment by starting out soft and slow with the lower settings.
Nora's success is down to a combination of its undulating shaft shape, the multi-speed rotating head on its long arm, which brushes against your G-spot as it spins, and the powerful vibrating smaller arm, which sits right on your clitoris. The latter two features can be controlled separately using buttons on the handle or through the app.
We found the Lovense app to be flawless. The connection is strong and the control board is very responsive, so you feel exactly what your partner wants you to feel when they want you to feel it. What's even better is the fact that Nora can be paired with Lovense's male masturbator Max 2, so if your partner has a penis you can sync up your toys—when you move yours, the other reacts—and have an interactive experience.
2. We-Vibe Wand
The best premium app-controlled vibrator
Specifications
Power source: Rechargeable
Material: High-quality silicone
Wearable?: No
Reasons to buy
+
Powerful
+
Feels good all over the body
+
Vibrations only on skin contact
Reasons to avoid
-
Not precise stimulation
-
Loud
If you're someone who prefers to focus on clitoral stimulation to orgasm, the We-Vibe is an excellent choice of app-controlled vibrators. It's a large device that looks almost like a microphone, with a long handle and a sizeable vibrating head. Cycle through the vibrations (a steady speed and nine patterns) with a button, and increase or reduce the power of each setting with a useful joystick.
The Wand also comes with two head attachments—a penis stroker and a spring-like circle for fluttery stimulation—which can be added onto the head and used to add extra sensations. We felt that the wand alone was more effective than with these, however.
One of our favorite things about this vibe is that it cleverly only vibrates when it's touching skin, so if you suddenly need it to be silent you just move it away from your body.
In terms of the app, we thought We-Connect was easy to use, but the pairing can be slightly temperamental.
The best budget app-controlled vibrator
Specifications
Power source: Rechargeable
Material: High-quality silicone
Wearable?: Yes
Reasons to buy
+
Powerful vibrations
+
Well-functioning app
+
Wearable
Reasons to avoid
-
Not great for clitoral stimulation
-
The antenna can stick out
The Lovense Lush 2 love egg-style vibrator is an upgrade of the original Lush, improved based on user feedback. Its bulbous end hits the G-spot perfectly, while its strong vibrations spread across the entire vagina. The flexible antenna sits outside you searching for a Bluetooth connection, but if you're not using the app it can also be used to control the vibrator both manually (moving it in and out and shaking it all about) and with the control button on the tip. The motor, which is located on the larger end of the vibrator, is extremely powerful for such a small device.
Lush 2's design, excellent Bluetooth connectivity (a result of the upgrade), a well-functioning app (the same one Nora uses), and quiet-ish sound make it a great toy for those wanting to wear one out in public. The vibrator's curved shape means it can stay inside the wearer discreetly, though we did find that the willful antenna can break free from your pants and start to stick out in a bemusing manner, so be careful with your outfit choice if donning it out.
The only downside is that you don't get any clitoral stimulation from this toy unless you take it out and use it externally. If you need dual stimulation to climax then you have to rub your clit yourself or use an extra toy, which seems like a "too many cocks," sorry, "cooks" situation.
Read our full Lovense Lush 2 review
The best app-controlled vibrator for couple play
Specifications
Power source: Rechargeable
Material: High-quality silicone
Wearable?: Yes
Reasons to buy
+
Adjustable
+
Powerful vibrations
+
Wearable
+
Enjoyable for both during PIV sex
Reasons to avoid
-
Too loud to use in public
-
App is glitchy
Unlike the other products we've mentioned, the We-Vibe Chorus (the upgrade of the We-Vibe Sync) is an app-controlled vibrator that's designed for when you and your partner are in the room together. Of course, thanks to the app it can still be used for long-distance play and does the job nicely, but its c-shaped design lends itself to being used during penetrative, penis-in-vagina sex.
The thicker arm lays against your clit, while the thinner one bends round and slips inside your vagina. Both arms vibrate and have ribbed inner surfaces, while the other side remains smooth for the penis to slide against. This design means there are added sensations for all involved that will bring you to an incredible orgasm, and are to leave your legs shaking afterward.
The vibrator comes with remote control, which can be used to change the vibrations but is also the middleman in the connection between the vibrator and the We-Connect app. It's supposed to aid Bluetooth connectivity, which it does to an extent, but we found the external anchor rather unreliable when it came to pairing the devices. The app itself works well. You can slide between pre-created settings just using your thumb, and even create your own to add to the mix.
Read our full We-Vibe Chorus review
5. Vibease Esthesia
The best quiet app-controlled vibrator
Specifications
Power source: Rechargeable
Material: high-quality silicone
Wearable?: No
Reasons to buy
+
Quiet
+
Syncs with erotic audio books
Reasons to avoid
-
Slightly glitchy app
-
Can't control motors separately
Made from silky smooth silicone, the Esthesia's curved shape allows you to easily hit your G-spot with the longer arm, while the shorter one sits right on your clit. It's quite a rigid choice for app-controlled vibrators, which might not be to everyone's taste, but we found it helped with applying enough pressure on our G-spot and achieving a blended orgasm.
There's no thrusting or spinning head on this device, so you have to (quite literally) take matters into your own hands if you need this motion to reach orgasm. The strong, rumbly vibrations that spread throughout your entire pelvic area were enough for us, however. Despite these, the vibe is extremely quiet, so you won't need to be embarrassed by the sound emanating from your bedroom—unless your moans carry.
Vibease Chat (the name of the app compatible with the Esthesia) is quite easy to use, allowing you or your partner to control the vibe just by running your finger around the screen. Unfortunately, when trying out the app for some long-distance sexytimes, we had trouble with the video chat aspect of the app. Turning to Whatsapp video instead meant that the vibrator frustratingly disconnected after a minute or so. We haven't heard of anyone else having this problem, though, so it's likely that it's not a common issue.
One of the special features of the app is that it connects with music and erotic audiobooks, vibrating with the beat and speech patterns—particularly fun when playing solo.
And if you're torn between the Lovense Nora vs Vibease Esthesia, we'll break down which app-controlled vibrator is better for you.
Why are app-controlled vibrators becoming more popular?
According to Dan Liu, CEO of smart sex-toy company Lovense, the appetite for app-controlled vibrators has been steadily increasing over the years thanks to the de-stigmatization of sex toys in general, with a sharper rise over the past year owing to COVID-19 being one of the biggest collective cock blocks in recent history.
"The lockdown surely accelerated the spread of sex toys and made them more popular among a mainstream audience," Lui tells My Imperfect Life. "We've noticed a growing adoption of smart toys due to the COVID-19 isolations and we expect that the need for sex tech will continue to grow."