How to build a capsule wardrobe in 2023 that works across all of the seasons
Your guide to building a capsule wardrobe for 2023 will make dressing fun and easy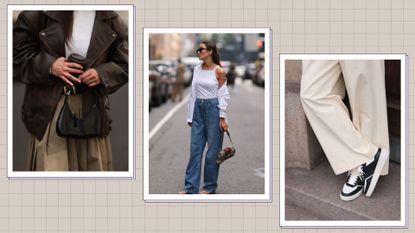 (Image credit: Getty Images)
Creating a capsule wardrobe is a brilliant way to avoid dressing indecision and can make dressing for any event easy, efficient and so much more fun. You'll never feel like you have nothing to wear again and you'll get more wear out of each item you own—win-win.
Creating a capsule wardrobe is all about finding pieces you love that you can wear together in different combinations on rotation and for different seasons. You'll have an array of outfits at your disposal, with minimal effort required on your part. Think slipping on a roomy midi skirt with cosy knit and boots for fall, or pairing your favorite summer midi dress with a classic pair of flats or sandals on warmer days.
Whatever you wear, it's important that it suits you and your lifestyle. We all know that an on-trend outfit that feels comfortable has the power to massively boost our mood, sour team of expert fashion editors has broken down exactly how to create a capsule wardrobe in 2023 to make this your most stylish year yet.
Meet the experts in creating a capsule wardrobe
Karen Williams is an expert celebrity stylist who has dressed big names like Beyoncé and David Beckham, and has had her own make-under show on Netflix. She's advised readers on how to style some of the key pieces in a capsule wardrobe.
Ashley Burghardt is the UK Styling Director for personal styling service Stitch Fix, and has shared some top tips for building a capsule wardrobe.
Harriet Saywood-Bellisario is the founder of slow fashion brand Saywood. She has also given My Imperfect Life readers advice on building that coveted capsule wardrobe for summer.
What is a capsule wardrobe?
The term capsule wardrobe was coined in London in the 1970s by wardrobe consultant and author Susie Furst. However, Business of Fashion reports that it was brought to the masses when Donna Karan made the idea of condensing closets popular.
A capsule wardrobe is essentially a curated selection of pieces that, fundamentally, all complement each other and that can be put combined to create lots of different outfits. It's the practice of editing down your wardrobe to your most-loved pieces only and wearing them in several different ways.
What are the benefits of having a capsule wardrobe?
There are many benefits to having a capsule wardrobe:
You'll spend less on clothes: If you have go-to options for every eventuality, you're much less likely to panic-buy that ASOS purchase right before a big event.
It'll take significantly less time to get dressed: A capsule wardrobe means you have stylish options whatever you're dressing for, so you can find an outfit much faster than if you had to sift through racks of clothes. And, less clothes means your wardrobe will also be much less cluttered.
Better for the environment: A considered wardrobe means you're far less likely to buy new or throw away any items, unless they really no longer match your personal style. This is much more sustainable, and the antithesis of fast fashion.
Shop our capsule wardrobe edit
We've curated our favorite stylish picks to add to your capsule wardrobe...
1. White t-shirt
Basic jersey tops can work with any number of outfits, and a white t-shirt really is a capsule wardrobe must-have. They can be styled with almost anything, be it a pair of trousers, a blazer or a midi skirt.
Plus, they can be dressed up or down too, meaning they work whether you're heading into the office or out for brunch. Everlane, Levi's and H&M are great places to find well-cut white tees.
Wear with: Trousers, jeans, midi skirt, jackets
Mango Rounded Neck Cotton T-shirt
RRP: $25.99 | Size range: XXS-4XL
A classic high-necked silhouette that suits pretty much anyone, this would look great when tucked into a pair of classic blue jeans.
Everlane The Organic Cotton Box-Cut Tee
RRP: $30 | Size range: XXS–XXXL
A versatile design in organic cotton that's available with and without pocket detailing.
2. Lightweight shirt
Shirts are great for all-year round—to wear with trousers and a knit in the winter or for layering over a slip dress or tank top and midi skirt in the summer.
Neutral colors will, of course, serve you well, but don't feel obliged to play it safe—bright hues will make a big impact and are an easy way to add a pop of color to an otherwise neutral outfit.
Arket Linen Shirt in White
RRP: $69 | Size range: 34–44
Linen is the ultimate summer fabric, and this shirt will layer well. It's available in everything from classic white or blue and white stripes to pink or neon yellow.
Wear with: Midi skirt, wide leg trousers, slip dress
Mango Oversize Striped Shirt
RRP: $59.99 | Size range: US 0–10
Striped shirts will never go out of style, and this Mango number is a classic. Throw it on with some wide leg trousers and granddad sandals for the ultimate off-duty look.
Wear with: Midi skirt, wide leg trousers, over a co-ord
Miss Selfridge Oversized Poplin Shirt in Dark Pink
RRP: $42 | Size range: US 0–14
Neutral shirts lend themselves well to the capsule wardrobe life, but having a bold option to inject color is also important. And who are we to argue with the Barbiecore trend...
Wear with: Midi dress, shorts, blue jeans
3. A midi skirt
Midi skirts are great for dressing up an outfit in the colder months—wear with boots and tights and your go-to top or sweater. A great and easy way to add some color into your outfit—hello dopamine dressing—midi skirts can be paired with almost anything.
Whatever your style, there's a midi skirt option for you. Some of our favorite designs include the following:
An elegant satin midi skirt that's perfect for work or play
A pleated or floaty midi skirt you can dress up or down
A pencil skirt, for those who need to dress smarter for work
Never Fully Dressed Jaspre Wrap Skirt
RRP: $88.50 | Size range: S–XL
Leopard print is reliable and fun, and this comfortable skirt fits with so many different pieces that it's a reliable number for all seasons.
Wear with: T-shirt, lightweight jumper, ribbed vest
Topshop Satin Bias Midi Skirt in Black
RRP: $62 | Size range: US 0-14
The black slip skirt lends itself to pretty much any occasion, from workwear to an evening dinner and drinks situ.
Wear with: Lightweight jumper, T-shirt
4. Classic jeans
No wardrobe (capsule or otherwise) is complete without a classic pair of jeans. They'll go with just about anything else you own, so they're a versatile basic you won't want to forego. Decide, based on your personal style, which cut of jeans you like best.
Flattering high waist jeans that suit everyone
Mid-rise 90s-style jeans (bang on-trend right now)
Relaxed 'mom' jeans that are ideal for weekend outings
Straight-leg jeans for more formal days/events
Skinny jeans have fallen a bit in the style stakes recently in favor of looser cuts, but your capsule wardrobe is yours; if they're still your chosen fit, go for it!
Make sure you have at least two pairs of jeans to hand, and decide on the wash you prefer too—do you lean more towards a dark or a light denim?
Wear with: T-shirts, jumpers, shirts, blouses, tank tops—anything goes!
Mango High Waist Straight Jeans
RRP: $69.99 | Size range: US 1–22
An on-trend straight leg cut with frayed hems, available in black and three shades of blue.
Topshop Hourglass Mom Jeans in Washed Black
RRP: $66 | Size range: W24–36, L30–34
You can't go wrong with a pair of comfy mom jeans, which are easy to dress up or wear on casual occasions.
5. Tailored trousers
Tailored trousers are ideal for those days when you have to go out to work but you can't deal with a skirt or dress and just want something comfy, warm and easy.
Wider, looser trouser styles have made a firm comeback, so they would make great options, while white jeans and cropped trousers are firm favorites for more casual looks—even in the winter months.
Again, opt for a pair in a neutral block color to ensure they'll go with any dress, jumper, or tee in your wardrobe. Worried a wider fit will look oversized? Pair them with a more fitted top and belt them at the waist.
Topshop Tailored Co-ord Peg Leg Linen-Blend Trouser in Stone
RRP: $65 | Size range: US 0–14
A slightly slouchy pair of tailored trousers is the ultimate off-duty vibe.
Wear with: Linen shirt, T-shirt, ribbed vest
Mango Flared Tailored Trousers
RRP: $49.99 | Size range: XXS–XXL
Flares are officially back thanks to this season's 70s resurgence, and this pair will go with just about anything.
Wear with: Blazers, shirts, blouses
6. A midi dress
We've had midi skirts, now, it's the turn of midi dresses—not just one of the best summer dresses around but perfect for winter too.
Midi dresses are incredibly versatile and can work just as well in the office as they would for dinner with friends. Williams tells us: "I love a dress as they can be layered and styled differently, but ultimately they are one-stop shops—and we all want easy!"
Simply swap out your shoes and jackets to dress the style up or down. And if you're wondering about the best style for work? Look to wrap dresses. Not only can they be worn loosely if desired, but they also look cool layered over t-shirts, thin knits, or even over tapered trousers for a fresh take.
ASOS Design Scoop Neck Midi Satin Slip Dress
RRP: $40 | Size range: US 0–14
A classic slip dress lends itself well to many, many occasions, and this ASOS number is very reasonably priced.
Wear with: Oversized blazer, knitwear
RRP: $129 | Size range: US 0–12
A gorgeous puff sleeve midi dress with slit detailing, this & Other Stories number is available in six different floral prints—but we love this spring-ready blue.
Wear with: Tailored coat, overshirt
7. A stylish blazer
Every wardrobe should feature at least one blazer, but they needn't be sharply cut or made from rigid fabrics. Instead, look for fluid styles that will elevate all your attire to chic new heights.
Good staple colors to have to hand are a neutral beige or black—but any color will work depending on the rest of your existing wardrobe. A blazer is incredibly versatile. Williams said, "A blazer, depending on the cut and fabric, is timeless and versatile—styled correctly you can wear it all year round."
Top tip: look to the menswear section and size up for the cool-girl insouciance
Zara Oversize Double-Breasted Blazer
RRP: $69.90 | Size range: XS–XL
You can't go wrong with a double-breasted style—and this Zara number is available in khaki, ecru, black, and more.
Wear with: Midi dress, T-shirt, jeans, midi skirt
Mango 100% Linen Suit Blazer
RRP: $129.99 | Size range: XXS–XXL
Light neutrals are ideal for a Quiet Luxury look, and this blazer would work thrown over just about any 'fit.
Wear with: Midi dress, T-shirt and jeans
8. Elegant flats
If you're generally on your feet for a lot of the day, a pair of heels just isn't practical, making a pair of elegant flats the perfect solution.
A pointed toe never fails to look fancy, and a flat sole makes them almost as comfortable as your trusty Uggs. Again, it's probably best to opt for neutral colors when it comes to your shoes, so you can play more with color in the rest of your outfit.
ASOS Design Luna Pointed Ballet Mules
RRP: $23 | Size range: US 4–13
A pointed toe can elevate a pair of jeans and makes a chic partner to a midi skirt or dress.
OFFICE Faroe Pointed Sling Back Ballet Flats
RRP: $44 | Size range: US 5–11
Black flats can work on just about any occasion, and we love this sling-back, low-heel design.
9. Smart sneakers
Fun fact: it was recently revealed that there are now more women purchasing sneakers than men. With comfort firmly on the list of requirements, no capsule wardrobe is complete without the addition of a stylish pair of sneakers.
You still need to keep things looking smart though, so no tatty running trainers here please—we're talking sneakers that stay well in the fashion lane. Good options include:
A classic pair of white kicks that go with anything—think sustainable Veja's, Vans, or Superga shoes
An on-trend chunky trainer, such as the Eytys Angel's
Something casual like the noughties fave Converse
A minimalist sports shoe such as Adidas' Stan Smiths
Converse Chuck 70 Hi Canvas Sneakers in Black
RRP: $85 | Size range: US 5.5–15
The iconic hi-tops in either black or white can add a cool vibe to a midi dress or skirt and blazer, or work with jeans for an off-duty vibe.
Adidas Originals Stan Smiths
RRP: $100 | Size range: US 5–11
Stan Smiths are a reliable classic. There are several options to choose from when it comes to the color detailing, but the most popular are probably the green and navy options.
10. Timeless, stylish jewelry
Never underestimate the way that well-chosen jewelry—especially from sustainable jewelry brands—can enhance both your outfit and your mood. A pair of simple gold hoop earrings can make you feel more in control (it works for Alexandria Ocasio-Cortez, after all). A chain necklace is also ideal for dressing up your more simple basics, and for injecting a bit of your sartorial personality into your outfits.
A pair of the best huggie earrings—whether gold ones or silver huggie earrings to suit your style—are great for wearing everyday. Choose something from one of our best affordable jewelry brands if you're on a budget.
Mejuri Croissant Dome Ring
RRP: $78 | Size range: 3–10 | Finishes: Gold, silver
Available in both gold and silver, this ring manages to balance being both understated and chic and kind of a statement piece.
Astrid & Miyu Snake Chain
RRP: $110 | Finishes: Gold, silver
A style that layers well with other necklaces, a snake chain is a staple piece in any jewelry collection.
11. A 'goes-with-everything' bag
Whether you're dressing for style or practicality (or both), a bag that will match with most—if not all—of your other wardrobe essentials is vital. Adding a bag is a small detail that'll make your outfits feel more pulled together and considered, and of course, they can obviously be helpful if you're on the go all day. Consider whether you need:
An oversized tote, for storing plenty of items
A fun cross-body bag, for storage on-the-go
A clutch for professional and social events
A backpack for laid-back chic
A glitzy party bag for events
It's important to consider your lifestyle with this one—for example, don't gather up a load of clutch bags if you never attend events that warrant one. Choose the chicest and most practical options for you, and make sure you have at least two or three go-tos in your closet.
ZARA Minimalist Shoulder Bag
RRP: $39.90
90s shoulder bags are all the rage right now, and that trend isn't slowing down in 2023. Choose from black, brown, light blue, or silver.
ASOS Design Suede Tote Bag with Tie Detail in Grey
RRP: $64
Slouchy shoulder bags always get a yes from us, and this suede number from ASOS won't break the bank.
---
How to create a capsule wardrobe in 2023
The last decade has seen a lot of change in the fashion industry as online shopping allowed us to consume faster and in bigger quantities, making it easier to shop each and every trend that pops up throughout the year.
But while noughties technology took us to the peak of consumerism, the sustainable movement of the last few years has seen many of us try to be more mindful of the earth and make an effort to live more sustainably each day. So many of us are going from shopping every single seasonal trend and adding each little deal we see to our ASOS bag to trying to live more minimalistically for the environment and decluttering our minds and spaces.
Creating a capsule wardrobe in 2023 is all about curating a collection of evergreen staples that can last throughout the year (and for years to come), while peppering it with more seasonal essentials like sandals or winter coats. While there are no hard and fast rules, we have a few helpful tips on building the best capsule wardrobe for you. Overall, it's more about personal style than it is about fashion trends. Your closet should help you feel confident and ready to face the day.
1. Invest in good quality basics
Spending a little more money on good quality and minimal basics can ensure that they last for years and that they work with a number of different looks.
2. Consider your everyday activities
"To build a capsule wardrobe, you have really look at what you do in your life, and focus on a collection for your main activities—otherwise you have a pieces in your wardrobe which will never get worn," says Karen Williams, an expert stylist seen on ITV's This Morning. So for example, do you spend 80% of your time in the office, and the other 20% relaxing at home? If so, be honest with yourself and ditch most of those fancy wear-once party outfits—you just don't need them.
3. Choose trends carefully
Of course it's fun to follow trends but it's not always necessary to shop them all. If a trend pops up that seems relatively evergreen and can be worn in a number of different ways—like high-waisted trousers—then go for it. But something like cut-out dresses is probably one that won't last, so better left out of your capsule wardrobe.
MIL's step-by-step guide to creating a capsule wardrobe
1. Practice dressing from a capsule wardrobe
Practice dressing from a capsule wardrobe by picking out 10 pieces of staple clothing and then make up different outfits for the upcoming week from just those 10 pieces. Just remember to check the upcoming weather conditions first!
2. Have a clear out
A clear out of your wardrobe is essential. We'd recommend starting with chucking out anything that you haven't worn for the last year and then going from there. Try on all of your clothes and anything that doesn't fit or that you're unsure of, get rid of. Ensure that you love every piece in your wardrobe.
Try to make your clear out more sustainable too and ensure that things don't end up in landfill by giving away your pieces to friends and family who would wear them, finding a charitable donation bank or even upcycling them to sell or regift. Our guide on how to declutter responsibly has a wealth of suggestions for where you can donate and recycle.
3. Plan what you want to include in your capsule wardrobe
Make a plan of what you want your capsule wardrobe to include. We've made some suggestions in our list, but all those pieces might not be necessary for everybody.
You don't need to stick to a number, but around 37 items is a popular choice—the idea is to have 37 items in your closet which you'll wear for the next three months. In this period, you won't shop for new clothes until the last two weeks of the season. This is when you'll plan for the next capsule.
4. Identify your wardrobe gaps
Having a capsule wardrobe is about being sustainable and living with less rather than more, so it would be counter-intuitive to just head out on a big shopping spree of everything you want to include.
Stitch Fix's UK Styling Director, Ashley Burghardt, advises, "First, locate the items you love and wear the most and remove all of the unworn pieces. You'll immediately have a clear idea of what may be missing." For example, do you have tons of jeans, but very few dresses for the winter months?
5. Shop slowly
Don't buy everything in one go. Take your time to consider what pieces you really want to buy and only make a purchase if, one—it ticks off a box for something that you wanted to include in your capsule wardrobe curation, and two—it's something that you absolutely love and will be able to wear in a multitude of ways.
Choose quality items that work for you, not that follow trends—Harriet Saywood-Bellisario, founder of slow fashion brand Saywood, says, "Timelessness is different for everyone; we are not talking about trend pieces. Try things on, find what fits you best, what works for your body shape, and look for good quality fabrics that will last. You want these pieces to be versatile; pieces that will work with multiple items in your wardrobe, outfits and occasions.
Saywood-Bellisario also suggests taking time to experiment— playing about with your capsule wardrobe initially, to see what works. She said, "Take some time to try on your wardrobe, testing different pieces with each other. See what works for you and what brings you joy—because that's what will radiate each day.
There you have it—choose the items in your capsule wardrobe carefully, remembering that the selection should be as slim as possible. If you can't quickly pair something with other items on the list, it probably doesn't belong there.
You'll likely have a lot of trial and error when building your capsule wardrobe, but don't panic; keep it simple and enjoy the process without being too hard on yourself!
Today's best deals on our capsule wardrobe recommendations
sub-category
Brand
Colour
Gender
Price
Refine ☵
Sort By
Freelance style editor and writer. Editor at Hood Magazine and Contributing Editor for Who What Wear UK.