Capsule wardrobe 2021: these 11 pieces will ensure that you look stylish WFH or in an office
The rules of dressing changed this year, so we've come up with the stylish capsule wardrobe 2021 needs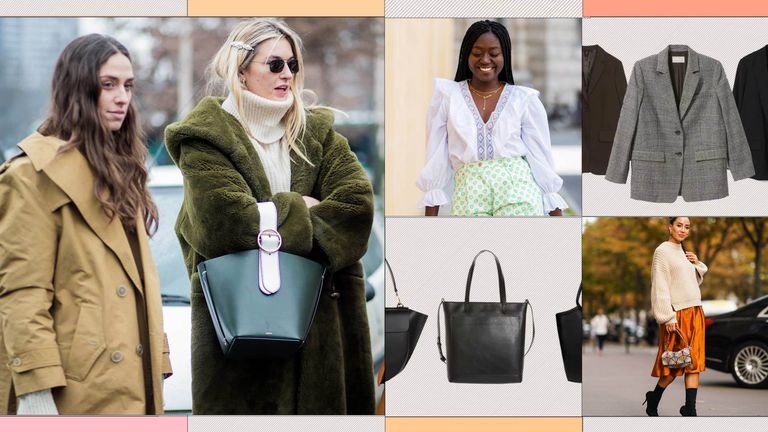 (Image credit: Getty Images / Christian Vierig / Edward Berthold)
Creating a capsule wardrobe for work may not have been at the top of your list of priorities over the last year. However, with a semblance of "normality" finally on the horizon, now's the time to start thinking about creating a capsule wardrobe 2021 can handle. 
Whether you're a seasoned pro in working from home via Zoom and Slack, long for the structure that comes with office life, or have been based in your workplace throughout, chances are your outfits are beginning to feel a little stale. And while many of us (ourselves included) have largely curated our looks around the best black gym leggings, a return to a more traditional working routine—whatever that looks like for you—doesn't mean you have to forgo comfort.  
Gone are the days when your capsule wardrobe for work had to consist of a restricting two-piece suit and shirts buttoned up to the collar. Of course, if that's what you feel most confident in then, by all means, embrace it. But, if workplaces were edging towards a relaxed aesthetic pre-pandemic, we're predicting things will be even more laid-back when things resume. That said, striking the perfect balance between professional and comfortable is easier said than done. It's important that you feel good about yourself—we've found that a stylish outfit has the power to shift our mood and boost our productivity in the process—but the last thing you want to feel is stuffy or overdone.
It will come as a relief, then, that we're not suggesting you need to invest heavily in pinstripes, court shoes, pencil skirts, or any other stereotypical office attire to look the part. Instead, it's about finding refined pieces with relaxed silhouettes that you can wear together in a multitude of ways. That means you have an array of outfits at your disposal, with minimal effort required on your part: think slipping on a roomy midi skirt with your favorite working-from-home knitwear or switching out your well-worn slippers in exchange for a pair of equally wearable, but significantly sleeker, flat shoes. It's these little pick-me-ups that can make all the difference in the long run and will help you transition from your comfy loungewear back into something slicker, but no less appealing. 
What is a capsule wardrobe?
The term capsule wardrobe was coined in the 1970s by a boutique owner in London. A capsule wardrobe is a curated selection of pieces that can be put together to create separate outfits. Essentially, the practice of editing down your favorite pieces and wearing them in several different ways. 
When it comes to capsule wardrobes, trends are not so relevant. You ideally want it to consist of timeless pieces. You might opt for, say, a classic item such as a cream roll-neck, rather than a heavily embellished or logo print top. 
So, to help you get dressed and look stylish, whatever your professional situation may be, we've assembled all the pieces you need to create a chic, practical, versatile, and, above all else, comfortable capsule wardrobe for work. The only thing we can't sort for you? Those pesky deadlines. Sorry about that!
The best capsule wardrobe for 2021
1. The midi skirt
Whether it's winter or summer, midi skirts make for an ideal change from trousers or dresses. During the colder months, add a pair of tights or knee-high boots, and you'll be sure to stay warm despite low temperatures while feeling like you actually put on a thought-through outfit that day. Come summer, your midi skirt will add instant polish to casual-looking sandals, too. 
2. The relaxed blazer
Every work wardrobe should feature at least one blazer, but they needn't be sharply cut or made from rigid fabrics. Instead, look for fluid styles that will elevate all your office attire to chic new heights. We always keep one slung over our desk chairs for last-minute meetings (both virtual and in real life). 
RELAXED BLAZERS
Borrowing from the boys has never been so chic
3. The well-cut basics
If blouses and shirts aren't your thing, fret not. Basic jersey tops such as T-shirts and long-sleeved tops can look professional, as long as they're cut correctly, and you style them with the appropriate pieces. That's where the relaxed blazer and wide-leg trousers come in. 
4. The loose-fit trousers
While fitted trouser and jean silhouettes will always have a place on the style agenda, 2021 is the year when wider, looser strides are set to make a comeback. This is excellent news for us, as they're just as comfortable as the leggings and joggers we've been living in. Worried they'll look oversized? Pair them with a fitted top and belt them at the waist. 
5. The soft blouse
When you think about work clothes, starchy white shirts probably come to mind. And while we'll always be fans of the classic shirt, lightweight blouses in silky fabrics look just as slick but feel significantly more effortless and less rigid. Neutral colors will, of course, serve you well, but don't feel obliged to play it safe—prints and bright hues will make an impact.
soft blouses
Lightweight fabrics for effortless style
6. The elegant flat shoe 
If your job calls for you to be on your feet for a lot of the day, or the thought of not wearing slippers fills you with anxiety, a pair of flats provides the solution. A pointed toe never fails to look fancy, but the flat sole makes them almost as comfortable as your trusty Uggs. Why not add a sheepskin insole for maximum cozy appeal? Yes, they do exist, and they're game-changing. 
ELEGANT FLATS
The comfortable and stylish solution
7. The tailored coat
If external meetings are a big part of your job, you need to make the right impression from the initial greeting, which will likely be while you're still wearing your coat. Worn over everything from pleated skirts to cropped trousers, you only need to invest in one tailored style to make anything glossy. Opt for a classic block color such as navy, khaki, cream, or camel to ensure it'll go with your entire wardrobe. 
8. The leather tote
Remember when bags were an integral part of your daily ensemble? When you do find yourself leaving the house for work, replace the flimsy canvas carryalls you'd usually pack your laptop and essentials in with a leather tote bag. It's a small detail that'll make your work outfits feel more pulled together. 
9. The wrap dress
Our workwear has featured lots of stretchy materials of late, but we've also found dresses to be some of the comfiest pieces we've worn since working from home. Our advice? Look to wrap styles. Not only can they be worn loosely if desired, but they also look cool layered over t-shirts, thin knits, or even over tapered trousers for a fresh take. 
10. The pared-back sweater 
We're all for statement knitwear but, when it comes to your workplace, we think it's best to keep your sweaters and cardigans sleek and fuss-free. Simple crewnecks will look expensive worn with tailoring, as well as soft, thin roll-necks. Avoid bulky weaves as they tend to look scruffy. If you're worried about being cold, consider layering a seamless top or vest underneath. 
11. The timeless accessory
Never underestimate the way well-chosen jewelry—especially from the best sustainable jewelry brands—enhances your outfit and your mood. A pair of simple gold hoop earrings can make you feel more in control (it works for Alexandria Ocasio-Cortez, after all). Additionally, a chain necklace is ideal for Zoom calls and for injecting a bit of your sartorial personality into your work outfits.
Why you should have a capsule wardrobe
The biggest reason you should embrace this idea is to spend less money on clothes. It'll also take you significantly less time to get dressed while still ensuring you look good. The closet is a reflection of an easy-to-understand framework that makes your mornings easier. Besides, it frees your wardrobe from clutter.
How to start a capsule wardrobe
While there are no hard and fast rules, we have a few helpful tips on building the best capsule wardrobe. Overall, it's more about personal style than it is about fashion trends. Your closet should help you feel confident. If you want a capsule full of bright colors and lots of accessories, don't settle for less.
To start, clear the closet. Take every piece and note the last time you wore it. If it's been six months, it should find its way out of your wardrobe. It can be tempting but don't be too lenient as you might end up saving everything for the capsule.
If this makes you nervous, you don't have to get rid of them yet. At the very least, bring them to a different room. 
The idea is to have 37 items in your closet which you'll wear for the next three months. In this period, you won't shop for new clothes until the last two weeks of the season. This is when you'll plan for the next capsule.
Capsule wardrobes operate on the idea of less is more, so the idea is to buy fewer, higher quality items. This is where sustainable fashion comes in. By buying clothes less often, while also shopping consciously, you're freeing up your closet while also being more eco-friendly.
Choose and arrange every item according to its usefulness and versatility. The ultimate test should be how well each item fits on the go. If you feel like you won't wear something soon or during the season, don't hold it in the capsule. This calls for a lot of honesty with yourself and you will need to consider letting go of some items. 
Take Away
There you have it—how to build your capsule wardrobe while reflecting your style. Choose the items in your capsule carefully, remembering that the selection should be as slim as possible. If you can't quickly pair something with other items on the list, it probably doesn't belong there.
You'll have a lot of trial and error when building your capsule wardrobe. Keep it simple and enjoy the whole process without being too hard on yourself.