Sign up to the My Imperfect Life newsletter and get a FREE All About Crystals guide
We'll keep you inspired with all the latest news and advice on fashion, beauty, travel and wellness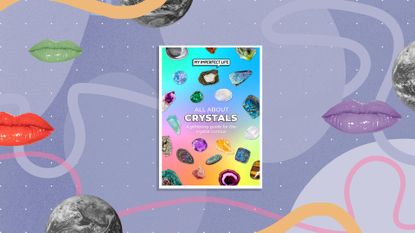 (Image credit: Getty / Brafton)
Have you signed up to receive our fabulous newsletter yet?
Every week, we'll bring you everything you need to know about fashion, beauty, entertainment, and wellbeing. From the hottest beauty products, unmissable deals, tips on how to look after your body and your mind, and what we think about the latest water-cooler shows—we've got everything you'll need to be informed and inspired.
When you sign up for our newsletter you'll also get our FREE All About Crystals—a complete guide on how to get started with crystal healing, which crystal is best for what, and how to keep them working for you at all times (gotta recharge them, don't you know).
While crystal healing has become mainstream recently, it's still confusing for some who want to add the practice to their daily routines—be it for some good luck, to fight anxiety, or to help you sleep better. This is why we spoke to the best experts in the field and created this guide, so we could gather all the information you need to get started.
So sign up now and let us help you navigate your world and live life on your terms. We just need a few more details from you…
As well as hearing more crystals, our weekly newsletter will bring you:
Entertainment news: from drama surrounding a particular show to release dates, cast news and fan theories, we have your entertainment fix sorted for the week.
Fashion news: what do you need to add to your shopping list right now? From the hot trends coming out of TikTok to how to copy your favorite celebrity's style and how to build a timeless capsule wardrobe, our fashion experts will guide you to put your best fashion foot forward.
Beauty news: The new product launches you need to add to your routine, celebs' beauty routines, must-have gadgets... you get the gist.
Astrology: because how can you go through life without knowing what the stars have in store for you? We provide you with weekly horoscopes as well as monthly ones so you know exactly what to expect.
Sex and Relationships: we're big fans of making pleasure a non-taboo subject so count on us to give you some tried and tested advice on the best sex toys, as well as sex tips and relationship advice.
Mariana is Editor of My Imperfect Life. She has previously worked for titles including woman&home and Goodto, covering all aspects of women's lifestyle — from beauty and fashion to wellness and travel. She was nominated for AOP Digital Journalist of the Year in 2020, and for New Digital Talent of the Year at the 2016 PPA Digital Awards. She's mildly obsessed with reality TV (Love Island memes included) and spends far too much time checking her horoscope and figuring out the perfect curly hair routine.