7 best non-comedogenic foundations to prevent clogged pores, as tested by our beauty editor
Keep pores clear with the best non-comedogenic foundations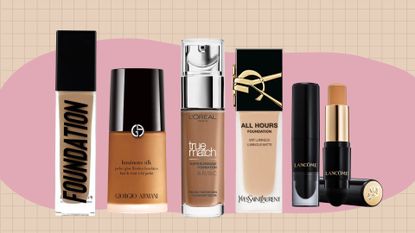 (Image credit: Future)
The best non-comedogenic foundations are brilliant for two reasons. Not only do they provide great coverage with a shine-free finish, but these formulas also don't contain any ingredients that clog your pores. This is especially important for blemish-prone skin, as it'll prevent your pores from getting super congested, minimizing the risk of breakouts.
If your skin is oily and/or blemish-prone, non-comedogenic cosmetics are particularly important to know about during your quest to find the best foundation. They are designed to not clog your pores, and are therefore a much better fit for your skin type.
And so our beauty editor, Aleesha Badkar, put dozens of the most popular options on the market to the test, in order to curate a list of the top-performing non pore-clogging foundation buys.
What are the best non-comedogenic foundations?
Of all the formulas we tried and tested, these were the very top picks:
How we tested the best non-comedogenic foundations
Each foundation was tested by our beauty expert for at least three days in a row, and she assessed all of the below factors during that time.
Ease of application
Texture
How comfortable it felt on the skin
Whether or not it soaked into pores
Whether or not it blurred the look of pores
Finish
Range and number of shades
Length of wear
As well as speaking to skincare experts to further her understanding of what she should look for in a non-comedogenic foundation formula, when deciding which products to test, our expert chose a mixture of popular and bestselling non-comedogenic foundations, as well as formulas from trusted brands, and products with exciting claims about their results.
Once you've got to grips with what non-comedogenic actually means, and the difference between non-comedogenic foundation vs oil-free foundation, it's time to choose your favorite from our edit of the foundations that performed the best below...
Meet the tester
Meet the tester
Aleesha Badkar
I have quite oily but dehydrated skin, meaning it needs water-based rather than oil-based products. I therefore usually opt for water-based foundations and sheer or satin-textures, but I do also appreciate a more robust formula that can even out my skin tone and blur the look of my large pores. I also pay close attention to a foundation's shade spectrum because I often struggle to find a perfect match for my medium-tan, warm-to-neutral skin tone.
The best non-comedogenic foundations, as reviewed by our beauty editor
Best for most skin types
Giorgio Armani Luminous Silk foundation
RRP: $69 | Coverage: Buildable, medium
Shades and inclusivity: 40, suitable for all skin types, including sensitive skin
Added extras: Micro-fil™ technology
You might not marry the word 'luminous' with an oily skin foundation, but thanks to the non-comedogenic emollient Isododecane—a texture-enhancing ingredient that yields a lightweight, matte finish—this buildable formula creates a satiny finish that never looks greasy or shiny.
Despite its very comfortable and slightly sheer consistency, this richly-pigmented, customizable fluid also manages to disguise pores, redness, or blemishes with just a single layer—which, impressively, I found stayed put even through a heatwave. Its satiny finish also means there's some flexibility when choosing a shade, as I found that several shades worked with my skin. It also bestows the subtlest of glows that's never too much, thanks to patented "micro-fill" technology, which combines light-reflecting particles with a transparent powder to create its signature healthy glowy-not-shiny finish.
As a fellow "oily-but-dehydrated" complexion, My Imperfect Life's beauty contributor Lucy Abbersteen also loves it for its camera-ready and flawlessly healthy look. It's a real all-rounder and one of the best foundations for combination skin that should work well for most skin types, be they dry or oily—so it's no wonder that it's also so many celebrities' foundation of choice.
See our full Giorgio Armani Luminous Silk foundation review for a more in-depth analysis of this cult favorite base
For
Leaves a natural-looking glow
Satiny, non-shiny finish
Lightweight but substantial texture
Coverage is customizable
Against
Will be on the pricey side for some
Best for affordability
2. L'Oréal Paris True Match Liquid Foundation with SPF and Hyaluronic Acid
RRP: $13.99 | Coverage: Buildable, medium
Shades and inclusivity: 40, suitable for all skin types, including sensitive skin
Added extras: Hyaluronic acid, Aloe vera extract, vitamin blend, SPF 17
It's easy to overlook bargain buys in favor of more luxurious-looking and -feeling products and assume the latter is the best for the job, especially when it comes to foundation that won't clog pores. But, as L'Oréal Paris hails from the same house as premium names like Yves Saint Laurent, Lancôme, Giorgio Armani, and IT Cosmetics, its formulas can rival some far more expensive products. At least, that's certainly the case for this drugstore favorite, which glides smoothly onto the skin and lasts all day. Its coverage is easy to build and the infusion of hyaluronic acid leaves skin soft and prevents the formula from drying out.
I did find that this foundation gradually became a little shiny as the day went on, so it's worth noting that it may require touch-ups or setting with a little powder to help to keep it in place, especially if your skin is fairly oily. Be sure to color-match well, too, as the shades can come up slightly different once applied versus how they look in the bottle. Despite this, this option could easily disguise itself as a high-end buy, and its incredible value is what makes it one of the best non-comedogenic foundations in our eyes.
For
Long-wearing
Buildable pigment
Smooth texture
Against
Can develop shine with wear
Colors can look different on skin vs expectations
Best for full coverage
3. Yves Saint Laurent All Hours Foundation SPF 20
RRP: $37.50 | Coverage: Full
Shades and inclusivity: 30, suitable for all skin types, including sensitive skin
Added extras: SPF 20
Full coverage and non-comedogenic are two phrases that don't often go hand in hand, but this foundation manages to bridge the gap seamlessly. It's particularly great for both acne-prone and oily skin types who prefer to stick to thicker formulas that don't carry a risk of foundation pilling. I found that it disguised imperfections well while leaving a hint of the parts of your face that make you, "you", such as freckles or beauty spots—so it still has a lovely natural feel overall.
Gliding smoothly onto the skin it gives a hint of a glow—something you wouldn't necessarily expect from such a high-coverage fluid. Its one drawback, however, is that it can develop a little bit of shine throughout the day on oilier skin, but that's simply down to the dewy texture, which makes it flexible enough to use on a range of skin types. There's an easy fix to this, however: a dusting of my go-to Laura Mercier Translucent Setting Powder got rid of any unwanted shininess when using this non-comedogenic foundation on my oily skin.
For
Full-coverage, natural-looking finish
Dewy but grease-free glow
Applies and blends smoothly
Long-lasting
Non-drying
Against
Can develop shine throughout the day
Best for oily skin
4. Laura Mercier Flawless Fusion Ultra-Longwear Foundation
RRP: $49 | Coverage: Medium to full weightless
Shades and inclusivity: 30, suitable for all skin types, especially normal to oily
Added extras: Water-resistant
A brand with a famous range of primers and setting powders, and founded by the iconic makeup artist of the same name, Laura Mercier is a name that knows how to ace a base. I love the substantial coverage it gives while simultaneously maintaining a lightweight feel—especially on my oily and combination skin. This is exactly why it made it into our edit of the best non-comedogenic foundations.
It keeps excess oil at bay throughout the day (tick) and the finish is matte but not cakey (double tick). The formula is also sweat, water, and transfer-resistant, so it didn't leave marks on lighter clothing. I am also rather obsessed with the way that this non pore-clogging foundation manages to conceal larger pores like an IRL filter. It bestowed on my skin the kind of magic complexion that oily skin types have only ever dreamed of and previously thought impossible. Hats off to Ms. Mercier for this one.
For
Effective coverage without heaviness
Blurs pores
Matte finish without cakiness
Comfortable to wear
Didn't transfer on to clothes
Against
May be too matte for dry skin types
Best for dry skin
5. NARS Sheer Glow Foundation
RRP: $47 | Coverage: Sheer, buildable
Shades and inclusivity: 40, suitable for normal to dry skin types
Added extras: Vitamin C, antioxidants, turmeric extract
Is NARS non-comedogenic, you might wonder? Well, this foundation option certainly is. A skincare-makeup hybrid that most beauty fans will have tried at least once, Sheer Glow boasts a concoction of skin-loving ingredients while also doing the job of a silky-finish foundation. (It also features in our edit of the best foundations for acne-prone skin, it's that good). The sheer formula is more pigmented than you might expect, so it does a good job of blurring imperfections—and NARS' Complexion Brightening Formula leaves skin dewy and glowing with no greasy residue.
This foundation is also packed with hydration, so can develop some shine after a few hours of wear, but it works brilliantly on dry skin and leaves it with a particularly healthy finish. This cult favorite also has all the benefits of a respectable moisturizer along with the coverage of a solid foundation, ticking all my boxes and then some. Kudos!
For
Blur imperfections
Dewy glow
Skin-loving formula
No greasy residue
Against
Can become shiny with wear
Best for a solid color match
6. Anastasia Beverly Hills Luminous Foundation
RRP: $38 | Coverage: Medium
Shades and inclusivity: 50, suitable for all skin types, including sensitive skin
Added extras: Water-resistant, vegan-friendly
Thankfully, while there's still a long way to go to improve things, complexion makeup shade ranges are far more inclusive than before, and this sterling product is living proof of that. The vast range on offer with the Anastasia Beverly Hills Luminous Foundation gives you a really strong chance of finding your perfect match. It has a finish that's quite similar to our Giorgio Armani favorite above, and gives a glowy, shine-free finish and medium, buildable coverage. Not only that, it also has the kind of fresh effect that makes you look like you've just had a facial, and it won't cling to any dry patches of skin.
My one and only gripe is that it did show signs of wear after a few hours, settling into pores and fine lines a little as well as yielding a small amount of shine. On that basis, for those with lots of very visible pores, it could be one to pair with a blurring primer, finishing powder or setting spray to balance the scales. But all in all, it's one of the best non-comedogenic foundations and well worth checking out.
For
Fresh finish
Shine-free glow
Easily buildable
No dry patches
Perfect colour matches
Against
Didn't last all day—needs setting powder
Expensive
Best for on-the-go
7. Lancôme Teint Idole Ultra SPF15 Foundation Stick
RRP: $49 | Coverage: Full, buildable
Shades and inclusivity: 25, suitable for all skin types, including sensitive skin
Added extras: Broad Spectrum SPF 15
Perfect for those who are time-poor, or who regularly apply makeup on the move, is this number from luxury French name Lancôme. It only takes a matter of seconds to apply, gliding onto the skin and blending in seamlessly with a buffing brush or a sponge (do make sure you're washing your tools regularly with one of the best makeup brush cleaners). It gives skin just the right amount of coverage for a healthy complexion that doesn't look greasy, and disguises any imperfections with ease.
However, I found that it didn't really provide skin with that airbrushed, matte finish that some of the other foundations gave. I also noticed that—on my oily skin at least—it tended to develop some shine throughout the day, and experienced the tiniest amount of flaking on dry patches within a few hours. But all in all, it's good for on-the-go application in the afternoon that will stay put until evening; you can also combine this non-comedogenic foundation with our genius makeup tricks and tips to get the most out of it.
For
Buildable coverage
Easy to apply
Blends seamlessly
Healthy, oil-free finish
Against
Pores weren't blurred
Some shine and flaking throughout wear
All your non-comedogenic foundation questions, answered
Meet the expert
Meet the expert
Dr. Maryam Zamani
Dr. Maryam Zamani is a board-certified ophthalmologist, facial aesthetic doctor and oculoplastic surgeon with a medical doctorate from the George Washington University School of Medicine. She's also the founder of luxe skincare brand MZ Skin. In this feature, she's advised readers on shopping for foundation when your skin is sensitive or reactive.
Meet the expert
Meet the expert
Dr. Paris Acharya
Dr. Paris Acharya is an aesthetic doctor at London Marylebone's Waterhouse Young clinic, with more than a decade of experience as a maxillofacial surgeon and doctorates in both medicine and dentistry. Below she's given further insight into how to choose a foundation that's right for you.
How to choose the best non-comedogenic foundation
To find the best non-comedogenic foundation for you, the key thing to examine is the ingredients list. Sheer and water-based formulas will leave you with a natural look rather than an unwanted cakey finish. Those who struggle with particularly oily skin will benefit from non-comedogenic foundations that promise to mattify and stay matte throughout the day.
Try oil-free formulas if your skin is sensitive. "For people with sensitive, problematic, or reactive skin, it is worth opting for oil-free formulas and stay away from full-coverage, long-wear formulas," says Dr. Zamani. "Always consider skin type and concerns, the season, skin tone match, and desired coverage." Meanwhile Dr. Acharya adds: "Your ideal foundation should be lightweight, water, gel, or aloe-vera based. Bonus points if it contains salicylic acid for acne-prone individuals. Look for terms like hypoallergenic or non-comedogenic, but remember they are not necessarily regulated, so still be vigilant of the ingredient list."
Acne-prone skins should choose non-drying foundations. If you want more coverage so that your base will cover blemishes, look for a product that is described as non-drying to avoid caking, patchiness, or the foundation flaking off throughout the day.
Combination skin? Opt for hydrating formulas. Shopping is trickier when you have both oily and dehydrated skin, so in this case it's best to look out for the best non-comedogenic foundations containing hydrating ingredients, like hyaluronic acid, and emollients, which will pack hydration into your skin without clogging up pores with something heavier.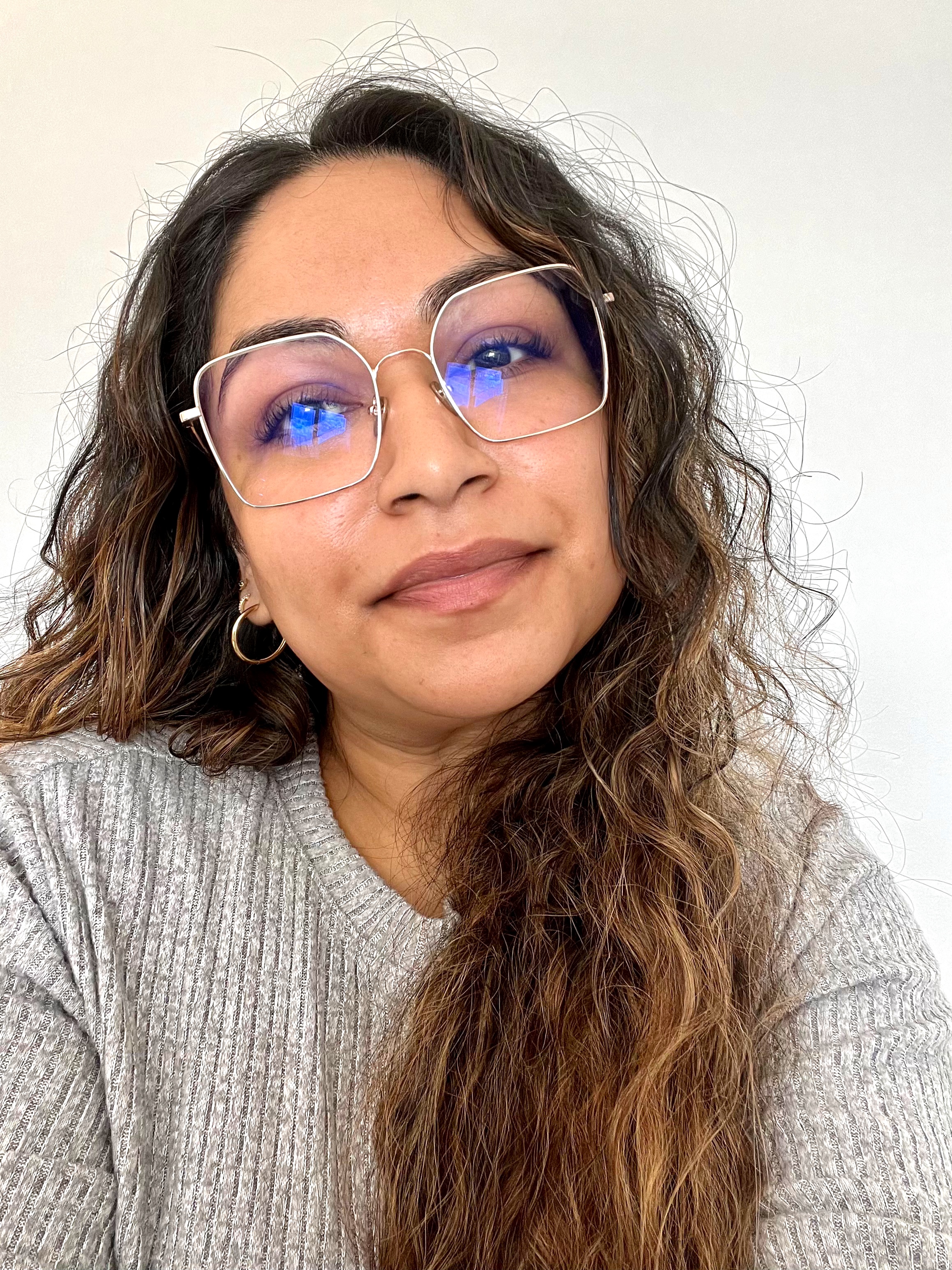 Deputy Editor at My Imperfect Life
Aleesha is Deputy Editor and Beauty & Fashion Editor for My Imperfect Life, where she heads up the beauty, fashion and eCommerce pages. Previously she was Shopping Writer at woman&home and gained an AOP awards nomination after working on their news team. She earned an MA in Magazine Journalism from City, University of London in 2017 and has since worked with a number of brands including, Women's Health, Stylist and Goodto. When she's not testing all the new beauty & lifestyle products on the market, Aleesha spends her time soaking up the newest bestsellers and Netflix releases, watching everything Marvel, learning about different wines, attempting new languages and traveling as much as she can.