The best non-comedogenic foundations as tested by our expert beauty editor
Learn more about the best non-comedogenic foundations—a must for blemish-prone skin—and shop our honestly reviewed picks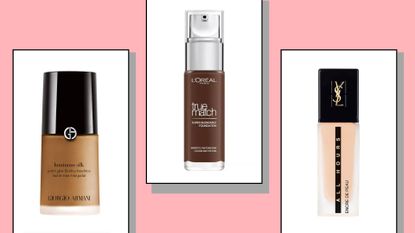 (Image credit: Future/brands pictured)
You may not be familiar with the best non-comedogenic foundations yet, but these formulas give you great coverage and leave you with shine-free skin that won't break out in a sea of blemishes later on.
If a foundation is marked as non-comedogenic, it means the formula won't clog pores. This is also a good choice to stop your foundation from piling.
During your search for the best foundation, non-comedogenic beauty products are particularly important to know about if your skin is oily and/or blemish-prone. If you struggle with spots or if you take aspirin for acne, you're probably all too familiar with the vicious cycle that comes from using heavier, richer formulas; some can worsen your skin's condition but the more we break out, the more we can feel the need to cover up.
To provide you with reliable reviews to help you find a non-comedogenic foundation that ticks your boxes, our in-house beauty expert put a bunch of formulas.
Meet the experts in non-comedogenic foundations
Dr. Maryam Zamani (opens in new tab) is a board-certified ophthalmologist, facial aesthetic doctor and oculoplastic surgeon with a medical doctorate from the George Washington University School of Medicine. She's advised My Imperfect Life readers on shopping for foundation when your skin is a more sensitive or reactive type.
Dr. Paris Acharya is an aesthetic doctor at London Marylebone's Waterhouse Young (opens in new tab) clinic with over 10 years of experience as a maxillofacial surgeon, and has doctorates in both medicine and dentistry. She's given some insight into how to choose a foundation that's right for you.
How to find the best non-comedogenic foundations
When choosing the best non-comedogenic foundation for you, the main thing to examine is the ingredients list. Sheer, water-based formulas will leave you with a natural look rather than the dreaded cakey effect. And of course, those who struggle with particularly oily skin will benefit from anything that promises a matte finish.
Consider oil-free formulas for sensitive skin. "For people with sensitive, problematic, or reactive skin, it is worth opting for oil-free formulas and stay away from full-coverage, long-wear formulas," says Dr. Zamani. "Always consider skin type and concerns, the season, skin tone match, and desired coverage." Dr. Acharya adds: "Your ideal foundation should be lightweight, water, gel, or aloe-vera based. Bonus points if it contains salicylic acid for acne-prone individuals. Look for terms like hypoallergenic or non-comedogenic, but remember they are not necessarily regulated, so still be vigilant of the ingredient list."
Acne-prone skin types should choose non-drying formulas. If you want more coverage to cover blemishes, look for something non-drying to avoid caking, patchiness or flaking off throughout the day.
Combination skin? Go for hydrating formulas. Things start getting a little trickier when you have both oily and dehydrated skin, so in this case it's best to look out for products containing hydrating ingredients, like hyaluronic acid, and emollients, which will pack hydration into your skin without clogging up pores with something heavier.
How we tested the best non-comedogenic foundations
Once you've got to grips with what non-comedogenic actually means, and the difference between non-comedogenic foundation vs oil-free foundation, it's time to shop. With all of the above skincare concerns in mind, we tested a bunch of options to provide you with honest insight to help steer your next makeup bag purchase. Our tester tried out each foundation for several days in a row and assessed the below factors during that time.
Ease of application
Texture
How comfortable it felt on the skin
Whether or not it soaked into pores
Whether or not it blurred the look of pores
Finish
Range and number of shades
Length of wear
After speaking to skincare experts to further her understanding of what she should look for in a non-comedogenic formula, when deciding which products to test, she chose a mixture of popular and bestselling non-comedogenic foundations, as well as formulas from trusted brands and products with exciting claims about their results.
Meet the tester
Meet the tester
Aleesha Badkar
Despite having quite oily skin, I'm lucky in that I'm not too prone to spots and blemishes. That said, my oily skin does come with with quite large pores, which foundation often sinks into. I also have quite dehydrated skin, meaning it needs water-based rather than oil-based products. I usually opt for water-based foundations and sheer or satin-textures, but also appreciate a more robust formula that can even out my skin tone and blur pores. As I'm from a South Asian background, I have to pay close attention to a foundation's shade spectrum because I often struggle to find a perfect match for my medium-tan, warm-to-neutral skin tone.
The best non-comedogenic foundation reviewed by our in-house beauty expert
Best non-comedogenic foundation for most skin types
Specifications
RRP : $69/£44.50
Coverage: Buildable, medium coverage
Shades and inclusivity: 40, suitable for all skin types, including sensitive skin
Added extras: Micro-fil™ technology
Reasons to buy
+
Satiny, non-shiny finish
+
Natural-looking glow
+
Lightweight but tactile texture
+
Customizable coverage
The name might put oily skin off initially, but don't be fooled! Thanks to the addition of non-comedogenic emollient Isododecane—a texture-enhancing ingredient that gives a lightweight, matte finish—this buildable formula gives a satiny result that's never greasy or shiny.
Thanks to the rich pigments the customizable fluid also manages to disguise pores, redness, or blemishes with just one layer of product, despite its very comfortable and slightly sheer consistency—which our tester found even lasted through a heatwave. The satin nature of the formula also allows for some flexibility when finding your perfect shade, as our tester found that a range of different shades looked flattering on her skin. It also bestows the subtlest of glows thanks to its patented "micro-fill" technology, which employs light-reflecting particles combined with a transparent powder.
As a fellow "oily-but-dehydrated" complexion, My Imperfect Life beauty contributor Lucy Abbersteen also loves it for its camera-ready, glowy-not-shiny results. This is a real all-rounder that should work well for most skin types, be they dry or oily, and it's no wonder that it's so many celebrities' go-to.
See our full Giorgio Armani Luminous Silk foundation review for a more in-depth analysis of this cult foundation
2. L'Oréal Paris True Match Liquid Foundation with SPF and Hyaluronic Acid
Best affordable non-comedogenic foundation
Specifications
RRP : $10.95/£9.99
Coverage : Buildable, medium coverage
Shades and inclusivity: 40, suitable for all skin types, including sensitive skin
Added extras: Hyaluronic acid, Aloe vera extract, vitamin blend, SPF 17
Reasons to buy
+
Long-wearing
+
Buildable pigment
+
Smooth texture
Reasons to avoid
-
Shiny throughout wear
-
Slightly off colors
It's easy to overlook reasonably-priced options in favor of more premium buys, thinking that they're always the best for the job. But as L'Oréal Paris hails from the same house as luxury names like Yves Saint Laurent, Lancôme, Armani, and IT Cosmetics, it's no surprise that the formulas rival some far more expensive products. That's certainly the case for this buildable staple, which glides on smoothly and lasts all day. Coverage is easily to build and the infusion of hyaluronic acid leaves skin soft and stops it from drying out.
For our tester, it did come up a bit shiny as the day went on, so may require touching up or setting with a little powder to help keep it in place. Be sure to color-match thoroughly, too, as the shades can come up slightly different versus expectations. But overall this option could easily disguise itself as a high-end buy, which for us makes it one of the best non-comedogenic foundations.
3. Yves Saint Laurent All Hours Foundation SPF 20
Best full coverage non-comedogenic foundation
Specifications
RRP: $37.50/£36
Coverage: Full coverage
Shades and inclusivity: 30, suitable for all skin types, including sensitive skin
Added extras: SPF 20
Reasons to buy
+
Full-coverage, natural-looking finish
+
Dewy but grease-free glow
+
Applies and blends smoothly
+
Long-lasting
+
Non-drying
Reasons to avoid
-
Can become shiny with wear
Full coverage and non-comedogenic don't often go hand in hand, but this foundation manages to bridge the gap. It's great for both acne-prone and oily skin types who want to stick to thicker formulas. Our tester found that it disguised imperfections well while leaving a hint of the things that make you, "you" (such as freckles and beauty spots), so it still has a natural feel.
Gliding on smoothing it gives a hint of a glow, which is you wouldn't necessarily expect from such a high-coverage fluid. Its one drawback is that it can develop a little bit of shine throughout the day on oilier skin, but that's simply due to the dewy texture that makes it flexible enough to use on a range of skin types. But our tester found that a dusting of her go-to translucent setting powder (Laura Mercier, FYI) remedied any unwanted shininess in her oily skin.
4. Laura Mercier Flawless Fusion Ultra-Longwear Foundation
Best non-comedogenic foundation for oily skin
Specifications
RRP: $49/£38
Coverage: Medium to full weightless coverage
Shades and inclusivity: 30, suitable for all skin types, especially normal to oily
Added extras: Water-resistant
Reasons to buy
+
Effective coverage without heaviness
+
Blurs pores
+
Matte finish without cakiness
+
Comfortable to wear
+
Didn't transfer on to clothes
Reasons to avoid
-
May be too matte for dry skin types
Known for its excellent range of primers and setting powders, legendary makeup brand Laura Mercier is one that knows how to ace a base. We love the substantial coverage that this formula provides while maintaining a lightweight feel—especially on oily and combination skin types, which is why it made it into our edit of the best non-comedogenic foundations.
It keeps excess oil at bay throughout the day (tick) and the finish is matte without being cakey (tick tick). The formula is also sweat, water, and transfer-resistant, so it didn't leave any annoying marks on white T-shirts and sweaters. We're also kind of obsessed with the way that it conceals large pores, getting to work quicker than Harry Potter's invisibility cloak. It bestowed upon our tester the kind of magic complexion that oily skin types have historically thought impossible.