6 of the best hair dryers for curly hair to style yours with great definition
A beauty editor reviews the best hair dryers for curly hair to help you find one that'll dry and style gently and effectively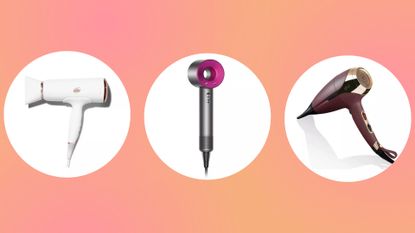 (Image credit: T3 / Dyson / ghd )
Any hair expert will tell you that using one of the best hair dryers for curly hair with a diffuser is a one-way ticket to healthy-feeling, defined curls. Which is exactly why our experts have tested some of the top hair dryers on the market to see which are best suited to curly hair—but first, a little expert insight into why they're so important.
Much like the best brushes for curly hair, you want something that will work well with your hair type specifically. "I'm a massive advocate of using hairdryers for curly hair for a couple of reasons," says Mason Josh, stylist at London's Hari's Salon. "Drying your hair naturally isn't reliable, as the results will always be different due to external factors that are likely to cause frizz, like the weather or daily activities.
"A dryer and diffuser gives you more control over creating defined curls and it's therefore much less likely to frizz," he continues. "I've found a hair dryer is the best styling tool to get great curls every time." In this expertly-tested guide, a beauty editor shares her thoughts on the top tools on the market.
Meet the experts on hair dryers for curly hair
Meet the expert
Meet the expert
Lucy Jones
Lucy Jones is a curly-haired stylist at London's Larry King Salon, who knows a lot about good hair dryers. Below she's advised readers on what features to look for in a great one for curly hair.
Meet the expert
Meet the expert
Mason Josh
Mason Josh is a professional stylist at London's Hari's Salon. He loves to work with curly hair and has given readers some insight into why hair dryers for curly hair are so valuable.
Meet the expert
Meet the expert
Michelle Thompson
Michelle Thompson is an award-winning hair stylist, curly hair expert, and an ambassador for hair tool brand ghd. She's also advised My Imperfect Life readers on what you should look for when shopping for a hair dryer for curly hair.
The best hair dryers for curly hair, tested by a beauty expert
How we tested the best hair dryers for curly hair
When testing these tools, our curly-haired tester dried her hair with each option multiple times to assess its performance, always using the compatible diffuser attachments from each brand, and took all of the following factors into account.
Cost
Number of heat settings
Number of speed settings
Cool shot function
Size and feel of compatible diffuser
If the diffuser came with the dryer or has to be purchased separately
Whether any other attachments are available
Any advanced or unique technology
Cable length
Meet the tester
Meet the tester
Lucy Abbersteen
I love mixing up how I style my hair, switching from juicy ringlets one day to a sleek 90s blow dry the next. But on the days I wear my natural curls I want them to be as defined and healthy-looking as possible. My hair is on the fine side with a looser ringlet pattern and, as with all types of curly hair, it's very prone to dryness. I like styling products that nourish well without weighing my strands down, defining serums that reduce frizz, and gels with a good amount of hold.
I dry my hair using a diffuser on pretty much all of the days I wash it and leave it curly. My hair has a lower porosity and therefore it takes a long time to dry on its own, plus the weight of the water pulls it down, leaving me with flat roots. Speaking from experience, superior airflow, lots of heat and temperature options for adaptable styling, and a large diffuser with lots of little holes for even air distribution are all key factors of the best hair dryers for curly hair of all types.
Our edit of the best hair dryers for curly hair
1. Dyson Supersonic Hair Dryer
A seriously high-tech tool
Specifications
RRP: $429.99
Heat settings: 3
Speed settings: 3
Cable length : 2.8m
Cool function: Yes
Diffuser included: Yes (and more!)
Guarantee : 2 years
Reasons to buy
+
Six attachments available, including diffuser and wide tooth comb
+
Attachments are all magnetic
+
Ionic technology
+
Quieter than traditional dryers
+
Five color combinations
Reasons to avoid
-
Expensive
-
Cool shot could be colder
The holy grail of hair dryers. Complete with a Dyson digital motor to ensure fast drying, the Supersonic's Air Multiplier™ technology also creates quality airflow that isn't harsh on your strands. Temperature is measured more than 40 times per second for optimum control, while negative ions work to reduce static to reduce any excess frizz.
The downside is, of course, the price tag—price-wise the Supersonic is at the top end of the best hair dryers for curly hair by some way. This price tag does at least include five different attachments that cater to all types of curls; a diffuser (admittedly on the small side), a wide tooth comb, flyaway smoother, gentle air attachment and two different concentrated nozzles. Many other dryer diffusers have to be purchased separately to the dryer, making this model better value than first glance might have you believe. We did find that the lowest heat setting is still kinda hot when you hold the diffuser against the scalp, and the cool setting could be colder. But those aren't deal breakers and, all in all, this combination is the best of the best.
See our full Dyson Supersonic Hair Dryer review for an in-depth look at this high-tech dryer
2. ghd Helios Hair Dryer
Engineered for a faster, shinier blow dry
Specifications
RRP: $279/£179
Heat settings: 2
Speed settings: 2
Cable length: 3m
Cool function: Yes
Diffuser included: No
Guarantee: 2 years (excludes professional use)
Reasons to buy
+
Faster drying with Aeroprecis™ technology
+
Super fast, brushless motor
+
It's a quieter hair dryer
+
Ionic technology
+
Four color options
Reasons to avoid
-
Diffuser and comb attachments have to be purchased separately
Another techy model, the Helios is the successor to ghd's best-selling Air dryer. It features Aeroprecis™ technology, which translates as its internal aerodynamics resulting in a (surprisingly) lighter styling tool and a faster, shinier blow dry. It's another that makes use of ionic technology to help promote healthy hair.
The dryer is very powerful—75mph powerful, to be precise—so we'd definitely recommend using it on the lower of the two speed settings if you're drying your hair curly. When used with ghd's diffuser, which, like the comb attachment , has to be purchased separately, the contoured nozzle is great for creating a smooth and sleek finish, as many of the five-star reviewers on ghd's website will attest to. Those with finer, more flyaway-prone hair may find this dryer to be a little too powerful to get the best definition, but it leaves hair looking nice and healthy and the diffuser creates a good level of volume—ideal for creating the best curly hairstyles.
3. BaByliss Hydro-Fusion 2100 Hair Dryer
A more affordable dryer option for curly hair
Specifications
RRP: $85
Heat settings: 3
Speed settings: 2
Cable length: 2.5m
Cool function: Yes
Diffuser included: Yes
Guarantee: 3 years
Reasons to buy
+
Diffuser included
+
Ionic technology
+
Nicely affordable
Reasons to avoid
-
Cool shot function requires continuous pressure
It's totally understandable if the thought of spending over 100 dollars or pounds on a new hair dryer makes you wince—or if it's simply not financially possible. They are an investment and not one that everybody is able to shell out a lot of money on. It's therefore always great when more affordable tools like the BaByliss Hydro-Fusion Dryer deliver good results for curls. This model comes with that all-important diffuser (as well as a concentrated nozzle) and has worked in ionic technology in the form of a "moisture balancing" system, which utilizes both positive and negative ions to keep your curls defined and soft.
Despite its budget-friendly price tag, we were still impressed by the volume and reduced frizz that the Hydro-Fusion yielded, something BaByliss has proven with its own testers. In a two-week trialing period overseen by the brand, 86% of consumers said that their hair looked less frizzy and felt silkier, while 83% reported that their hair looked in better condition. Impressive!
4. T3 Cura Luxe Dryer
Great for bounce and definiton
Specifications
RRP: $295
Heat settings : 5
Speed settings: 2
Cable length : 2.7m
Cool function: Yes
Diffuser included: No
Guarantee: 24 months
Reasons to buy
+
Auto shut-off feature
+
Volume Booster function
+
Ionic technology
+
Cuts down excess frizz to a minimum
+
Two color options
Reasons to avoid
-
Also the auto shut-off feature—which can turn the dryer off mid-way through!
-
Diffuser has to be purchased separately
Our curly-haired tester used this model religiously for years as it's excellent in cutting down frizz (which, in the rainy UK, is an ongoing battle). An internal microchip controls its heat, adjusted very quickly when you change settings. The actual dryer might feel a bit plasticky considering its price tag—ditto with the diffuser, which again is only available to buy separately—but we forgive this because of its results.
One thing that impressed us is the seriously impressive auto shut-off feature. If for some reason you need to pause your drying session, placing the dryer down for a few seconds prompts it to switch itself off, thanks to a light sensor that's located on the handle. This is also its most annoying feature as, if your fingers aren't covering that spot, the dryer will turn off mid-blow dry—though you soon get used to this and adapt your holding position. As for curly hair tips, the volume boost function is great for hair that is easily weighed down, and the diffuser is a great size. We're fans.
5. Remington Hydraluxe Pro Dryer
Cuts down heat damage
Specifications
RRP: $129.99
Heat settings: 3
Speed settings: 2
Cable length: 3m
Cool function: Yes
Diffuser included: Yes
Guarantee : 5 years
Reasons to buy
+
Hydracare sensor for no added heat damage vs. air drying
+
Moisture lock conditioners
+
Ionic technology
Reasons to avoid
-
Not the most powerful
-
Diffuser's "teeth" are shorter than its depth
Remington's Hydraluxe Pro model comes with two narrow nozzles (ding) as well as the matching diffuser (ding). The diffuser is a great size, but the teeth are shorter than its depth, meaning you can't scoop up sections of hair or hold them in place as easily as with other attachments.
The big draw about this particular tool, though, is its "Hydracare" function. Using the dryer with this switched on means that the temperature is controlled to ensure you'll inflict no extra heat damage on your strands than if you'd left your hair to air dry, even if you're using it with one of the best brushes for curly hair. Impressive, no? It isn't the most powerful-feeling model out there, but it does leave hair feeling nice and soft, no doubt thanks to the moisture lock conditioners that are released into the dryer's airflow while you dry. As with many tools in this round-up, it's another that utilizes ionic technology to get that smoother finish.
6. Zuvi Halo Hair Dryer
Very energy efficient
Specifications
RRP : $349
Heat settings: 2, including cool shot
Speed settings: 4 "modes" rather than speeds
Cable length : 2.7m
Reasons to buy
+
Dries with light rather than hot air alone
+
Very gentle on your hair, meaning less damage
+
680 watts (hair dryers are usually way over 1000w), meaning very energy efficient
Reasons to avoid
-
Doesn't feel that powerful
-
Very expensive
At the risk of using an over-used expression, the Zuvi Halo is genuinely a game-changer with regards to its technology (you may have heard it be referred to as the "Tesla of hair dryers"), because it dries with light rather hot air alone. For that reason, we found it to yield a very gentle drying experience, and also incredibly energy efficient—it has a wattage of just 680, while most traditional dryers exceed 1,000, if not 2,000.
The Halo dryer comes with three different attachments, one of which is a decent diffuser that makes for lovely defined curls. However, one downside is that, apart from the cool shot, there is only one temperature settings, and the four styling settings don't vary all that much in terms of speed. It is also very expensive, so not one to be purchased on a whim, but if you want something cool and technologically advanced this is a very luxe-feeling tool that'll have a similar effect on your strands.
What to look for in the best hair dryers for curly hair
A good dryer that's well looked after will last years, so it's a worthy investment—especially when you consider how many times you'll use it. The best buys for curly hair types will have advanced technology and compatible attachments such as a diffuser, which distributes the air more evenly to preserve definition, and a comb, which directs air into the roots and is great for tighter coils, on offer. "The best dryer I've used is the ghd Air, which has its own diffuser," Mason says. "The Dyson diffuser is great, too." Below are the key things you should look for when shopping for one.
Accompanying diffuser: The best diffusers for curly hair are bowl-shaped attachments disperse air more evenly for gentler drying, reduced frizz, and improved definition. "Look for one that has a good amount of prongs (or fingers) and holes," Thompson advises. "This will disperse the air flow evenly throughout while keeping the curls separated. The ghd Helios hairdryer and diffuser are a match made in heaven!"
Multiple speed settings: As a rule, all good hair dryers should have multiple speed settings to choose from. A slower speed yields less excess frizz in curls (though we don't always have the luxury of time for drying), while faster settings are also useful for sleeker and straighter styles. It's good to have options!
Multiple heat settings: Similar to the above, multiple heat settings give you more flexibility and you can opt to use less extreme heat on your curls. "You should look for a dryer that has a diffuser attachment and also temperature control," Jones says. "The Dyson Supersonic is great for this, as it has an added benefit of built-in temperature control, which doesn't allow the dryer to overheat."
Cool shot function: Important on any dryer as it cools down your strands and sets your style. "A good, powerful hair dryer that has a good temperature control and a cool shot is a must," Thompson confirms.
Smoothing technology: Helps to look moisture into your curls to keep them as healthy as possible; if you're blow drying your hair into a straighter style, it'll also help promote sleekness.
Lucy is a beauty journalist who has written for titles including Marie Claire, Cosmopolitan, OK!, woman&home and Women's Health, as well as regularly contributing to My Imperfect Life. Her work covers everything from skin and haircare tips to trying and testing the latest beauty launches, and interviewing celebrities and experts. A certified dog person, her other interests include mental wellbeing, books, piña coladas and not getting caught in the rain.