Crystals for anxiety: the best picks if you want to feel calmer
Destress and reset with the top crystals for anxiety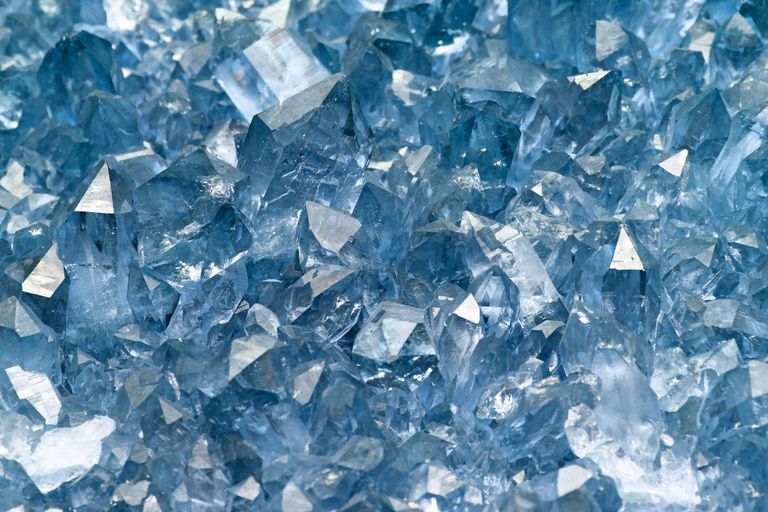 (Image credit: Getty)
If your stress levels are through the roof, crystals for anxiety could help to restore a sense of calm in your life. 
The beauty of crystals is that there really is one for everything, whether you're looking at crystals for beginners, ways to heal a broken heart, or crystals to help you sleep. It makes sense that crystals, which are born of the earth, should be the thing that grounds us most.
 "Crystals are truly powerful—they work to heal or realign our energy," says Emma Lucy Knowles, crystal healer and author of The Power of Crystal Healing: Change Your Energy and Live A High-Vibe Life. "Each one harnesses, attracts, and promotes its own special properties that resonate with your energy to aid you in a particular life event."
We asked Knowles what she recommends reaching for when you're feeling overwhelmed. Have these crystals for anxiety on standby either in your home or in your pocket to help you feel centered and stress-free.
---
---
What are the best types of crystals for anxiety?
1. Howlite  
"This crystal is your queen here—it soothes tension from the body and assists you when you need to slow an overactive mind."
2. Lepidolite
"Breathing is key in enabling us to reduce our anxiety and this soothes not only the mind but also creates a deeper fulfilling breath. This, in turn, helps to activate the parasympathetic nervous system to produce feelings of calm and relaxation."
 
3. Lemon chrysoprase  
"This piece gives us confidence and strength when we feel alone."
4. Amethyst
"A stone that opens and cools the mind. Reach for this when you need clarity on making a big decision but don't know who to turn to for advice."
5. Jade
"A nurturing green stone that channels serenity and intuition in stressful situations. Use this crystal when you are feeling overwhelmed."
How to use crystals for anxiety
"Gently hold them while sitting in meditation or place them on energy centers while lying down," says Knowles. "Skin-on-skin connection is powerful but crystals are also strong enough to vibrate through your jeans. My pockets, even my bra, are full of them! Or place them in areas of your home that need healing."
Does the size of the crystal make a difference?
"Size is not a factor," says Knowles. "A piece can be small but have a greater vibration than a giant raw rock. I might hold a piece and feel the world from it, you might hold it and feel nothing. The connection is what matters."
The best crystals for anxiety you can buy right now
1. Skin Gym Jade Heart Gua Sha Crystal Sculpty Tool, $41.50 [£37], Beauty Bay
The best crystal for anxiety for most people
Specifications
Price: $41.50 [£37]
Stone: Jade
Care : Wash with a damp cloth
Reasons to buy
+Jade is a natural crystal known for its cooling, soothing, and balancing properties+Gua sha is an ancient facial therapy offering therapeutic benefits+Melts away tension on facial muscles+Encourages you to take time for self-care+The act of massage helps to slow down rapid breathing
Reasons to avoid
-Requires learning the gua sha technique of facial massage first
After a long, hard day, invest time in self-care with this jade gua sha facial sculpting device. The skin-scraping massage releases facial tension and de-puffs if you've been hitting the wine in an effort to relax. The cooling stone instantly soothes both mind and skin. Use with your favorite serums and oils for a smoother, brighter complexion—a clever way of sneaking an anxiety-busting crystal into your everyday routine.
2. Jia Jia Large Amethyst Geode, $750 [£620], Net-A-Porter
The best premium crystal for anxiety
Specifications
Price: $750 [£620]
Stone: Amethyst
Size: 14cm (H), 13cm (L), 11cm (W)
Reasons to buy
+A luxe-looking crystal+Each one is handpicked and unique in color and shape+Like a piece of art+It's already been put through a purifying process so no need to cleanse this crystal
Reasons to avoid
-There are less expensive options
Place it beside a candle or lamp to amplify its glistening beauty. What's more, this crystal has already been put through a purifying process that uses ancient techniques to cleanse it from unwanted energy and is believed to balance emotions. According to Knowles, amethyst is a stone to reach for "when you need clarity on making a big decision."
3. Lepidolite Medallions, $4, House of Intuition
The best budget crystal for anxiety
Specifications
Price: $4
Stone: Lepidolite
Approximate size: 2in (L) x 1.5in (W)
Reasons to buy
+Medallion shape makes these crystals ideal for carrying in your pocket or slipping under your pillow+Makes crystal therapy affordable for everyone+Purchased from a crystal therapy site that even has a learning center for more information +An ultimately calming stone
Reasons to avoid
-Shape and size may vary
The size and smooth disc shape make these crystals perfect for slipping into your jeans pocket or under a pillowcase. The price makes it ideal for those dipping their toe into crystal healing for the first time. Meanwhile, the vendor is a reputable crystal shop that has access to a learning center, should you wish to know more about these gemstones and how to use them best. 
4. Roxanne First the Lover's Wish Necklace, $418.75 [£305]
The best crystal necklace for anxiety
Specifications
Price: $418.75 [£395]
Stones: Rose quartz, green grass agate and amethyst
Chain: White gold or yellow gold
Reasons to buy
+Your healing crystal is always on your person for when anxiety strikes+The repetitive manipulations and rhythmic clicking of the crystals is soothing+Fashionable+Lightweight+Set your intention and use the necklace as a daily reminder of those positive thoughts
Reasons to avoid
-It's a necklace rather than a crystal for the home
One of the coolest jewelers in London, Roxanne First, combined forces with crystal healer Emma Lucy Knowles. Together they created The Power of Three, a crystal healing necklace that the pair describe as "a piece of jewelry that takes care of you as you wear it." The three crystals symbolize the connection between mind, body, and spirit. 
The key to the Power of Three is the intention-setting ritual. Knowles recommends you light a candle, close your eyes and ask yourself: "What is the intention of my crystals?" Then thread the crystals onto the chain, repeating the mantra. 
5. Monica Vinader Howlite Linear Stone Ring, $175 [£125]
The best crystal ring for anxiety
Specifications
Price : $175 [£125]
Stone: Howlite
Other materials: Recycled silver and 18ct gold vermeil
Size of stone : 15.5mm (L) x 4.1mm (w)
Reasons to buy
+Handmade+Ethical+Chic accessory+Always on your person for times when anxiety strikes+A soothing stone
Reasons to avoid
-Perhaps too discreet for some
This ring looks good and does good, on several levels. According to Knowles, howlite "soothes tension from the body and assists you when you need to slow an overactive mind." 
The ring also has a positive impact on the environment: It is made of recycled sterling silver to help cut high CO2 emissions associated with mined silver. The open setting of the ring gives the illusion of a floating stone—stack it with other gemstone rings in the collection to really boost your crystal healing powers.
Senior Beauty Editor, Future Publishing. Portfolio: Marie Claire, Cosmopolitan, Stylist.