5 crystals for anxiety to help promote a sense of calm
We asked an expert all about healing crystals for anxiety to help you destress and recenter your mind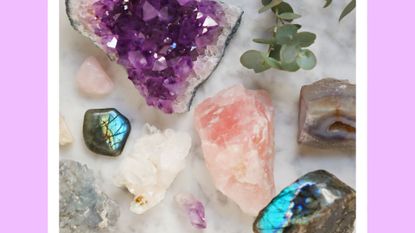 (Image credit: Getty)
If your stress levels are through the roof—guilty!—crystals for anxiety may help you to restore a sense of calm in your life. Add to that the fact that you can also use crystals to help sleep and you've got quite the wellness wonder stored in those pretty little gemstones.
The beauty of crystals is that there really is one for every scenario, whether you're seeking crystals for beginners, something to use if you're getting over a breakup or crystals for sexuality in case you need an oomph in the bedroom. It makes sense that crystals, which are born of the earth, should be a thing that grounds us.
"Crystals are truly powerful—they work to heal or realign our energy," crystal healer Emma Lucy Knowles tells My Imperfect Life. "Each one harnesses, attracts, and promotes its own special properties that resonate with your energy to aid you in a particular life event."
Have Knowles' below recommendations for the best crystals for anxiety on standby either in your home or in your pocket to help you feel centered and less stressed.
Meet the experts on crystals
Emma Lucy Knowles is a crystal healer and the author of The Power of Crystal Healing: Change Your Energy and Live A High-Vibe Life. She explained some facts about crystals, as well as those she recommends reaching for when you're feeling overwhelmed to help bring a sense of calm, below.
What are the best types of crystals for anxiety?
Howlite: "This crystal is your queen here—it soothes tension from the body and assists you when you need to slow an overactive mind," Knowles explains.
Lepidolite: "Breathing is key in enabling us to reduce our anxiety and this soothes not only the mind but also creates a deeper fulfilling breath. This, in turn, helps to activate the parasympathetic nervous system to produce feelings of calm and relaxation."
Lemon chrysoprase: "This piece gives us confidence and strength when we feel alone."
Amethyst: "A stone that opens and cools the mind. Reach for this when you need clarity on making a big decision but don't know who to turn to for advice."
Jade: "A nurturing green stone that channels serenity and intuition in stressful situations. Use this crystal when you are feeling overwhelmed."
5 crystals for anxiety you can buy now
1. Skin Gym Jade Heart Gua Sha Crystal Sculpty Tool
Best crystal for anxiety for most people
Specifications
RRP: $32/£37
Stone: Jade
Size: 3.2 in (L) 0.2 in (W) 2.1 in (H)
Reasons to buy
+
Jade is a natural crystal known for its cooling, soothing, and balancing properties
+
Gua sha is an ancient facial therapy offering therapeutic benefits
+
Melts away tension on facial muscles
+
Encourages you to take time for self-care
+
The act of massage helps to slow down rapid breathing
Reasons to avoid
-
Requires learning the gua sha technique of facial massage first
Crystals for skin are becoming increasingly popular, and after a long, hard day, you can invest time in self-care with this jade gua sha facial sculpting device. The skin-scraping massage releases facial tension and de-puffs the complexion, particularly useful if you've been indulging in a few more treats than usual. The cooling stone instantly soothes both the mind and the skin. Use with your favorite serums and oils for a smoother, brighter complexion—a clever way of sneaking crystals for anxiety into your everyday routine.
2. Jia Jia Large Amethyst Geode
Best premium crystal for anxiety
Specifications
RRP : $790/£620
Stone: Amethyst
Size: 14cm (H), 13cm (L), 11cm (W)
Reasons to buy
+
A luxe-looking crystal
+
Each one is handpicked and unique in color and shape
+
Like a piece of art
+
It's already been put through a purifying process so no need to cleanse this crystal
Reasons to avoid
-
There are far less expensive options
Place this stone beside a candle or lamp to amplify its glistening beauty. This crystal has already been put through a purifying process that uses ancient techniques to cleanse it from unwanted energy and is believed to balance emotions. According to Knowles, amethyst is a stone to reach for "when you need clarity on making a big decision."
3. House of Intuition Lepidolite Medallions
Best budget crystal for anxiety
Specifications
RRP : $4 (US only)
Stone : Lepidolite
Size: 2in (L) x 1.5in (W)
Reasons to buy
+
Medallion shape makes these crystals ideal for carrying in your pocket or slipping under your pillow
+
Makes crystal therapy affordable for everyone
+
Purchased from a crystal therapy site that even has a learning center for more information
+
An ultimately calming stone
The size and shape make these crystal medallions perfect for slipping into your jeans pocket or under a pillowcase. The price makes them ideal for those dipping their toe into crystal healing for the first time. Meanwhile, the vendor is a reputable crystal shop with access to a learning center, should you wish to know more about these gemstones and how to use them as, for example, crystals for good luck.
4. Dina Mackney Lemon Chrysoprase Double Row Necklace
Best crystal necklace for anxiety
Specifications
RRP : $180 (now $150, US only)
Stone: Lemon chrysoprase
Size: 15-17 inch chain
Reasons to buy
+
Your healing crystal is always on your person for when anxiety strikes
+
Fashionable
+
Lightweight
+
Set your intention and use the necklace as a daily reminder of those positive thoughts
Reasons to avoid
-
It's a necklace rather than a crystal for the home
Handcrafted in the US, this sunny gemstone necklace from Dina Mackney is constructed with all-natural lemon, or citron, chrysoprase crystals. Having the soothing stone hung around your neck is fitting, as it's said to not only help to relieve stress but also balance body temperature.
5. Gorjana Power Gemstone Ring for Calming
Best crystal ring for anxiety
Specifications
RRP : $68 (UK shipping available)
Stone: : Howlite
Size: 7/16 in (L) by 5/8 in (W)
Reasons to buy
+
Chic accessory
+
Always on your person for times when anxiety strikes
+
A soothing stone
Reasons to avoid
-
Perhaps too discreet for some
This ring looks good and does good, on several levels. According to Knowles, howlite is a stone that "soothes tension from the body and assists you when you need to slow an overactive mind." Stack it with other gemstone rings from the collection to really help boost those crystal healing powers.
How to use crystals for anxiety
"Gently hold them while sitting in meditation or place them on energy centers while lying down," says Knowles. "Skin-on-skin connection is powerful but crystals are also strong enough to vibrate through your jeans. My pockets, even my bra, are full of them! Or place them in areas of your home that need healing."
Learning about cleansing crystals is also an important part of your crystal journey, and My Imperfect Life has also compiled a guide to manifesting with crystals.
Does crystal size matter?
"Size is not a factor," says Knowles. "A piece can be small but have a greater vibration than a giant raw rock."
The connections we have to specific crystals are also very personal. "I might hold a piece and feel the world from it, you might hold it and feel nothing," she adds. "The connection is what matters."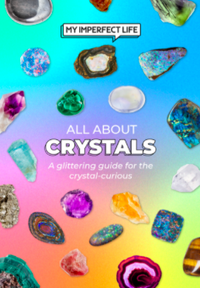 Fiona Embleton is a multi-award-winning beauty editor who has tested over 10,000 products in her 10 years + of writing and shooting beauty stories. For the past four years, she was the Senior Beauty Editor at Marie Claire, having previously worked in the role of Beauty Editor at both Stylist and Cosmopolitan. She has recently gone freelance and alongside My Imperfect Life, she has written for titles including ELLE UK, ELLE Canada, Buro 247, Harper's Bazaar Arabia, Vogue Scandinavia, and ES Magazine. Beauty journalism allowed her to marry up her first-class degree in English Literature and Language (she's a stickler for grammar and a self-confessed ingredients geek) with a passion for make-up and skincare, photography, and catwalk trends. She loves jumping on the latest internet-breaking beauty news, dissecting the best red carpet looks, and having the crème de la crème of dermatologists, make-up artists, and hairstylists on speed dial so she can tap them for the best advice. She's a discerning beauty shopper and knows it can be confusing trying to navigate what's hype and what really works. So if she really likes something, you can trust that she has reached that opinion by vetting it against everything else she's ever tried. Her career highs? Interviewing Cate Blanchett and winning a Jasmine Award for the deeply personal feature Cancer Stole My Mother's Scent.