The best 'Love Island' UK seasons to re-watch for a dose of villa nostalgia
We've ranked the best 'Love Island' UK seasons from our least fave to our most, if you're wondering which one to binge first!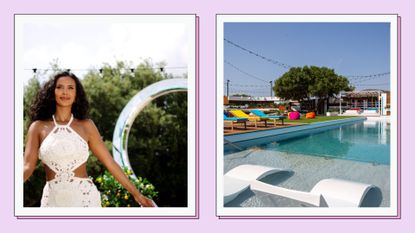 (Image credit: ITV/Love Island/Future)
With Love Island 2023 now well and truly over, we've begun reflecting on the show in general—leaving us with just one question; just which are the best Love Island UK seasons of all time? We admit it's a pretty subjective question, and all seasons have their good bits, so we thought we'd share our definitive rankings, from the very first season back in 2015, to the most recent installments this year.
While the recently finished series, season 10, provided us with some serious entertainment, it's safe to say that it has to compete with some major contenders for the title of best Love Island UK season of all time. Take Love Island 2022, for example, which was full of drama, flings and fights galore (mostly due to Ekin-Su and Davide) that had us yelling "Liar! Actress!" for weeks afterwards (definitely one of our favorite Love Island quotes of all time). And who could forget season 5's Molly-Mae Hague and Maura Higgins throwing the villa into a frenzy after coming in as late bombshell arrivals?
So if you want to reminisce over some of your favorite moments or pairings, here's My Imperfect Life's ranking of the best Love Island UK seasons to date and why. After all, a lot has changed since the show first aired eight years ago (including how many Love Island couples are still together). And if any season sparks particularly fond memories, here's how to watch Love Island UK to re-watch your faves.
The best 'Love Island' UK seasons, ranked from 'worst' to our type on paper
From the moment Love Island UK first graced our screens, we've been treated to endless Love Island memes and quotes from all sorts of hilarious moments, and Islanders. But which season will live on in history as the best, and the setting of the most memorable Love Island moments ever? Do the earlier seasons reign supreme, or has the dating show got better as its gone on? While we know this subject is definitely up for debate, here's our verdict...
In 10th place: 'Love Island' Season nine (winter 2023)
We're not throwing any shade at this series of Love Island; it brought more than its fair share of tense moments, awkward betrayals, and sweet confessions of love, especially from our eventual winners Sanam Harrinanan and Kai Fagan, and Shaq Muhammad and Tanya Manhenga. And of course, it was the season that introduced us to Maya Jama as host!
However—in our opinion—it just didn't hold a candle to previous seasons. While the boys definitely gave us a dramatic Casa Amor recoupling to rival 2022's (and 2021's for that matter), this series felt like it was lacking that main love story. There was no enemies-to-lovers arc like that of Ekin-Su and Davide's, nor a swoon-worthy reunion to match up to Molly-Mae and Tommy Fury's from season five.
Instead, we saw a lot of tears, mad moves and friendship breakdowns—which is great for the in-the-moment drama, but not so much for a nostalgic rewatch...sorry Winter Love Island 2023.
In 9th place: 'Love Island' Season six (2020)
Season six was when the Love Island bosses decided to shake things up. It was the show's first winter edition, and in our opinion, it just felt a little off from the get-go. Not only was the Love Island location changed to a villa in South Africa, rather than the usual Mallorca villa, but something about watching our favorite summer show in the peak of winter missed the mark for many viewers. That said, the format definitely worked better during the second edition of Winter Love Island...
Plus, respectfully, most of the Islanders from the season were pretty forgettable—which is probably because the world went into lockdown as soon as the show ended, meaning we didn't connect much with them outside of the villa. Aside from our in-sync dancing duo Luke T and Siânnise (who have now sadly split up), and eventual winners Paige Turley and Finley Tapp (who have also gone their separate ways after three years together), it felt like there weren't as many meaningful connections seen on screen, either.
Another season that felt interesting at the time, but failed to connect with viewers as much as previous summer seasons.
In 8th place: 'Love Island' Season ten (summer 2023)
The most recent 2023 series takes the eighth spot on our list of the best Love Island UK seasons—because while it was definitely a great watch, full of drama, it just didn't capture the nation's attention in the same way many of the other seasons did.
Viewers were certainly transfixed by the on again/off again romance between returnee Molly Marsh and Zach Noble—especially when a spanner was thrown in the works by the return of bombshell Kady McDermott. And obviously, we had a pretty dramatic Casa Amor recoupling, and a sweet reunion between Ella and Tyrique. Season 10 gave us plenty of classic Love Island moments.
However, we've given it eighth place on our list because the Love Island furore just didn't really take hold this season as it had in previous series. Sure, we had plenty of laughs with this batch of Islanders, but it sometimes felt like many of the finale couples hadn't been on particularly massive/rewarding journeys. Controversial, maybe, but we're standing firm.
In 7th place: 'Love Island' Season seven (2021)
Something about the first post-pandemic summer season just didn't seem to resonate with the public. In fact, many people thought the Love Island frenzy might have even run its course. The Islanders just didn't seem to have as much chemistry as the groups from previous seasons, and none of the couples really gave us a love story worth shouting about, though fans did grow to love the on-again/off-again relationship between Teddy Soares and Faye Winter (who have called it quits this year after 2 years together).
While Millie and Liam successfully navigated fallout from Casa Amor to ultimately be crowned the winners (the couple have since split and got back together), and Kaz and Liberty's friendship provided a cute sprinkle of wholesomeness, sadly the season was so uneventful that Faye's brown lipstick became one of the biggest talking points. Not exactly the explosive drama we're used to...
In 6th place: 'Love Island' Season eight (2022)
Last year's summer series had its fair share of seriously jaw-dropping moments; not least Ekin-Su's sneaky balcony kiss, her and Davide's incredibly entertaining arguments, an excruciating post-Casa Amor recoupling, the surprise arrival of former contestant Adam Collard, the shock exit of Jacques and the awkward post-Casa Amor reckoning between Andrew, Tasha, and Coco—to just name a few of the dramatic events!
Despite this, the series got off to a slightly slow start, and we were initially left wondering if any of the Islanders would actually form meaningful connections, which is why it's not higher in our ranking. This season was also marred by accusations of gaslighting and abusive traits from the boys (though we'd argue this unfortunately happens in most seasons)—which is another important reason it doesn't sit higher on our list. However, this was a largely entertaining series that we'd happily rewatch; so it has throughly earned its spot!
In 5th place: 'Love Island' Season one (2015)
The first seasons of a show are often the best, and OG's will know that the very first rebooted season (the original series aired in 2005—yes, the show as we know it now is technically a reboot) was no exception! There were messy moments aplenty, couples falling in love all over the place, some rather raunchy moments, and it was interesting to get stuck into a brand new(ish) show which had a really exciting concept.
However looking back at season one now—with a further 9 seasons behind us—things do feel slightly dated. While the Islanders themselves were super entertaining, things all felt a little trial and error-ish as the show hadn't yet settled into exactly the winning format we know and love today. Plus, many people didn't actually know it was airing at the time.
But we'd say it's well worth a revisit if you didn't see it first time around. We got some absolutely elite drama during the show's first run, including a shock proposal (who remembers that whirlwind romance between Hannah and Jon?), Jess' eventual romance with hottie Max, and Cally and Luis' adorable romance, which even led to their adorable daughter Vienna. It's safe to say that season 1 kicked things off with a bang.
In 4th place: 'Love Island' Season two (2016)
Season two feels like a lifetime ago now, but it was the one that proved that real connections can be formed on the show. Not only are the eventual winners and Day One couple Cara and Nathan still together six years later, but they're also married with two kids. Their fellow Islanders (and besties) Olivia and Alex are also going equally as strong after getting married in 2018 and welcoming their first baby in January 2022. It really was the season of happily ever afters!
But, as well as showcasing real and meaningful connections, this instalment also generated plenty of drama—who remembers Zara Holland losing her Miss GB crown after some *ahem* intimate time in The Hideaway with Alex?! And of course, it was the OG season of Kady McDermott and her various freak-outs! It also gave us one of the sweetest Love Island moments of all time though, when Rykard decided to leave the villa along with Rachel; the first time such a sweet and real gesture had happened.
In 3rd place: 'Love Island' Season four (2018)
By the time season four came around, Love Island was well and truly in the mainstream, and the nation had high hopes for what the 2018 show would bring, as the format was now firmly established. Fortunately, ITV did not disappoint as Islanders and fans quickly became #loyal to the show and its slew of funny and entertaining new Islanders, including the Do Bits Society members Wes, Josh and Jack.
The boys, or Josh in particular, also caused one of the most dramatic Casa Amor recouplings in the show's history, when he walked back into the main villa with new girl Kaz, ditching his original love interest Georgia. Ouch! This season also brought us Megan Barton Hanson, who ended up with Wes after he split with Laura (though the couple split shortly after the show ended) and of course, day one couple Dani and Jack who were adorable throughout—though sadly didn't last in the outside world.
In fact, many of the star's from this series went on to be super successful in the outside world, with the likes of Dani and Megan still regulars on our TV screens now.
In 2nd place: Our runner-up is 'Love Island' Season three (2017)
Season three was the season that really cemented Love Island as the nation's favorite drama-filled dating show, and earned it its place in reality TV history.
After a low-key start, it became—with no exaggeration—the topic of conversation across offices, social media and nights out with friends. We all fell in love with the bromance between season favorites Kem and Chris, and there was lots of drama in the form of Chris' relationship with Olivia. And, viewers watched on in adoration as fan-favorite Camilla was finally swept off her feet by Jamie (the couple are now married with two kids, by the way). Not only that, but Stormzy even made an in-villa appearance via video link! There was a lot to love here.
It was also the first year we were introduced to the Casa Amor plot twist and, boy, did that cause a stir. The chaos that ensued during the reunion episode was one for the Love Island books. Plus, this series made real stars out of the cast, with the likes of Kem, Olivia, Chris and Montana still enjoying TV and social media fame to this day. This is certainly one of Love Island UK's best seasons.
The number one best 'Love Island' season to watch: 'Love Island' season 5 (2019)
And finally, our pick of the best Love Island UK season is season five. It was honestly the gift that kept on giving, with nothing quite matching up to it since, in our humble opinion. Not only did it give us Molly-Mae and Tommy, who are still going strong as a couple, having gotten engaged and having welcomed their first child together, but also our eventual season winner (and fan fave) Amber Gill.
One of the biggest storylines of the season was her relationship with her controversial love interest Michael, who gave us all the drama during the post-Casa Amor episode, when he recoupled with Joanna. We can practically *feel* the tension now, just thinking about it. There was also Amy and Curtis' up and down relationships, which gave us the legendary line that fans love to this day; that Curtis "want to be the guy who gets up and makes everyone a coffee in the morning."
Oh, and let's not forget our girl Maura, who kept us entertained with "fanny flutters" and the like from the moment she entered the villa as a bombshell—and, arguably, walked so Ekin-Su could run. And that's not to mention our introduction to Casa Amor's (and, arguably, Love Island's) finest man ever, Ovie. What a season!
---
How to watch old seasons of Love Island UK
The easiest way to watch the old episodes of Love Island and catch up on some of the best Love Island UK seasons ever, is to catch up on the former ITV Hub, now ITVX, which is where all the previous seasons are available. Simply follow the below steps, depending on your region:
Get a VPN (we recommend Express VPN)
Change your location to the UK
Sign up to ITVX (it's free—and you won't need to do the above two steps if you're already in the UK)
Start watching!
Time for a rewatch? You read our minds...
Best Love Island gifts and merch to shop now
Price
Refine ☵
Sort By
Sagal is a journalist, specialising in lifestyle, pop culture, fashion and beauty. She has written for a number of publications including Vogue, Glamour, Stylist, Evening Standard, Bustle, You Magazine, Dazed and Wonderland to name a few.