These are the best Love Island UK seasons to rewatch now for some fall sun
We ranked the best Love Island UK seasons to enjoy again—let us take you on a romantic, drama-filled trip down memory lane...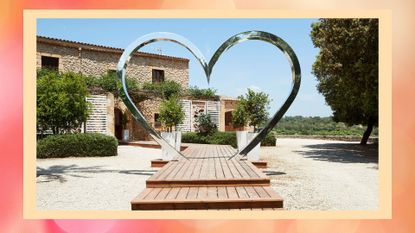 (Image credit: ITV Press Centre)
It must be said that Love Island UK 2022 really didn't disappoint, with flings and fights galore. The Love Island 2022 cast well and truly brought the romance and gossip in equal measure, and in the process generated some of the best Love Island memes we've seen.
But now that it's been a while since the dramatic Love Island UK 2022 final and we're going into the fall and winter months, it's a nice time to give the sunny villa and its fun-loving inhabitants a rewatch to live vicariously through them. So if you haven't watched the show before and don't know where to start or just want a rewatch of a series or two, here's how to watch Love Island UK if you want to catch up on the latest season.
However, if you're all up-to-date and are after some more sunny villa action, you could do worse than to watch—or rewatch (no judgment!)—one of the hit show's past seasons. Because, while t was seriously entertaining, previous installments served up plenty of iconic moments of their own.
Not sure whether to watch Love Island season eight or start with the other juicy seasons? Let us take you on a trip down memory lane with our ranking of the best Love Island UK seasons over the years. Because a lot has changed since the show first aired back in 2015 (including the number of Love Island couples that are still together) and it's no secret that some instalments were *ahem* better/more entertaining than others. Here's our verdict...
The best Love Island UK seasons—ranked from worst to our type on paper
8. Season eight (2022)
Now, we're not throwing shade at the latest series of Love Island—it brought more than its fair share of seriously jaw-dropping moments. Not least Ekin-Su's sneaky balcony kiss, a toe-curling post-Casa Amor recoupling, surprise arrival of former 2018 contestant Adam and the shock exit of Jacques among many other things.
However, let's be honest, it's likely you have been on the edge of your seat following it closely for weeks and weeks now and you probably want to break up with the islanders and watch something different. So, unless you are yet to catch up on the recent installments (which you should), we think it's best to park this series for now and sample a bit of nostalgia from the show's older editions. However, this is certainly one to return to at a later date...
7. Season one (2015)
Typically, the first seasons of a show tend to be the best, but that arguably wasn't quite the case with Love Island. Many people didn't actually know it was airing at the time, having been relaunched since the original series aired in 2005 (yes, the show as we know it now is actually a reboot!)
Looking back, season one feels slightly dated. While the Islanders themselves were super entertaining, it all felt a little trial and error-ish, and it arguably hadn't settled into the winning format we know and love today. That being said, we still got some great drama... and a shock proposal (who remembers the whirlwind between Hannah and Jon?). But, the show then was not exactly what we know and love it to be today.
6. Season seven (2021)
Something about last year's installment just didn't seem to resonate with the public. In fact, we all thought the Love Island frenzy had perhaps run its course. The islanders just didn't have as much chemistry as a group as in previous seasons, and none of the couples really gave us a love story worth shouting about
While Millie and Liam successfully navigated fallout from Casa Amor to ultimately be crowned the winners and Liberty's friendship with Kaz provided a cute sprinkle of wholesomeness, the season was so uneventful that Faye's brown lipstick became one of the biggest talking points (yes, really).
5. Season six (2020)
Season six was always a questionable move from the Love Island bosses. It was the show's first (and last) winter edition and well, it just felt a little off from the get-go. Not only was the Love Island location changed to a villa in South Africa, rather than the usual Mallorca villa, but something about watching our favorite summer show in the peak of winter felt a bit wrong.
Plus, respectfully, most of the islanders from the season were pretty forgettable... aside from our in-sync dancing duo Luke T and Siannise. The couple had a good run on the outside world, moving in together and even getting a dog, though sadly their cute little family setup was short-lived when they broke up earlier this year.
4. Season two (2016)
This really feels like a lifetime ago, but the second season of Love Island is the one that proved that real connections can be formed on the show. Not only are winners and day one couple Cara and Nathan still together six years later, but they're also married with two kids. Their fellow islanders (and besties) Olivia and Alex are also going equally as strong after getting married in 2018 and welcoming their first baby in January.
It really was the season of happily ever afters! But, as well as showcasing real and meaningful connections, it also generated plenty of drama—who remembers Zara Holland losing her Miss GB crown after some *ahem* intimate time in the hideaway with Alex?
3. Season three (2017)
Season three was the season that cemented Love Island as the nation's favorite show. After a low-key debut, it became—without overstatement—the topic of conversation across offices, social media and nights out with friends, as we all fell in love with the bromance between season favorites Kem and Chris. There was drama in the form of Chris' relationship with Olivia, and viewers watched on in adoration as fan-favorite Camilla was finally swept off her feet by Jamie (who are now married with a baby).
It was also the first year we were presented with the Casa Amor plot twist and boy did it cause a stir. The chaos that erupted is one for the Love Island books. Plus, this series made real stars out of the cast—with the likes of Kem, Olivia and Montana still enjoying TV fame.
2. Season four (2018)
By the time season four came around, Love Island was well and truly in the mainstream and the nation had high hopes of what the 2018 show would bring. Fortunately, ITV did not disappoint as islanders and fans quickly became #loyal to the show and its slew of new islanders, including the Do Bits Society members Wes, Josh and Jack.
The boys (or Josh in particular) also caused one of the most dramatic Casa Amor recouplings in the show's history, when he walked back into the main villa with new girl Kaz, ditching his original love interest Georgia. Ouch! This season also brought us Megan, who ended up with Wes (though the couple split shortly after) and of course, day one couple Dani and Jack who were adorable throughout, but didn't quite last on the outside.
1. Season five (2019)
Our pick of the best Love Island series is season five—and it was honestly the gift that kept on giving, with nothing quite comparing to it since. Not only did it give us Molly-Mae and Tommy, who are still going strong as a couple, but also season winner (and fan fave) Amber, her bestie Anna and her controversial love interest Michael, who gave us all the drama we needed.
Oh, and let's not forget our girl Maura, who kept us entertained from the moment she entered the villa as a bombshell—and, arguably, paved the way for Ekin-Su—not to mention our introduction to Casa Amor's finest man, Ovie. What a season! Time for a rewatch?
---
How to watch old seasons of Love Island UK
The easiest way to watch the old episodes of Love Island UK is on ITV Hub as all the previous seasons are available on there.
This is what you have to do:
Get a VPN (opens in new tab) (we recommend Express VPN (opens in new tab))
Change your location to the UK
Sign up to ITV Hub (opens in new tab) (it's free)
Start watching!
Best Love Island gifts and merch to shop now
Brand
Colour
Price
Refine ☵
Sort By