Wondershare's new campaign empowers women to Claim their Space online
Use Wondershare's powerful creative suite to Claim Your Space and you could win $200, and empower others too!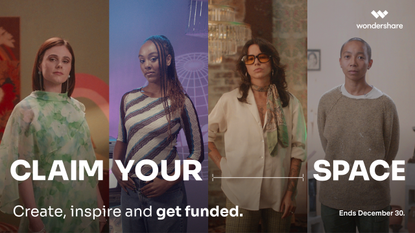 (Image credit: Wondershare)
Social media platforms can be a great outlet for inspirational content and thus a source of empowerment. Wondershare is campaigning to help you Claim Your Space (opens in new tab), empowering women to create content and share their stories and passions with a worldwide audience, using Wondershare's simple, but powerful video editing tools.
Share and win with Wondershare: Claim your Space
As a leader in creative software with a 20-year-long history, Wondershare's (opens in new tab) mission is to provide content creators with easy-to-use but powerful tools for video editing —equipping users with the instruments to take their self-expression to the next level.
The company's most recently launched campaign "Claim Your Space" will highlight women's stories and create a platform for amplifying female voices of all ages, backgrounds, and diversities. Wondershare's campaign will elevate women and help them express themselves with confidence, whilst simultaneously uplifting the community.
Entering the campaign is easy! Create and share a video or photo to show your day-to-day victories that make you a better person. It could be your workplace, an activity you are passionate about, or the performance of a signature talent or skill.
For a chance to draw $200 from Wondershare's Empowerment Fund, share your entry via Facebook, Instagram, Twitter, or YouTube, using the hashtag #ClaimYourSpace as well as #WonderSpace. Also, be sure to tag @Wondershare and two friends in your post.
In addition, Wondershare donates $5 to the charities "Step Up" and "Dress for Success" for each entry. Both companies work tirelessly to empower women and girls across the globe, and simply by entering, you'll be able to support their mission.
The campaign will take place starting October 18, 2022 and run through to December 30 2022.
For further information on Wondershare's Claim Your Space campaign, head here. (opens in new tab)
Wondershare: Powerful creative tools for your empowerment
These powerful and easy to use tools from Wondershare elevate your videos to the next level!
Use Wondershare's Anireel (opens in new tab) to wow viewers with an animated video, bringing your story to life in a unique style that's as exciting to make as it is to experience. Anireel's character builder, templates and other features make animation easy.
Celebrate your authentic self: Vlog your day at work, live stream your passions and hobbies, share your creations and build your audience. Edit the footage using Wondershare's industry-leading desktop video editor Filmora (opens in new tab). Far more affordable than similar products on the market, Filmora is an equally powerful and easy-to-use app for your Windows PC or Mac, making video creation quick and effortless. It provides creative effects, as well as motion tracking, colour grading and much, much more.
Silent videos are an increasingly popular form of creative content, appreciated for evoking a simple yet peaceful atmosphere, without compromising their ability to carry emotions. Use Wondershare's immense stock library Filmstock (opens in new tab) to add music that strikes the mood of your video. Filmstock also features hundreds of video effect packs, 70,000 royalty-free stock images and over 1,700 music files to choose from. There's something for everyone here, without need for concern for copyright strikes and the like.
"Talking head videos" are a great tool for keeping your audience engaged whilst delivering messages, in combo with tried-and-tested Instagram photo dumps and selfie sprees help you promote your brand. Try Wondershare's Sweet Selfie (opens in new tab) or StoryChic (opens in new tab) for added beauty effects, filters, and trendy stickers to elevate your stills or your TikTok vids. Edit Instagram posts, stories, and reels with over 2000 stunning templates of all shapes and sizes.
The My Imperfect Life team is all about helping you navigate your world. We bring you the latest on fashion, beauty, travel and wellness so you can live life on your terms.