Why is portraying masturbation an uneasy conversation?
The Body Shop's latest campaign explores 'Self Love' and is a much needed celebration of female pleasure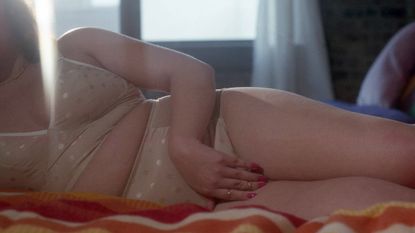 (Image credit: Getty Images / Ashley Armitage)
For a long time, reality TV shows found most of their drama and their audience appeal from showing quickies between its stars under rustling white sheets. With the rise of social media, the main characters of shows like Love Island make it clear that they won't be participating in such antics due to the fear of being judged on the Twitter timeline. To the more modest among us, this may feel like a victory. To the sex-positive, it feels like a step back into feeling shame for our sex drives.
In line with these prudish tones, the latest advert by The Body Shop—Self Love Street—that was played during Love Island caused a stir online as some viewers found "promoting masturbation" an uneasy conversation. But as The Body Shop points out in this revolutionary campaign, we should find empowerment—and of course, self-love—in our bodies and sexual pleasure.
Not only that, but masturbation is only a small portion of the entire campaign. Instead of isolating one act of (literal) self-love—that is, it should be said, alluded to rather graphically stated—the message of rejecting self-doubt should be celebrated in all its iterations throughout the thirty seconds of video.
The campaign centres around three different women struggling with self-doubt, portrayed in relatable contexts such as receiving hate online, disliking a selfie and getting rejected on a dating app—all overcome with an act of self love. Fran reaches down her knickers to masturbate, Leila paints a self portrait she does like to reclaim her own image and Olivia continues playing her guitar—uncaring of what an anonymous online audience may think.
Both the obstacles and solutions portrayed in The Body Shop's advert are extremely relatable ways of making ourselves happy when outside sources may aim to tear down our self-worth. Just like the two artistic outpourings of self-love, masturbation should be seen in the same light of a safe pick-me-up that's pretty much guaranteed to get you smiling again.
That said, the importance of including masturbation (in particular, female masturbation) in a mainstream conversation about empowerment is an important step towards normalising our sexuality and sexual urges. Two parts of the female experience that have, for decades, been glossed over, ignored and even reviled, when at their core? Masturbation is a regular occurrence for most of the population.
By not speaking on these topics, it only furthers the taboo that surrounds them. By normalising them in a context about celebrating ourselves, we all benefit from portraying playing with yourself as a positive act.
By promoting women's masturbation on a national level, The Body Shop reframes the conversation to include female pleasure as being important. And not only that, but female pleasure being an everyday part of life.
All in all, this campaign by The Body Shop is revolutionary but it shouldn't be one stand alone instance of masturbation representation. Instead, other brands and media can learn a lesson in showing its female audience the joys of celebrating ourselves, our bodies and our sexualities on a regular basis. Fulfilling our own needs and wants is a necessity for an independent and confident woman and not only that, it's a lot easier than learning how to paint a portrait or play a guitar.
Gina Tonic is a creative freelance culture journalist based in Manchester, but originally from South Wales. She champions a feminist perspective in her work and has been writing professionally for over five years.