How to save money while renovating your home
Want to give your apartment a makeover without blowing your life savings? Here's what to do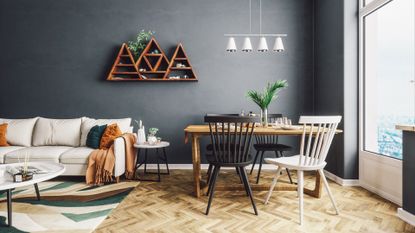 (Image credit: Getty)
One scroll through Instagram or Pinterest on any given day has us wanting to renovate our whole home into an aesthetically pleasing millennial paradise – think terrazzo surfaces, velvet accents, and hanging plants galore. And, with spending so much more time at home recently, we've got all the more reason to jazz up our living space. But, while inspiration is free, home improvements come at a cost, and we can't all afford to live like an influencer.
Luckily, there are plenty of things you can do to improve your space without spending an obscene amount of cash. Here are some of our top tips.
Flip your furniture
Instead of splurging on a fancy new couch or a trendier chest of drawers, get creative and renovate your existing furniture. You can spend less than a hundred dollars and feel like you've got brand-new stuff. Not to mention you'll feel like a total queen for doing it yourself. Ideas include reupholstering your sofa or armchairs in a funky fabric, painting your old bookcase in a vibrant color or stenciling on your headboard.
Shop at thrift stores
Sure, it's nice to fill your home with the latest 'it' pieces from West Elm and Anthropologie, but your space will look so much cooler if it's decked out in an eclectic mix of antique items that no one else will have. Even better is that when people ask you where your chintzy lamp or quirky coffee table are from, you get to say the coolest (and smuggest) three words in the English language: "Oh, it's vintage". Prices can vary depending on how bougie the thrift store is so make sure it's right for your budget before you start rummaging. You can also find some great second-hand furniture online at spots like Facebook Marketplace and eBay.
Get painting
It may seem simple – and it is – but painting is one of the easiest ways to make a huge difference to a room. If you do it yourself instead of hiring someone, it's one of the cheapest ways too. If you don't want to spend a lot on paint, just one striking accent wall is enough to transform the space. Our tip? Use your masking tape to create geometric shapes on the wall, paint over it, then peel away to reveal your design.
Do some DIY
Certain home improvements might be intimidating but you can pretty much find out how to do anything online these days. A short video course can teach you anything from wiring (hello, stylish pendant lamp) and treating damp to splitting a room with a stud wall, so there's no excuse not to give them a go. You'll save so much money getting stuck in and doing these seemingly tricky tasks yourself.
Focus on the details
You'd be surprised at just how big an impact small decorative details can make – and they don't need to be costly to do it. Adding a cute doormat at the entrance or a few throw pillows to your bed or sofa, draping fairy lights down your banister and popping some candles, plants and art prints around the place pulls your interior together and helps make your home feel very individual to you.
Declutter your space
We've all seen Tidying Up with Marie Kondo, right? Sometimes all your place really needs is a good organization. Go through your things and only keep the things you really need or want (do they "bring you joy"?), then create clever storage such as under-bed boxes, coat hooks and sneaky shelves to keep your belongings in order.
This article is supported by the International Open Academy.
Victoria is a freelance journalist with eight years of experience, writing everything from reviews and news pieces to meaty features for various online and print titles — including easyJet Traveller and b.inspired. Her work covers travel, lifestyle, health, and fitness. In her spare time, Victoria performs improv comedy and she's currently training to be a PT.