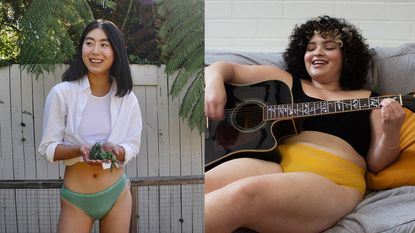 (Image credit: Modibodi)
If there's one thing we can all agree on when it comes to our periods, it's that we're always looking for ways to make our time of the month as comfortable as possible. One of the ways a growing number of us have been doing so is by turning to a more sustainable way of dealing with menstruation.
Women around the world have been swapping their pads and tampons out for period underwear in an attempt to not only be eco-friendly but to save money. And now, period apparel company, Modibodi, has launched a new campaign to encourage even more of us to make the transition.
The campaign, titled 'My Period is Green', aims to promote sustainable periods but also hopes to dismantle the stigma surrounding periods as a whole. Modibodi as a brand has always been committed to normalising menstruation, with one of their recent adverts causing controversy on social media for showing blood.
The backlash only proved one thing; clearly, there's still a lot of work to do, including educating people about the choices available to them for period management, hence the new campaign.
Modibodi, who sell a wide range of period pants, has pledged to protect the environment and reduce the unnecessary reliance on single-use items such as pads and tampons to manage periods and other leaks.
"Many people are shocked to know that the average woman will use 11,000 disposable feminine hygiene products in her lifetime (to manager her period) and these convenient products come with a huge environmental cost," said Kristy Chong, the brand's founder and CEO.
"At Modibodi we say NO to single-use products. The energy and water of the raw materials, plus production and carbon emissions used in shipping these products - which are used once and replaced - are unacceptable. At Modibodi we put sustainability first and so do our customers, and we thank them for choosing to reuse!"
Since the brand launched in 2013, Modibodi has saved millions of garbage bags worth of waste from ending up in landfill, but their job isn't done yet. The #MyPeriodIsGreen movement is set to take over social feeds now that it has launched, in order to encourage women around the world to go green and educate others to do same.
Modibodi wants those who'd like to get involved to post photos across their social platforms to spread the #MyPeriodIsGreen message - it can be anything from plants, greenery and nature to a pair of period pants - and then use Modibodi's dedicated #MyPeriodIsGreen Sticker to show your solidarity.
Sagal is a journalist, specialising in lifestyle, pop culture, fashion and beauty. She has written for a number of publications including Vogue, Glamour, Stylist, Evening Standard, Bustle, You Magazine, Dazed and Wonderland to name a few.