Eight tattoo ideas for best friends to inspire you and your BFF
Looking for tattoo ideas for best friends? Here are some fun and quirky ideas that will cement your friendship forever!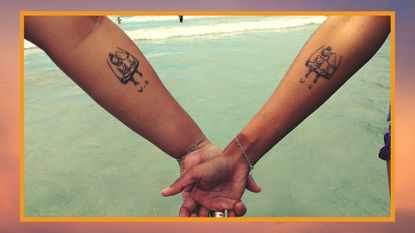 (Image credit: Future/Getty Images)
Coming up with tattoo ideas for best friends is a ridiculously sweet way to cement your BFF-status and ensure that your friendship will endure throughout the years—after all, there's no getting rid of matching inking! If you're considering making this fun commitment to your bestie, our ideas will help inspire you for when you're ready to head to the tattoo artist.
Our best friends guard our secrets, share our joys, and offer a comforting shoulder to lean on when we need it most. And it isn't about how long you've known them—the only important thing is how well you vibe with each another. So when you've found your lifelong bestie, it's understandable that you might want to affirm your (platonic) commitment to one another in tattoo form.
Tattoo ideas for best friends can vary hugely—some friends have a design or symbol in mind that relates to a shared experience (perhaps you met in college?), while others look for fun, creative ideas to honor their lifelong bond. Whether you're after matching micro tattoos or want something a bit more bold, here are some ideas you may want to replicate for yours and your bestie's matching ink.
Tattoo ideas for best friends: what to consider when planning yours
Before you head off to get your matching tats, it can be helpful to consider what you want your new tattoo with your friend to represent. Consider:
Do you want it to have a certain meaning?—You and your BBF may want to honor a specific memory, like the day you met or perhaps a moment in time that cemented your best friend status, such as the day you really bonded at school or work. You may have a shared symbol that only you both understand. Alternatively, you may just both want a tattoo of something cute, and feel braver getting it together! Think about the implications of your tattoo before getting it.
Where you want it—Will both of your tattoos be in the same place, and will they be the exact same tattoo, or something that only makes sense when you come together (such as the wings of a butterfly)? Regardless, the size of the tattoo you want will probably influence where you get it. Small symbol tattoos can fit on a finger, your wrist, ankle, or beneath your ear. A larger design requires more space, so you and your bestie might choose your back, chest, shoulders, forearm, feet, hip, or thigh area.
Remember, the tattoo artist can help—If you and your friend can't think of something you both love, you can always have the tattoo artist create a custom design for you. Many tattoo artists prefer to do original artwork and will be glad to work on a design after chatting to you about a way to best represent your friendship.
Eight best tattoo ideas for best friends
Choosing a tattoo can be an overwhelming decision. You and your bestie have everything in the world from which to choose, but let's hone it down to a few popular categories out there—many tattoo ideas for best friends fall under the following themes:
1. Animal tattoos
If you want a cute, fun idea and don't have anything especially poignant in mind, why not choose your mutual favorite animal, or one that represents qualities that you admire in one another?
If you both love cats, dogs, or horses, for example, getting a tattoo of matching animals makes for a lovely choice. Many people get small, minimalist tattoos of animals, but a larger image can also be fun!
2. Cartoon tattoos
For another fun idea for yours and your bestie's tattoos, why not choose your favorite animated characters? You could opt for two characters who make up a duo in the cartoons, such as Tom and Jerry, or Ren and Stimpy, to represent your IRL friendship.
Cartoon tattoos can also be an easy way to get a matching design; get one of the characters yourself and your BFF can get the other!
3. Flower tattoos
For another sweet idea that is totally timeless, choose a flower that best represents your friendship. Flowers are very symbolic, so opting for this type of tattoo could be a nice way of sharing a special meaning about your relationship.
For example, the arborvitae (or thuja) plant represents unchanging friendship, so it's one of the best tattoo ideas for best friends. Other options for flower tattoos include roses, which obviously symbolizes love, carnations, which symbolize female love specifically, daisies, which can represent loyalty and sunflowers, which—you guessed it—also signify friendship.
4. Infinity tattoos
Of course, a more obvious way to symbolize that you'll be friends forever is the classic infinity symbol, or a line that never ends.
Though it's also popular tattoo idea for couples, this instantly recognizable curved symbol isn't just a romantic sign—it's simply a touching way to say that your bond is forever.
5. Long-distance tattoos
To represent two besties who are often separated by long distances, you could get a tattoo of crossed arrows with initials. Between the two arrows, you'd have your friend's initials, and between theirs, they have yours. Or, both tattoos could include both initials.
You can choose this in black ink, or have some fun with color. For true BFF's, this is one of the loveliest ways to affirm your bond even from hundreds or thousands of miles away.
6. Name or inital tattoos
Getting your much-loved friend's name or initials tattooed onto you is a serious commitment, but it's also a really simple and elegant option if you're looking for tattoo ideas for best friends—what better way to signify your bestie's importance in your life?
7. Lyrics or a quote
If that feels a bit too intense though, you could also choose a word or a quote that's special to the pair of you; maybe you both have a shared love for a movie, song, or TV franchise that has really bonded you over the years? Or, there may be a famous quote that really defines your relationship out there.
For longer lyrics, select a simple font or cursive. If you choose a shorter phrase, song title, or just a word, something elaborate like a script font is a beautiful way to display those special words on your body.
8. Split designs
One of the best tattoo idea for best friends is a split design that can be divided between you and your best friend. The idea is that you both get half of the tattoo, so that when you bring them together, they form the full piece. Wondering what to get?
You could try a heart, butterflies or birds, or something a bit more quirky, such as an avocado, or puzzle pieces that fit inside each other!
---
Whatever you choose, you and your best friend will be able to share something permanent and special. Find a design you both love, and enjoy this ever-lasting ode to your friendship.
Lucy is a beauty journalist who has written for titles including Marie Claire, Cosmopolitan, OK!, woman&home and Women's Health, as well as regularly contributing to My Imperfect Life. Her work covers everything from skin and haircare tips to trying and testing the latest beauty launches, and interviewing celebrities and experts. A certified dog person, her other interests include mental wellbeing, books, piña coladas and not getting caught in the rain.