8 meaningful tattoo ideas for couples who want matching ink
These sweet tattoo ideas for couples are all the inspo you need if you and your partner want to go matchy-matchy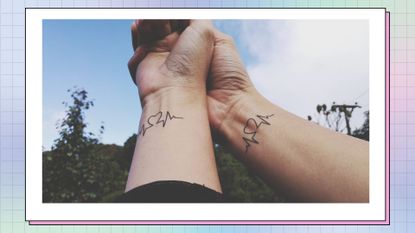 (Image credit: Getty Images/Future)
Big or small, there are so many tattoo ideas for couples to choose from. If you're married or in a relationship with your soulmate, a tattoo can be a super fun way to show your commitment to one another. But choosing the right option is a big decision, and something you don't want to get wrong!
Before making a final decision, consider what type of tattoo you'd both want. Micro tattoos (which are precise, small, fine-line tattoos) might be the way to go if you'd prefer something meaningful but discreet. Or maybe you'd like something symbolic, like an infinity sign, to portray the depth of your devotion to each other.
Some couples choose tattoos that are personal to them instead, such as a date or location name that means something to you both. If you're unsure about what to opt for (understandable!), below are some cute and meaningful tattoo ideas for couples to help inspire your big decision.
8 tattoo ideas for couples
1. Birds
"Birds of a feather flock together," according to Romantic painter William Turner—so getting a bird tattoo could be a beautiful way to symbolize the fact that you're 'flying' through life together!
While a bird tattoo looks lovely and pretty, it also symbolizes the idea of independence and freedom, both of which are important even if you are in a happy partnership. A bird tattoo, in that case could represent the joining together of your independent lives, and the respect you'll both maintain for each other's interests and feelings as you move forward. The options for a bird tattoo design are are varied too—you could each get a single, small bird, or one of you could opt for an entire flock down your arm or leg.
2. The conjoined butterfly
Butterflies, like birds, often symbolize freedom, beauty, and flight. However, they can also nod to a magnificent bond. If you think this captures your relationship accurately, you may want to opt for the conjoined butterfly tattoo. Your partner could get half of the butterfly on their wrist, and you could get the other half on yours. When you join your arms together, they'll form a beautiful butterfly.
If you don't love the idea of having a conjoined tattoo because you want the art piece on your body to stand on its own though, that's completely understandable. You could always each get matching butterflies on your arms instead.
3. Bee tattoos
Bees actually symbolize loyalty, which may not surprise you if you're aware of their unfailing dedication to the Queen Bee. So this image might just be the perfect way to express your feelings for your other half, and they to you.
Not only does it have a sweet meaning, but a bee also makes for a really pretty small design tattoo—whether you opt for a minimal fine outline, or a detailed illustration.
4. The meaningful word
If you're certain that you've met the perfect someone (and you believe in this sort of thing), one of the best tattoo ideas for couples might be a big expression of your commitment to each other—and there's no bigger sign of your love that getting the word "soulmate" written in cursive on both of your arms. Some might say it's an even bigger declaration that marriage!
Of course, you could pick just about any meaningful word to both get inked—perhaps you have a nickname for each other that might suit you better?
5. A meaningful date
This is one of our favorite tattoo ideas for couples. Getting matching tattoos of the date on which you officially became a couple, went on your first date, or the day you got married is a lovely way to remind you of your commitment to each other.
As a bonus, you'll never forget when to wish your significant other a happy anniversary! If you're not married or don't remember the date of your first date (we ge it) you could instead get a tattoo of the day you first said you loved each other, or perhaps the day your child was born. The date can be anything that's significant to you both.
6. Moon tattoos
For something symbolic and pretty, but not overly romantic, choose a pair of moon tattoos. The moon has been revered in many cultures across the world for its beauty, purity, and steadfastness.
It also symbolizes the passing of time, which could be a nod to the longevity of your relationship. Stars work very well, too!
7. Infinity signs
If you both believe that this relationship is forever, getting an infinity symbol somewhere—the wrist is a popular spot—is a great way to express that feeling. This symbol can be as simple or bold as you like.
Some prefer a block, filled in infinity symbol, while some prefer to keep it delicate with more of an outline design. Whichever you choose, getting an infinity tattoo is a constant reminder of your forever bond to your beau.
8. Ring tattoos
For some couples, the idea of tattoo rings (rather than physical rings) is the ultimate symbol of commitment. Tattooing a ring around both of your ring fingers when you get married (or perhaps instead of getting married), is a touching way to display your devotion to your partner. It might even be preferable if you don't like wearing rings in general!
And these tattoo rings can look however you'd like. Some couples prefer a simple outline drawing, whereas others prefer a bolder more elaborate design. And it doesn't need to be on your ring finger either—get it on whichever finger you feel most comfortable.
---
Tattoos are a serious commitment, so it makes sense that couples in committed relationships get inked to show one another they care. And these tattoo ideas for couples are just some of the designs you can choose from to display your affection for each other too. If you want to get creative and design your own tat option, you can work with a tattoo artist to create the perfect image for you both.
Lucy is a beauty journalist who has written for titles including Marie Claire, Cosmopolitan, OK!, woman&home and Women's Health, as well as regularly contributing to My Imperfect Life. Her work covers everything from skin and haircare tips to trying and testing the latest beauty launches, and interviewing celebrities and experts. A certified dog person, her other interests include mental wellbeing, books, piña coladas and not getting caught in the rain.

With contributions from