20 hilarious things every girl wore in the noughties
You might have erased some of these from your memory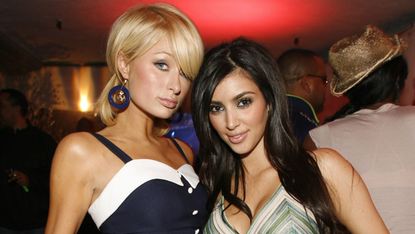 (Image credit: Chris Polk/FilmMagic for Bragman Nyman Cafarelli)
The 00s really were an interesting time for fashion. Here are some reminders of the biggest trends of the decade that'll make you both laugh and cringe...
1. Circle belts
Nobody wore belts to actually, like, hold up their trousers or anything. We just draped flimsy bejewelled circles around our hips because it looked so chic.
2. Low-rise trousers
Simon Cowell was basically the only person in the world who owned a pair of high-waisted trews in this era.
3. Baker boy hats
In their defence, this was a big improvement on the bucket hats of the 90s.
4. These super-boring (and pretty unflattering) vest tops
We had about 11 different colours in our wardrobes.
5. Gypsy skirts
Totally nailed that boho look, girl.
6. Velour tracksuits
Comfortable AND cool. We vote this one to make a return.
7. Ridiculously over-the-top ponchos
We're talking patterns, colours, fringing…
8. Sassy slogan tees
Why say it to their face when you can have it written across your chest?
9. Painful-looking halternecks
The risk of wardrobe malfunction was HIGH.
10. Trucker caps
Von Dutch was the ultimate dream - so much so that it has had a shock rival among streetwear influencers in the past couple of years. But back then, you could always get a high street knock-off while saving your allowance.
11. Cargo pants
Generally paired with an extremely tight top.
12. Beaded necklaces
What better way to finish off an outfit?
13. Coloured and/or printed tights
Oh, we were just so edgy.
14. Waistcoats
Yep, and VB was especially into these back in the day.
15. Really, really thin and pointless scarves
Thinking of it, they were probably a strangulation hazard.
16. Ugg boots
Great until it started raining.
17. Bandanas
Ideal for when you couldn't be bothered to wash your hair and still a street style favourite.
18. Fishnet… everywhere
There really was no escaping the fishnets
19. One-shoulder tops
Because having one naked arm on display was simply the height of sexiness.
20. Sweatbands on our wrists
And not when we were in PE, either.
Sagal is a journalist, specialising in lifestyle, pop culture, fashion and beauty. She has written for a number of publications including Vogue, Glamour, Stylist, Evening Standard, Bustle, You Magazine, Dazed and Wonderland to name a few.