12 trends ALL 90s girls will know
(And love)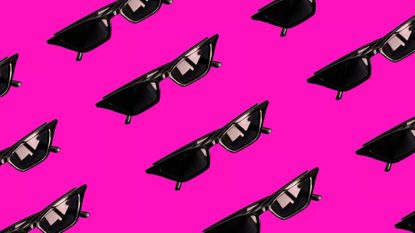 (Image credit: Getty Images)
When it comes to 90s beauty anything goes.
We're talking alien-inspired hair trends – we're looking at you and your mini buns, Gwen Stefani – and eyebrows so thin they were basically drawn on with a sharpie. Yep the 90s were jam-packed with cringeworthy beauty trends that we'll never ever forget, (mainly because our eyebrows never quite recovered), here are our all-time favourites…
1. Mini buns
Even with antenna-chic, alien-inspired hair, Gwen Stefani is still the coolest noughties star and all-round style queen.
2. Super-skinny eyebrows
Oooh Kate Moss, even you couldn't escape the skinny eyebrow trend.
3. Pineapple ponytails
The Spice Girls have a lot to answer for, and we're starting with the pineapple pony….
4. Blue eyeshadow
The brighter and bolder the better. Plus if you were really cool, you took it all the way up to your eyebrows.
5. The side ponytail
Ok, this one may have started in the 80s but the badass side-pony saw us through the 90s too (and we're oh-so grateful).
6. Chunky highlights
Everyone from Julia Stiles to Geri Halliwell rocked thick, streaks of contrasting colours.
7. The 'Rachel'
Those two little words summed up an entire decade of hair. Jennifer Aniston, we love you, but that hair…
8. Diamante tattoos
If you didn't have a crystal tattoo – preferably a butterfly or heart – for the school disco you were letting everyone down (including yourself).
9. So. Much. Brown. Lipstick.
It was everywhere….
10. Tendrils
Those two tiny pieces of hair that made every single updo/ponytail 10x better. Teamed with some kohl eyeliner and a crucifix choker and you could totally pretend you were Sarah from The Craft.
11. Crimped hair
Another 80s classic that kept us going through the 90s…
12. The statement sparkly side-clip
We'll never get back the hours we spent in Claire's Accessories trying to find the perfect hair clip….
Sagal is a journalist, specialising in lifestyle, pop culture, fashion and beauty. She has written for a number of publications including Vogue, Glamour, Stylist, Evening Standard, Bustle, You Magazine, Dazed and Wonderland to name a few.