A year after George Floyd's murder, what has really changed?
With the anniversary of George Floyd's death, we reflect on the structural changes that have taken place and those we have yet to see...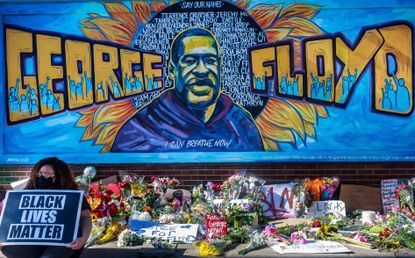 (Image credit: Photo by KEREM YUCEL/AFP via Getty Images)
It has been a year since the gut-wrenching video of George Floyd's murder at the hands of Minneapolis police shook the entire world, sparking the biggest civil rights movement in recent years. The excruciating event filmed on 25 May 2020 by 17-year-old witness Darnella Frazier, showed the unarmed 46-year-old African-American man pleading for his life with the words "I can't breathe" as officer Derek Chauvin kneeled on his neck for 9 minutes and 29 seconds, causing his death.
The racist killing led to a global rise in the Black Lives Matter movement, with millions taking to the streets in protest to demand justice for Floyd as well as the many other Black people whose lives have been unjustly taken by law enforcement in the United States. They include Breonna Taylor, who was murdered by police in her own home and Ahmaud Arbery, who was shot dead by an ex-police officer while jogging in his neighborhood. The protests that took place in cities across the US, UK and Europe, among other places, led to a wider conversation about systemic racism within our society. Social media led the way with pledges to change the state of the world by actively enforcing anti-racism in all walks of life and self-educating on prevailing issues—such as white privilege and unconscious bias.
At the time, support for the cause was widespread, with major companies, celebrities and politicians joining activists in condemning racism, addressing their own faults and vowing to 'do better' in dismantling structural racism and the oppression of Black people everywhere. Black squares and PR statements were posted on Instagram in solidarity, educational infographics flooded social media and world leaders—including the Biden-Harris administration—made promises of political reforms against police brutality and racism as a whole. Reflecting on the tragic events on the one-year anniversary of George Floyd's death, Martin Luther King III, human rights advocate and son of MLK told Times Radio: "If we did not have social media, it may not have got the kind of attention that it got, but once we physically saw what was happening the whole world was moved [....] people were moved to some form of action by...this was the one incident that catapulted what I think the Black community has been saying for some time—that Black lives matter."
As the world honours George Floyd's life with memorial events and marches 12 months later, what has actually changed? We take a look at what has happened since and how impactful (if at all) the event has been, in creating structural change against racism.
The Derek Chauvin Trial
Being found guilty of murdering someone after killing them in broad daylight, in front of countless witnesses and on camera for the entire world to see, should be a foregone conclusion, but sadly it isn't—especially if you're a police officer in America.
It took 330 days after George Floyd was killed to reach the verdict on Chauvin, following a long trial during which the events of Floyd's death were revisited. On 20 April 2021, Chauvin was eventually found guilty of second-degree murder, third-degree murder, and second-degree manslaughter, with a Minnesota jury unanimously reaching a decision in less than 11 hours of deliberation.
The moment was historic, marking a rare moment in which a police officer was held accountable for the murder of an unarmed Black person, and it sparked a plethora of reactions around the world. However, the overarching sentiment was echoed by Congresswoman Alexandria Ocasio-Cortez, who rightly expressed shortly after the news was announced that "verdicts are not substitutes for policy change".
The George Floyd Justice in Policing Act
Following Derek Chauvin's conviction, many people, including Vice President Kamala Harris, called for the George Floyd Justice in Policing Act to be approved by Congress in the US.
The George Floyd Justice in Policing Act is a bill that was designed to address "a wide range of policies and issues regarding policing practices and law enforcement accountability", states a summary published by Congress. "It increases accountability for law enforcement misconduct, restricts the use of certain policing practices, enhances transparency and data collection, and establishes best practices and training requirements."
Harris co-signed the bill in 2020 after George Floyd's murder and the protests that followed, and while it was cleared the Democrat-held House of Representatives, it was dismissed by the Senate at the time.
The new legislation would change the way police handle prisoners, make it easier to sue abusive officers and cut police departments off from the supply of military-grade equipment that they currently have access to, which increased tensions during the protests last summer. The bill will also require all law enforcement to undergo training "on racial, religious, and discriminatory profiling for all law enforcement".
In order to be passed, the bill would need 60 votes in the Senate, which is split 50/50 between Democrats and Republicans.
According to the White House, the George Floyd Justice in Policing Act is President Biden's top priority when it comes to police reform, reports Poynter. Biden has "thrown his weight" behind the bill, reports The Telegraph, promising to work with Tim Scott—the only black Republican senator—to reach a "compromise" that ultimately gets the bill passed. Unfortunately, we have yet to see this happen.
Local police reforms
There has yet to be any real national police reform, although some action was taken on a local level last summer. During protests, many called for the defunding of the police and in some areas, they were heard.
In August 2020, Austin City Council cut the police department by one-third. Similar moves were made in cities such as Seattle, Baltimore and Los Angeles and the Berkeley City Council in California approved a measure that shifts traffic enforcement away from the police department.
In Minneapolis, where George Floyd was killed, the city council voted to defund the police but the mayor stopped them from replacing the police department altogether. Similarly, in Atlanta, where police killed another unarmed black man last year, the city's mayor limited police use of deadly force rather than defunding. Meanwhile New York City's mayor cut hundreds of millions of dollars from the police, promising to give it to youth and social services, according to the BBC.
Police relationships with people of color were also addressed in the UK following the Black Lives Matter protests. Figures showing the racial disparity between young people targeted by the 'stop and search' policy revealed that out of 1,000 white people in England and Wales, there are six stop and searches per year. For 1,000 black people, the figure is 54.
The government responded, with Prime Minister Boris Johnson saying: "There are very serious issues that our society faces to do with racism that we need to address, we've got to do more to fix it."
However, no actual reforms have taken place yet.
In his interview with Times Radio today, Martin Luther King III similarly said the US government weren't doing enough. "There's a George Floyd bill that's passed the United States House of Representatives which prevents using choke holds and no-knock warrants, all of those kinds of things. There are a number of other things in that legislation and that's a good first start. The problem is that in the United States Senate, they don't seem to be willing to pass the legislation, thus far."
He continued: "I do think that there may be some form or version but this is just a first step. There are many other steps. We need police oversight—meaning civilian review and civilian oversight boards where the public has the ability to, not just subpoena, but to make recommendations that would be adhered to where an officer or officers are fired or are held accountable by going through the system of justice. That is just one of the steps. We need severe or tremendous psychological evaluation of officers. We need officers who are hired from the communities they patrol—not are hired from somewhere else and really don't have a vested interest in a particular community. So there are a number of things that have to be done."
Statues and Confederate flag ban
Many statues of slave owners and historical colonial figures have been celebrated, staying up on display until this very day. However, last summer protesters called for an end to this, which led to some statues being torn down in US cities, while the Confederate flag was banned from US Marine bases.
Similarly, the Edward Colston statue in Bristol, UK, was pushed into a river by protesters and will not be replaced, while a primary school named after the slavery investor will be renamed. However, the controversial statue of colonialist Cecil Rhodes will stay put at Oxford University's Oriel College, after the institution backtracked on its plans to remove it because the process would be too complicated and costly.
In the US, some schools and streets named after Confederate leaders were also renamed last summer, and an official Black Lives Matter Plaza was established in Washington DC by mayor Muriel Bowser on 5 June, 2020.
An overall glance...
As we honor the one year anniversary of George Floyd's murder and the anti-racism movement that followed, it is important to reflect on all the systemic changes that still need to occur for racial equity and equality to be achieved worldwide.
The 2020 Black Lives Matter protests were proof that unity and global pressure can lead to real, tangible change, but ultimately it is a long-game that requires consistent momentum from the masses. While we've seen some first steps taken, we have yet to scratch the surface of the work that needs to be done.
Sagal is a journalist, specialising in lifestyle, pop culture, fashion and beauty. She has written for a number of publications including Vogue, Glamour, Stylist, Evening Standard, Bustle, You Magazine, Dazed and Wonderland to name a few.