Facts about Pride Month: a look beyond the celebration
We're kicking off June with facts about Pride Month, from the event's origins to meanings behind each rainbow flag color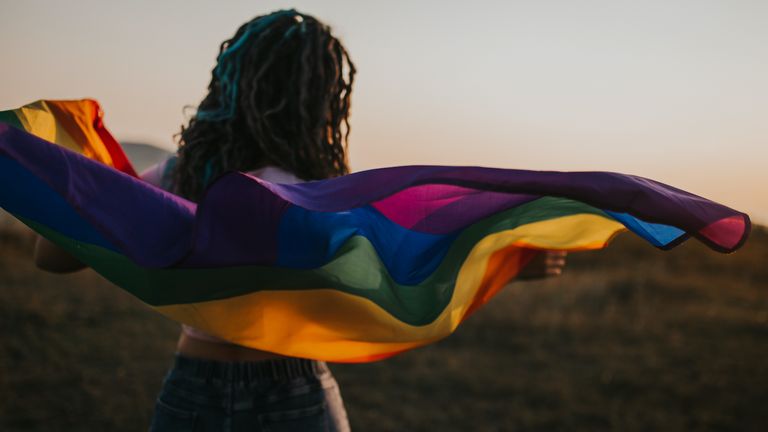 (Image credit: Getty Images)
Love is love, no matter what. Facts about Pride Month are circulating now that we're planning to commemorate the movement this June. As the 2021 festivities get underway, we're taking a look back to see how this significant time of the year for the LGBTQ+ community has evolved.
After police raided New York City's Stonewall Inn on June 28, 1969, activists began championing gay rights one year later, which has expanded to the month-long Pride celebrations we've come to expect today. But there are some facts that might have gone unnoticed over the past 50+ years.
Facts about Pride Month
1. It wasn't always called Pride
When the movement first began, Pride.com states that the militant-style events were referred to as Gay Liberation or Gay Freedom marches. The 90s is roughly the time in which the events transitioned to the parade format we've come to recognize today.
Only two U.S. presidents commemorated Pride month—until now
President Bill Clinton and President Barack Obama were the only two leaders in U.S. history to formally recognize Pride month. However, it seems that statistic is on its way to changing.
On June 1, 2021, President Joe Biden followed suit with a proclamation.
"Pride is a time to recall the trials the Lesbian, Gay, Bisexual, Transgender, and Queer (LGBTQ+) community has endured and to rejoice in the triumphs of trailblazing individuals who have bravely fought—and continue to fight—for full equality," the president wrote.
He continued: "While I am proud of the progress my Administration has made in advancing protections for the LGBTQ+ community, I will not rest until full equality for LGBTQ+ Americans is finally achieved and codified into law. That is why I continue to call on the Congress to pass the Equality Act, which will ensure civil rights protections for LGBTQ+ people and families across our country."
Each color of the Pride flag means something
The original rainbow Pride flag was designed by Gilbert Baker, and each color has a significant meaning.
Pink: sex
Red: life
Orange: healing
Yellow: the sun
Green: nature
Turquoise: art and magic
Blue: serenity
Purple: the spirit
Now it's not uncommon to find new takes on Gilbert's original work. Brown and black have been added to represent people of color in the LGBTQ+ community.
These cities have the biggest Pride celebrations
Although Pride events take place worldwide, there are a few cities that are especially known for their parades and celebrations. The International LGBTQ+ Travel Association states that New York City, São Paulo, and Madrid Pride events are the world's largest and rake in roughly 5 million guests each.
How can I celebrate Pride 2021?
Now that vaccine rollouts are underway, in-person events are cautiously resuming, but plenty of events are still taking place virtually, including many offerings from NYC Pride, which features movie nights, conferences, and even culinary events. Pride Live's Stonewall is set to resume in Los Angeles on June 6.
If you're interested in supporting the LGBTQ+ community this month—and beyond—explore different nonprofit organizations to donate to or get involved with their efforts. (Pride Live is a great place to start.)
Happy Pride Month!
Danielle is a writer for My Imperfect Life, where she particularly enjoys covering lifestyle and entertainment news. She was previously the editor of Time Out New York Kids and a news editor at Elite Daily. When she's not working, you can find her reading a good book and enjoying a cup of coffee. Follow her @dvwrites.