How astrology won me a romance—but lost me a friend
Writer Ashley Jones lets us in on the intense astrological connection that defined a relationship and broke up a friendship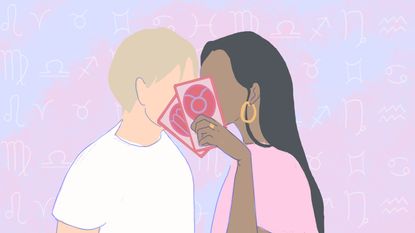 (Image credit: Naomi Jamieson)
The world of modern dating is a sometimes marvelous, often madcap, always messy one, where birth charts can pose as much of a romance problem as bicoastal distance, where a swipe-right isn't just a dating-app kudos but opening yourself to a spectrum of expectations, sexual politics, silly blunders, you name it. To guide you through it all, our Dating IRL series features a brave band of IRL daters and relationship experts to offer firsthand accounts, pro advice and some always-welcome support.
---
Have you ever felt like things were about to change? You don't know what, but a shift feels palpable and maybe even inevitable.
I felt that way around this time last year. I would soon be heading to Colombia to meet a friend who was teaching yoga at a live-in studio. I had no real plans of my own except to continue to travel and maybe make some art-world connections that could turn into curation work. And then I met some who, months later, I imagine as the embodiment of that change I'd felt coming.
Enter: Astrology Man. The man who would become my on-again, off-again. The man who officially asked for us to be a couple after we first split up in wildly dramatic fashion, fleeing each other and the Colombian hotel with an in-suite bathtub that we'd hidden from the world in. But I skipped a bit to get to that.
I skipped our meeting. Our first escape—not from each other, but with each other. Soon after he told me that the light he'd followed to get to Medellín was shining on me.
Cringe? Sure, but perhaps even more cringe is the context. I would later tell this man that the woman he'd initially come to Colombia to visit—that yoga-teaching friend of mine—was the one he should focus his attention on. She was an obvious right choice. (She'd later agree in a rage over his having chosen to pursue anything with me aside from a casual sexual relationship.) She was offering adventure and security; a place in her post-divorce, globetrotting life. A life of more stability than my work as a freelance writer offers me, let alone anyone else.
They'd known each other for a few weeks and wanted to see what was possible. They'd planned that exploration at the same time that I would be in Colombia. The three of us ended up living in an apartment together and left the yoga studio behind.
My friend was fearless and fun, a confident, sought-after celebrity yoga teacher in New York City in another lifetime. Our friendship began slowly. I was introduced to her several times in the small Mexican town where we'd both found ourselves after intense personal life changes in the fall of 2020. I was dealing with a disappointing end to something that was definitely not a relationship at the only bar you could go to on a Wednesday night. She heard me talking about it, looked over and said: "Haven't you heard? Men are trash?" Suddenly, we were doing just about everything together.
She brought that same energy in telling me about Astrology Man. A polyamorous lover who I would go on to find out was also a graduate of one of the most liberal of liberal arts colleges, a father, a man who had walked lion cubs in Cambodia and donated to reforestation charities as a type of personal penance, who had lived in South Africa for a bit and spent a lot of time, mostly naked, on the beaches of Hawaii. He'd also studied Eastern and Western astrology intensely and developed an Eastern-inspired system that assigned archetypal animals to spirit, mind, heart and body.
Prior to his arrival, my friend told me that he'd asked about my birthday. He told her how interested he was in meeting me. We met and she told me before he did that he saw something in me and wanted something with me. He would go on to tell me about the system he used to do readings, about his belief that people can fill voids in each other's astrological charts in a way that makes them both compatible with and valuable to each other. There were voids we could fill for each other, he said.
My Mars—a planet of passion, desire and drive—is conjunct with his Lilith, an astrological representative of the mythological Lilith and an almost too-on-the-nose representative of the sexual rebelliousness and eventual casting out that is our origin story. Our fiery Leo and Sagittarius suns provide further compatibility, a gift considering our less compatible Libra and Aries placements, which make communication an action that has a less-than-shared definition or approach.
Still, on top of what our Western charts said about how we could be good together, his proprietary system was further affirmation. Our spirit and mind archetypes are part of a "golden trine", and our heart archetype is the same. There are more compatible body archetypes, but as he's said, our body archetypes "certainly get on just f**king fine."
So he and I pursued it. And she and I had some conversations. We explored our uncertainties. We had a group call with a mutual friend about it. She laughed so hard that she fell out of bed. She pursued some things, some men, of her own. She decided his interest in me was an insult to her: "What really pisses me off is that you would choose that!"
The beginning of my relationship with Astrology Man was the ending of my relationship with the fun, fearless girl to whom I was as drawn as anyone else. She went on a date one night, returned in the morning and decided she wanted us out of the apartment. Two Liliths, banished from "paradise." The two of us leaving together was a further betrayal. The friendship was over.
There's no absolution and my story with Astrology Man probably lies there. The structure of an essay doesn't come close to offering absolute tragedy or conventional romance. (He is currently spending "the summer" in Patagonia, while I catch up with friends and family while working in the states ahead of a family wedding in Mexico this spring.)
People I care about deeply have varied opinions about my choices. My opinion? The space of knowing and connection that I found myself in with Astrology Man—as we wrote side by side, listened to classical music and streamed Community, talked all night about aliens and society, and, eventually, spent nights soaking in the tub and ordering takeout Indian food after leaving the shared space my former friend would go on to rent out—was more compelling in the end. And the change came.
Ashley Jones is a traveler, Aperol Spritz aficionado, film fan, "foodie," and arts & culture writer. She's been described, alternately, as a "city girl" and "a happy, horny, hippie."
Her work has been exhibited at the Venice Biennale and published in spaces including Fangoria and Southwest Contemporary. She is currently working on the 16th edition of the juried art book Friend of the Artist, as well as an upcoming visual collaboration with photographic artist Jamie Acker.
Outside of prose and journalistic pieces, Ashley creates text-based content for boutique brands as a part of the Coffee Socials team, in addition to self-publishing Le Newsletter, a heavily interview-focused arts newsletter providing access through information and conversations with various creative professionals, and links to resources including global event listings and funding opportunities.