Is it normal to bleed after sex? Here's what the experts want you to know
If you've ever worried, 'Is it normal to bleed after sex?' the answer is not all black and white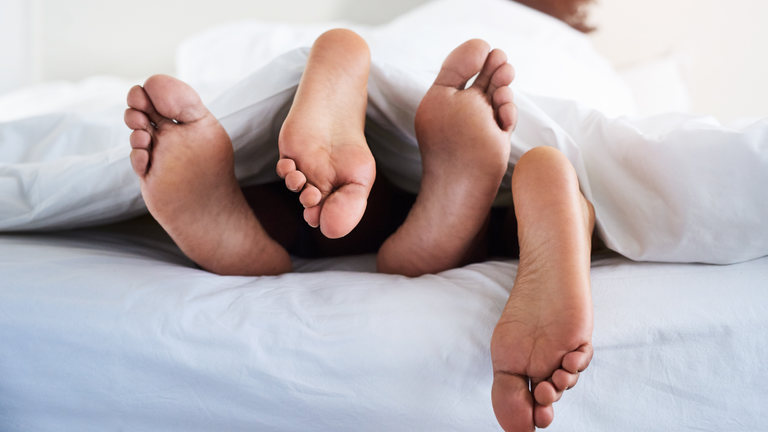 (Image credit: Getty)
By Danielle Valente published
There's a common concern people don't often discuss: Is it normal to bleed after sex? We can't deny the satisfaction of intercourse and the benefits of activating pleasure points, but we'd be lying if we didn't admit that the deed presents a few headaches along the way.
If you've engaged in frisky activities with your partner and noticed blood on your sheets afterward—even though you're not due for an Aunt Flo visit—take a step back and be mindful of what you're feeling. Bleeding after sex is common, but you might need to take action.
As much as we get caught up in the intimacy, experimenting with app-controlled vibrators and soaking up that after-sex glow, we definitely cannot ignore what our body is trying to tell us. Here's what experts want you to know—and when they want you to seek medical attention.
---
---
Is it normal to bleed after sex?
According to WebMd, there are a variety of fairly common reasons you're seeing blood appear after sex, which is also known as postcoital bleeding. Typically, these issues stem from the cervix and affect roughly 9% of menstruating women. They include:
Friction during sex
An insufficient amount of lubrication
Vaginal dryness
Regular uterine bleeding from your period (either before or after)
Cervical polyps (noncancerous growths)
According to Healthline, for routine problems, such as friction and dryness, women often take precautions beforehand by applying water- or silicone-based lubricants and using vaginal moisturizers. (And if you've ever wondered "Is coconut oil good for lube?" please check out our all-things-lube guide!)
"If the bleeding is superficial, it could be connective tissue or skin tearing. This can occur if there are hormonal deficits, specifically estrogen and testosterone," says Heather Jeffcoat, DPT.
Estrogen therapy is another way in which to help fix the issue, per Healthline. However, not every issue can be treated with lubricants.
"If a person is experiencing bleeding after sex, they should talk to their healthcare provider so that they can determine the cause of the bleeding," says Rachel Gelman, PT, DPT and pelvic floor specialist. "The provider may recommend using more lubricants or a vaginal moisturizer, but other interventions may be necessary."
The serious causes for postcoital bleeding include:
Infection
Cervical cancer
Vaginal cancer
Trauma from sexual abuse
Although complications stemming from postcoital bleeding aren't likely, unless there is an underlying health issue in question, few indicators are to be aware of. They include:
Fatigue
Headaches
Dizziness
Weakness
Pale skin
Women who present the issue of bleeding after sex to their gynecologists might have to undergo a few exams, including:
A colposcope examination
A urine test
A blood test
A pregnancy test
A transvaginal ultrasound
An examination of vaginal discharge
A good way to keep on top of all of your sexual health is to schedule regular visits with your doctor. According to the National Health Service in England, women ages 25 to 64 should undergo frequent cervical screening tests to help prevent cervical cancer.
Contact your doctor immediately if bleeding after sex is a common occurrence or a first-time experience. Always seek medical help, even if you believe the problem is not serious—your health is on the line.
Danielle is a writer for My Imperfect Life, where she particularly enjoys covering lifestyle and entertainment news. She was previously the editor of Time Out New York Kids and a news editor at Elite Daily. When she's not working, you can find her reading a good book and enjoying a cup of coffee. Follow her @dvwrites.