Long distance relationship tips from real LDR couples who make it work
Long distance relationship tips from real couples to help make your LDR work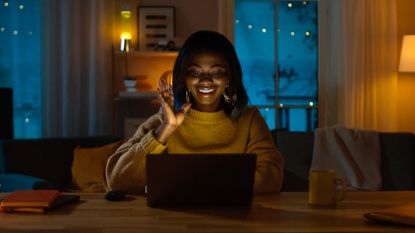 (Image credit: Getty)
If you can only see bae through a screen, what long distance relationship tips can you turn to? With lockdown producing an entirely new world of dating - from Zoom dates to quarantine baes - it's no wonder a number of long distance relationships have formed in this unique time in history.
We've researched thoroughly the best ways to keep the spark alive when you're living on different ends of the country (or in totally different countries altogether).
Speaking to all different kinds of couples made this guide an inclusive look at not just the ups and downs of individual long distance relationships, but how to solve problems and boredoms that plague them all. So let's get into it.
Long distance relationship tips: how to make long distance relationships work
Be honest at all times
Jemima, who just moved from London to Leeds to finally be with their long distance partner said the relationship would never have worked without total honesty. "Just voice whatever you're feeling all the time! When you're living together, there's a bit more leeway for facial expressions and body language to do the talking for you."
"But if you're only talking over the phone or on video chat, you need to use your words as much as possible to make sure you're both on the same page and that the bad stuff doesn't ferment inside you."
Remember the small things
When in a regular, close distance relationship, picking up someone's favourite chocolate bar at the shops or a random bouquet of flowers is much simpler than trying to keep on top of little love reminders in a long distance relationship. That said, remembering the small things are just as important as the larger romantic gestures.
"I love sending (and receiving) random gifts and cards. Just a little something to make them smile without them knowing it's on its way", says Fi, who has been apart from her Australian boyfriend for the past five months.
Louise, who has been in a LDR for the last three years, agrees, but comments that the surprises don't even have to be physical.
"My partner and I often surprise each other with something in an email. It's nothing big, like a postcard or a small thing that maybe us think of the other. It's just a random surprise to me like 'hey I was thinking about you'."
Give each other space
As much as you might want to be in constant contact due to the distance between you, Jessica - who has been in a LDR for the past year and a half - warns that this can actually damage the relationship.
"Me and my boyfriend were talking two times a day when we first went long distant, which was kind of inevitable because we both missed each other a lot."
Jessica describes: "However, after a while we started to have a lot of talking fatigue, where we just didn't have anything new to say to each other and we hadn't had enough space to step back and live our lives."
"We didn't really have the time to miss each other, which meant we became complacent. We changed the amount of times we talked to once a day, or once every two days and we have so much more to talk about, and I find myself really looking forward to telling him everything that I've done in my day because I actually had the time to do things."
Utilise screen sharing apps for date night
Just because you are in a long distance relationship doesn't mean you have to miss out on film nights or having a favourite series to watch together. Francesca, who has been mostly long distance for four years, tells me that when they can't see each other, the couple's favourite pastime is "watching films together, there are apps and browser add ons for that kind of thing". You can even give app-controlled vibrators a try and have some intimate time with your partner, even when they're miles away...
FaceTime is your new boyfriend
Thanks to living in the future, video calls are a part of our day to day even when not in an LDR. Utilising it in creative ways, however, is the best chance in keeping your relationship fresh.
Louise told me her best and most unique ideas for you to have a go at: "One thing we did was quiz night. We both get dressed up and bring at least three different quizzes we found online or made ourselves."
"Another nice one is like having a video call date, where you both go to a park or cafe. It's like you can prop your phone up and talk to them. It's a little different but it is nice sharing in the same actions - this also works for cooking at the same time too."