Mindy Kaling shone at the Oscars as she reunited with ex B.J. Novak
Are Mindy Kaling and B.J. Novak still together? It sure looks like it...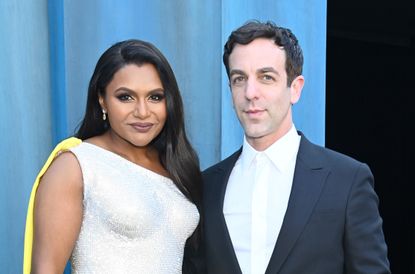 (Image credit: Getty Images: Photo by Stefanie Keenan/VF22/WireImage for Vanity Fair)
Mindy Kaling shone bright at the Oscars last night, as she stepped out in a stunning yellow and silver sparkly dress. But it wasn't just her outfit that got people talking. The actress reunited with ex-boyfriend B.J. Novak for the occasion, as the two attended the the 2022 Vanity Fair Oscar Party together right after posing for a stunning photoshoot with one another .
The comedy queen Kaling looked incredible on the red carpet of the annual Hollywood event, wearing an off-the-shoulder dress with a gorgeous yellow skirt and thigh-high slit. And while we were busying gushing over her Oscars look, we couldn't help but notice that she was joined by her Novak, her long-term friend and ex-boyfriend. So, are the two back together?
Both Kaling and Novak , who met while playing on-screen lovers on The Office, shared photos from the night on Instagram. Kaling showed off her glam, detailing her outfits, while
Here's what we know...
Is BJ Novak Mindy Kaling's husband?
Despite what some people may think, Mindy Kaling and BJ Novak are not married, nor have they ever been. The two did, however, date on and off between 2004 and 2007 and have spoken about their close dynamic in several interviews since.
In 2012, Novak admitted in an interview with Vulture that he and Kaling never really knew if they were dating or not. "No one, including us, ever really knew, 'Is this dating? Is this not dating?' We were never really dating, we were never really not dating. We didn't know. No one knew," he said at the time. "All you'd know for sure was that you'd always find one of us next to the other, even if we weren't getting along."
Similarly, he compared their relationship to that of Kelly and Ryan, their on-screen characters on The Office. "Sometimes viewers would ask, 'Are Ryan and Kelly together right now, not together?' It's not even that I wouldn't know. I thought the question was missing the point." Novak said. "Write whatever you want. So, Kelly needed a boyfriend this week, so Ryan goes on a date. Ryan and Kelly are getting engaged ... I think it was sort of expressive of the relationship that we were in."
However, he did make it clear that their real life break-up wasn't quite the same as Kelly and Ryan's. "In real life, I think we just essentially grew up, and it became more of a transition," he added.
Are Mindy Kaling and BJ Novak together?
As it stands, it seems the two stars are just close friends, despite how good they looked together at the Oscars.
In 2015, Kaling summed up their dynamic in an inter view with InStyle, saying: "I will freely admit: My relationship with BJ Novak is weird as hell. He is not my boyfriend, but he is not my best friend. I guess you could describe our relationship as a 'romantically charged camaraderie with loud arguments,' but I don't think Facebook would accept this as a new status."
In fact, their chemistry is so strong that other people they have dated since have been intimidated by their friendship, according to Novak.
"We are pretty inseparable best friends with a lot of chemistry ourselves, and we're not dating. Whenever we date anyone else, I think there's a period when the person is very skeptical of our friendship," he told Entertainment Weekly back in 2013.
"'Everyone seems to think you two might be a couple, and I don't mean to get in the way. Are you sure you're not dating? Are you sure you're not going to end up dating?' It's such a common thing to have that platonic best friend that becomes a little weird when you start dating someone."
Who is Mindy Kaling's baby daddy?
Kaling has two children, a daughter named Katherine and a son named Spencer, who was born on September 3rd 2020. While many believe Novak is the father, she has refused to discuss the matter for privacy reasons and the biological father of both of her children remains under wraps, though we do know that Novak is Katherine's godfather.
Talking about her children's father, Kaling told the New York Times: "My feeling is that, until I speak to my daughter about that, I'm not going to talk to anyone else about it."
We respect it!
Sagal is a journalist, specialising in lifestyle, pop culture, fashion and beauty. She has written for a number of publications including Vogue, Glamour, Stylist, Evening Standard, Bustle, You Magazine, Dazed and Wonderland to name a few.