Fans aren't very impressed with Netflix's new Selena series
Some are loving the new Netflix series based on the legendary Latin singer Selena and others really aren't...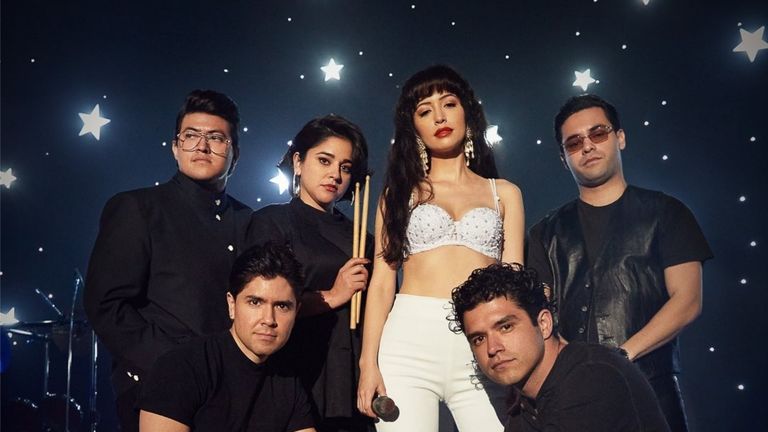 (Image credit: Netflix)
Netflix's highly-anticipated series based on legendary Latin singer Selena Quintanilla Perez has finally been released but viewers have had a mix of reactions to it. 
The long-waited series entitled Selena, chronicles the life of the late icon who is portrayed by The Walking Dead star Christian Serratos. It has been executive produced by the star's own sister and promised to delve into Quintanilla Perez's life by reflecting on what it was like growing up in her family and what Selena was like during her early years.
How have fans been reacting to Selena on Netflix?
However, now that it has come to Netflix US, the show has received much criticism in not only several reviews but also from viewers on Twitter. Variety called the series "remarkably uninterested in Selena the person", explaining that the streaming service missed a pivotal opportunity to highlight the star in a more human light whilst also spotlighting the growth of the US Latin music industry. 
Similarly, The LA Times claims that the show "fails to give her a voice" and some fans on Twitter seem to agree, with #SelenaNetflix being one of the top trends on the site. 
"Just got done watching the first episode and that first performance was a big flop. The music didn't match the scene and her movements didn't go well either. The rest of the episode was ok but I'll watch the other episodes later," one viewer wrote. 
Meanwhile another said: "I really stayed up for this? Between the sucky acting, the bad comedy scenes and the horrible lip syncing... y'all had one job not to mess it up chile #SelenaNetflix". 
Others felt the show had adjusted events to make it English speaking, with one person tweeting: "This concert scene. Not an English song at a Mexico concert." 
However, it wasn't all bad. Many people expressed their excitement for the series, praising Netflix for finally telling Selena's story to a mainstream audience. Fifth Harmony star Ally Brookes was among those, as she hosted a virtual viewing party with the cast of the show. 
"TONIGHT join me and the cast of Selena: The Series for the ultimate virtual fan celebration honoring the life & legacy of Selena . It's going to be an incredible night! Can't wait #SelenaNetflix," she tweeted hours before the series premiered.
Another woman also tweeted: "Y'all don't understand Selena transcended RACE because as a little black girl I LOVED me some Selena Quintanilla #SelenaNetflix"; while another expressed excitement, writing: "You're a true life treasure and will always be missed Selena cant wait to watch the series #SelenaNetflix"