Most people's reactions to the verdict on George Floyd's murder have one very important factor in common
The verdict is accountability not justice and this is why...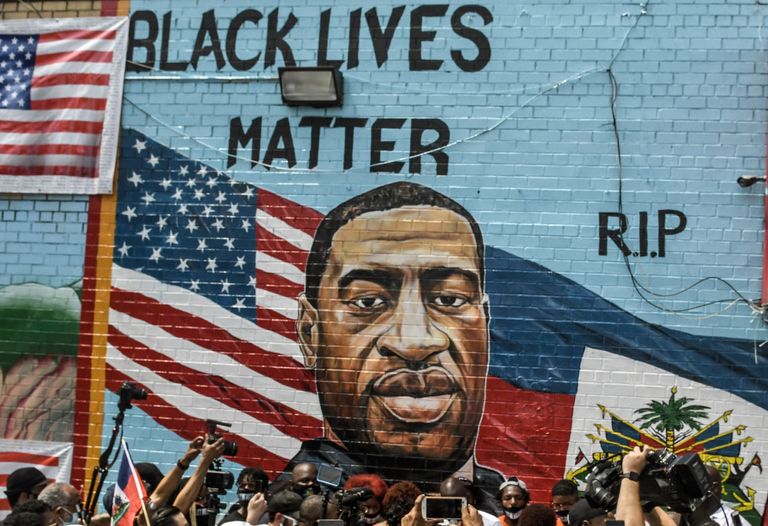 (Image credit: Photo by Stephanie Keith/Getty Images)
On Tuesday, the long-awaited verdict came in for the trial of George Floyd's death. It found Derek Chauvin, a former Minneapolis police officer who was charged with second-degree murder, third-degree murder, and manslaughter, guilty on all counts. As the nation celebrated the very rare rebuke of police brutality in America—we've seen countless cases of police officers going uncharged and never convicted after killing Black men, women, and children—many shared their mixture of emotions on social media.
Last summer, the gut-wrenching video recorded by a teenage girl named Darnella Frazier haunted the world as we witnessed Chauvin murder Floyd—an unarmed Black man—in broad daylight after aggressively kneeling on his neck for nine minutes and 29 seconds during an arrest, as Floyd pleaded for his life and bystanders urged Chauvin to stop. The horrifying incident is one of the many cases in which Black people have been murdered at the hands of police and sparked global uproar with Black Lives Matter protests taking place all over the world, demanding police abolishment and an end to systemic racism.
This week, a jury concluded that Chauvin was guilty after deliberating for under 11 hours. Public figures, activists, and some politicians including Congresswoman Alexandria Ocasio-Cortez as well as President Joe Biden, and Madam Vice President Kamala Harris all reacted to the news, with some making official speeches and statements whilst others expressed themselves on social media. One sentiment many of them shared was that while it was the right verdict, this isn't overall justice for the tragedies coursed by a deeply flawed and racist system—and made their commitment to the George Floyd Justice in Policing Act known.
Reactions to the George Floyd trial verdict
Biden and Harris called George Floyd's family after the verdict was announced, with the President telling the family: "Nothing is going to make it all better. But at least now there's some justice."
He later explained in a press conference held at Capitol that the news was "a step forward," but that such guilty verdicts are "much too rare" and "not enough".
"It was a murder in the full light of day, and it ripped the blinders off the whole world to see," he said. "Systemic racism is a stain on our nation's soul."
Similarly, Vice President Harris said in her speech: "America has a long history of systemic racism. Black Americans and Black men, in particular, have been treated as less than human. Because of smartphones, so many Americans have now seen the racial injustice that Black Americans have known for generations."
Canada's Prime Minister, Justin Trudeau, also made it clear that while the verdict demonstrated accountability, there is still a long way to go to achieve justice. "In the US today, we saw accountability for the murder of George Floyd. But make no mistake, systemic racism and anti-Black racism still exist. And they exist in Canada, too. Our work must and will continue," he tweeted.
Former President Barack Obama also released a statement, tweeting: "Today, a jury did the right thing. But true justice requires much more. Michelle and I send our prayers to the Floyd family, and we stand with all those who are committed to guaranteeing every American the full measure of justice that George and so many others have been denied."
Philonise Floyd, one of Mr. Floyd's younger brothers, spoke at the Hilton hotel in downtown Minneapolis shortly after the verdict was announced. "We are able to breathe again," he said, holding back tears. Referring to Emmet Til, a Black child who was lynched in Mississippi in 1955 and whose family were with the Floyd family as they waited the verdict, he added: "We ought to always understand that we have to march. We will have to do this for life. We have to protest because it seems like this is a never-ending cycle."
Celebrity reactions also flooded social media, with the likes of Oprah, Amanda Gorman, Viola Davis, Kerry Washington and Mariah Carey among many others sharing their reactions.
The verdict led to groups of people gathering at the intersection where Mr. Floyd was killed, now known as George Floyd Square, chanting the word guilty as they celebrated the news, sobbing and cheering.
Chauvin could be facing decades in prison for his crimes, which the prosecution described as "particularly cruel".
Sagal is a journalist, specialising in lifestyle, pop culture, fashion and beauty. She has written for a number of publications including Vogue, Glamour, Stylist, Evening Standard, Bustle, You Magazine, Dazed and Wonderland to name a few.