This is the ideal time to wait before getting engaged
Some of you may be planning a wedding sooner than you thought…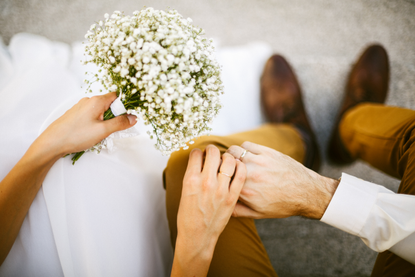 (Image credit: Image credit: Getty)
There's no hard and fast rule for how long couples should wait before getting engaged. And why should there be? We're all different.
Some swear by the 'when you know, you know' school of thought, while others prefer to date for much longer before making a serious commitment.
But according to research from jewelry experts F.Hinds, there actually could be a perfect time to wait. And that is… one year, eight months and three days.
Very precise, eh?
They worked this out by looking at proposal expectations across the UK, as well as the quickest, slowest and 'pushiest' cities.
It seems the younger generation is in no rush to put a ring on it compared to their older peers, with a strong correlation between age and length of the relationship. Fewer than one in ten under-35s said they would want to be engaged within a year of meeting, compared to one in three in the over 65 age group.
And, while people under 24 wait, on average, two years and two months to say 'I do', the over-65s prefer to marry within just 16 months of meeting.
Belfast is the fastest city to get engaged, with 44% of people getting down on one knee within a year of meeting (compared to just 4% in Nottingham). London was at the other end of the scale, with one in three people preferring to wait more than four years.
For those wanting their partner to hurry up and ask, you aren't alone. 42% of Brits admit to regularly dropping marriage hints to their partner, with the younger generation (25-34) the most likely (50%).
Wales came out as the 'pushiest', with women nearly twice as likely (41%) to regularly drop hints than those residing in Scotland (23%).
Hmm. While this is all very interesting, we're not suggesting that those in Belfast rush out and buy a ring in a panic. Because, as we said, each couple is different – and some never want to marry at all.
Besides, with social distancing rules in place, it may be a while before you can set a wedding date!
Sagal is a journalist, specialising in lifestyle, pop culture, fashion and beauty. She has written for a number of publications including Vogue, Glamour, Stylist, Evening Standard, Bustle, You Magazine, Dazed and Wonderland to name a few.