The top wedding trend is way more Cheugy than we'd wish to admit
These are the top wedding trends of the year, according to Pinterest...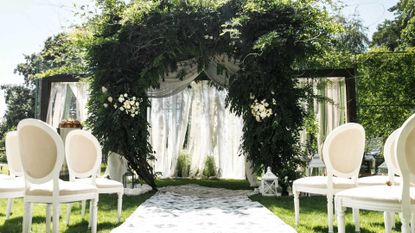 (Image credit: Getty Images)
Summer is officially here which means wedding season is in full force. With COVID restrictions easing up around the world, many couples who postponed their nuptials in 2020 are finally getting to celebrate their big day with loved ones and they're going all out with the quirky trends according to Pinterest.
The social media platform has revealed its list of top trending wedding themes and destinations for 2021 and honestly, everything screams millennial.
The Pinterest trends were unveiled in new UK-based research by money.co.uk which declared Harry Potter as the most sought-after wedding theme in the country. Yep, that's right. It turns out British couples are so obsessed with the J.K Rowling phenomenon that they want a Hogwarts-inspired wedding—and after the year we've had, who could blame them for craving a little escapism? (Does that make us Cheugy?)
Other popular search terms on the platform last month were "vintage wedding", "earthy wedding" and "marquee wedding". Lockdown rules in the UK have been changed and wedding ceremonies can now welcome up to 30 guests. Having a marquee wedding will no doubt be one of the biggest go-to's this summer, especially if the weather continues to be on our side.
Top 10 wedding trends on Pinterest right now
Below are the top ten wedding trends dominating Pinterest right now alongside the number of boards dedicated to them.
1. Harry Potter wedding 1,016
2. Vintage wedding 1,009
3.Earthy wedding 1,008
4. Natural wedding 1,006
5. Farm wedding 1,004
6.1920s wedding 1,003
7. Garden Party wedding 1,002
8. Beach wedding 1,002
9. Fall/Autumn wedding 1,002
10. Marquee wedding 1,002
Top 10 wedding destinations on Pinterest
The research also revealed the most popular destinations to host weddings this summer, with Morocco topping the list followed by Greece, France, and Italy.
Here's the full list alongside the number of boards dedicated to each destination...
1. Morocco wedding 1,001
2. Greece wedding 1,000
3. France wedding 999
4. Italy wedding 998
5. Mexico wedding 997
6. Bali wedding 996
7. Ireland wedding 990
8. Australia wedding 984
9. New Zealand wedding 981
10. Fiji wedding 979
What we would give to attend a wedding in Fiji right now!
Sagal is a journalist, specialising in lifestyle, pop culture, fashion and beauty. She has written for a number of publications including Vogue, Glamour, Stylist, Evening Standard, Bustle, You Magazine, Dazed and Wonderland to name a few.