Who is Gabby Petito? Inside the heartbreaking story taking over headlines
"Who is Gabby Petito?" is the question on everyone's minds as a cause of death is tragically revealed. Plus, the latest on Brian Laundrie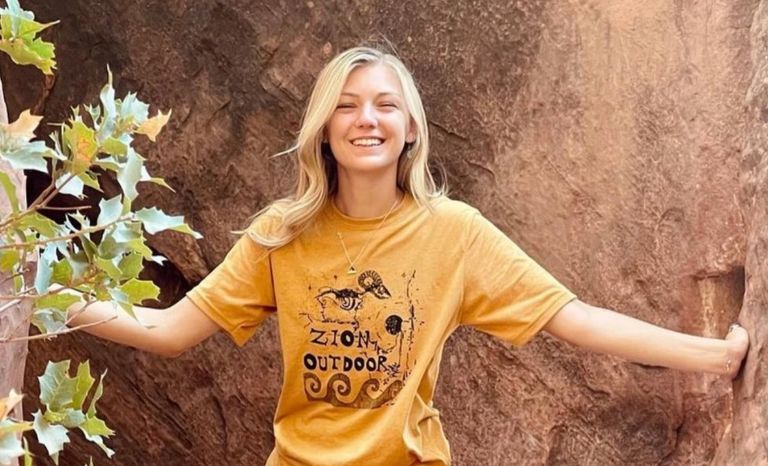 (Image credit: Yellowstone National Park/Facebook)
"Who is Gabby Petito?" This question has been dominating headlines for months as the world learned about the young woman's horrific road trip.
The travel influencer set off in July 2021 with her fiancé, Brian Laundrie of North Port, Florida. The two were planning a four-month trek across the US to explore national parks and preserves. It all seemed picture-perfect, especially on social media where they documented their journey.
However, upon Laundrie's return home to Florida on September 1, 2021—without Petito—no one was able to contact the influencer. Her mother, Nichole Schmidt, filed her as a missing person on September 11. On September 14, Laundrie—a person of interest in the case—set off for a hike through the Carlton Reserve in his hometown of North Port. That was the last time anyone allegedly heard from him.
On September 19, the story took a heartbreaking turn. Officials found human remains in Wyoming's Grand Teton National Park that appeared to match Petito's description. Upon the news, her father, Joseph, tweeted a photo of his daughter saying, "#GABBYPETITO she touched the world."
---
---
Following the autopsy that took place on September 21, the coroner confirmed that the remains belong to Petito. Her death has been ruled a homicide.
#FBIDenver appreciates the collaboration of all agencies and personnel who assisted in the search, recovery, and identification efforts. @NatlParkService @forestservice @GrandTetonNPS @BridgerTetonNF pic.twitter.com/2CWXNBMUn2September 21, 2021
See more
Gabby Petito strangulation: cause of death
Teton County Coroner Dr. Brent Blue revealed in a press conference on October 12 that Petito's cause of death was strangulation. He also stated that her body was likely left in the wilderness for three to four weeks. He declined to comment on the body's bruising and whether or not it had been buried.
Who is Gabby Petito?
The Long Island native, who relocated to Florida to live with her boyfriend and his parents, described herself on social media as a carefree spirit who decided to explore what's out there via #vanlife. A fan of "art, yoga & veggies," Petito includes a link to her YouTube channel, Nomadic Statik, in her Instagram bio.
How old is Gabby Petito?
Born on March 19, 1999, Gabby Petito was 22 years old. Her fiancé Brian Laundrie was 23.
How did Brian Laundrie and Gabby Petito meet?
The two met as teens on Long Island, and have always had a rocky relationship, according to friends. Many used the term "toxic" to describe their love.
However, despite their troubles, the two were engaged in 2020. "One whole years worth of adventures and stories down 🥂 & a lifetime to go ☆," Petito wrote on Instagram.
What did Gabby Petito do for a living?
Petito was trying to establish herself as a travel influencer on social media and intended to document her journey with her followers. She had been working as a pharmacy technician to save for her trip, according to The New York Times.
Several years ago, she had lived in the south and worked at Smoke on the Water in Wilmington, North Carolina, where the community is currently mourning her loss. The restaurant's staff told CNN that she had a sweet disposition and that she "touched so many lives."
Gabby Petito YouTube videos
Nomadic Statik, the couple's YouTube page where they intended to document their trip, doesn't fulfill its purpose. Laundrie returned to Florida on September 1—without his fiancée—and only uploaded one clip of their journey, though they documented their travels more thoroughly on their respective Instagram accounts, @gabspetito and @bizarre_design_. (Some are now suspecting whether or not Petito personally uploaded those images to her account.)
"We quickly realized we had to come up with a solution if we wanted to continue traveling and living nomadically, so that's why we handcrafted our own tiny van, a simple 2012 Ford transit connect, utilizing space with unique designs and features," the introductory video reads.
It concludes: "We hope you tag along on our journey wherever the van takes us!"
Utah dispute between Petito and Laundrie
According to The New York Times, the couple was involved in a domestic incident in Moab, Utah, on August 12. Allegedly, both parties told the police that they remained engaged to be married, despite the argument. In the police report, Petito is recorded saying she slapped her fiancé out of fear that he was going to leave her in Moab without transportation.
The police described Laundrie as the victim of the incident and arranged for him to stay in a hotel that evening, The Times further reported. Charges were not filed.
Gabby Petito last contact
On August 30, Petito's mother received the reported last correspondence from her daughter, according to The Daily Mail.
The text read, "No service in Yosemite," seemingly putting the couple in Yosemite National Park in California. However, Schmidt is suspicious of the message.
"I do not believe the text on August 30th was from my daughter," she said. "The van was in Florida on the 1st [of September]. I think I can do the math."
The last Instagram post from Petito was dated on Wednesday, August 25 and showed the 22-year-old holding a crochet pumpkin against a wall mural with the caption "Happy Halloween".
Gabby Petito case: crowdsourcing
Another way the FBI had uncovered information? Crowdsourcing via social media. The FBI put out requests for anyone who might've been in contact with the couple during their cross-country trip.
If you were in the area of Spread Creek Dispersed Camping Area, as identified in the attached map, during the timeframe of August 27-30, 2021, and saw Gabby and/or her boyfriend or their vehicle, please provide that information to the FBI. pic.twitter.com/AN6KkxEeLlSeptember 19, 2021
See more
Additionally, TikTok user Miranda Baker claimed in a video on the platform that she and her boyfriend picked up Laundrie while he was hitchhiking in Teton Park on August 29.
Bystanders have reported an alleged incident between Petito and Laundrie at The Merry Piglets Tex-Mex restaurant in Jackson, Wyoming, on August 27. Although the altercation did not turn physical, those in the restaurant and in contact with the couple were shaken by their behavior, according to CNN.
Brian Laundrie updates
Laundrie set out for a hike on September 14 in his Florida hometown, and it was supposedly the last time anyone saw him.
He was allegedly uncooperative in the search for his fiancée according to Petito's parents and step-parents, and did not release a statement. This is despite being considered a person of interest, as he is reportedly the last person to see Petito before she went missing.
On September 19, the family released a statement: "The news about Gabby Petito is heartbreaking. The Laundrie family prays for Gabby and her family." On September 20, the FBI raided the Laundrie family home.
The search for the 23-year-old took a series turn mid-October. Human remains were discovered in the Carlton Reserve in North Port, on October 20 in a newly reopened area. Additionally, Laundrie's backpack and notebook were found nearby.
Just one day later, medical experts confirmed that the remains belong to Laundrie.
Steven Bertolino, the family's attorney, told CNN on October 21: "Chris and Roberta Laundrie have been informed that the remains found yesterday in the reserve are indeed Brian's. We have no further comment at this time and we ask that you respect the Laundrie's privacy at this time."
Brian Laundrie gunshot wound
On Tuesday, November 23, the Laundrie family attorney revealed that Brian died from a self-inflicted gunshot wound to the head, which is being ruled as a suicide.
"Chris and Roberta are still mourning the loss of their son and are hopeful that these findings bring closure to both families," the attorney said in a statement.
Laundrie was never charged with Petito's death or disappearance.
Danielle is a writer for My Imperfect Life, where she particularly enjoys covering lifestyle and entertainment news. She was previously the editor of Time Out New York Kids and a news editor at Elite Daily. When she's not working, you can find her reading a good book and enjoying a cup of coffee. Follow her @dvwrites.