The one very simple thing you can do to 'spice up' your relationship according to experts
A bit of healthy competition helps keep a relationship passionate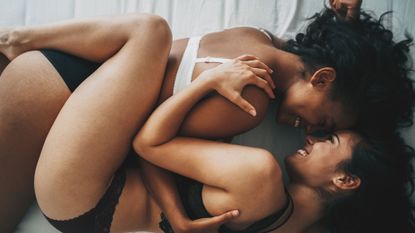 (Image credit: Getty Images)
Feeling like your relationship is a bit lacklustre and need a bit of spice to shake things up? Something like one of the best app-controlled vibrators might be worth a try, but relationships experts have revealed that a bit of healthy competition could be just the thing.
Humans' natural love of competition can apparently increase the excitement within a relationship, especially long-term ones.
Canwen Xu, dating expert and content strategist at New York-based dating app iris, told People that competition could really "spice things up".
"Adding some competition can make you more excited about your significant other, especially if you've been together a long time," she says.
Another expert and licensed therapist, Jaime Bronstein, says competition can encourage playfulness which helps bond partners both physically and emotionally.
"Any healthy competition or 'game' offers the couple an opportunity to spend time together and focus on one another," she told People.
Competition leads to greater passion

A 2018 Japanese study found that the more competitive a relationship, the more passionate it would be.
It looked at different couples in the USA and Japan and found that the US couples had higher levels of passion due to their cultural focus on personal achievement and success.
The lead researcher of the study, Professor Masaki Yuki, said that Americans live in an environment with "higher relational mobility", and that "people can leave relationships for better ones if they are not satisfied".
"People are constantly faced with the risk of losing one's partner because there are always competitors who could steal your partner."
In Japan, where relationships tend to be more stable and hard to change, according to the researchers, passionate behaviour is "less relevant".
Being open and honest
However, alongside competition, there are other ways to ensure a healthy and happy relationship.
Psychotherapist Beth Sonneberg told Oprah magazine that regularly opening up to your partner can also help bring you closer.
"Once you think that your feelings don't matter, won't be heard, or are not worth sharing, you open the door to harbour negativity and resentment."
"People need to feel appreciated in any relationship," she says.
Beth Gault is a freelance journalist and editor. She is the former news editor at fashion magazine Drapers and has written for multiple titles across lifestyle and business media, including GoodtoKnow and Woman's Own. She loves chatting about ending period poverty, is a self-confessed coffee snob, and is never one to turn down a good book.