The first ever period face mask has landed to tackle hormonal freak outs
How (and why) this Faace Skincare mask can help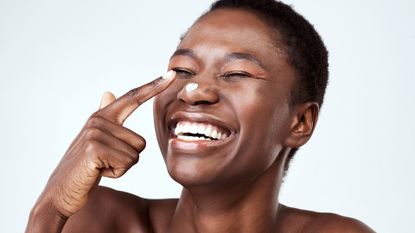 (Image credit: PeopleImages/Getty)
Skin throws a serious tantrum when we get our period TBH - read oil production, breakouts and skin sensitivity. Not even the best non-comedogenic foundation can come to the rescue.
The cause is largely hormonal, as our predominant hormone oestrogen is thrown off balance when there's an increase in testosterone the week before our period. "It's this drop in oestrogen that drives acne and increased oil production," says dermatologist Dr Anjali Mahto from London's Cadogen Clinic.
To attend to the side effects, Faace Skincare has launched Period Faace, the world's first period face mask designed to help you step off the seesaw of hormonal skin.
The clever blend of hyaluronic acid, green tea, lavender, clary sage, zinc and salicin means you can kick potential breakouts to the kerb but also hydrate.
Plus, the considered aromatherapy-based fragrances evoke calm when we feel like hormonally-overwhelmed plate spinners.
"Why shouldn't you have a cool-looking product to help you combat your period?", says Faace founder, Jasmine Wicks-Stephens. "This facemask can't stop cramps, but it can help keep skin clean. Periods are still a relatively taboo topic and creating something overtly branded as period, felt feministic and empowering."
Also nice: Faace donates a pack of period products to someone in need via social enterprise Hey Girls for every mask sold. Win win!
Fiona Embleton is a multi-award-winning beauty editor who has tested over 10,000 products in her 10 years + of writing and shooting beauty stories. For the past four years, she was the Senior Beauty Editor at Marie Claire, having previously worked in the role of Beauty Editor at both Stylist and Cosmopolitan. She has recently gone freelance and alongside My Imperfect Life, she has written for titles including ELLE UK, ELLE Canada, Buro 247, Harper's Bazaar Arabia, Vogue Scandinavia, and ES Magazine. Beauty journalism allowed her to marry up her first-class degree in English Literature and Language (she's a stickler for grammar and a self-confessed ingredients geek) with a passion for make-up and skincare, photography, and catwalk trends. She loves jumping on the latest internet-breaking beauty news, dissecting the best red carpet looks, and having the crème de la crème of dermatologists, make-up artists, and hairstylists on speed dial so she can tap them for the best advice. She's a discerning beauty shopper and knows it can be confusing trying to navigate what's hype and what really works. So if she really likes something, you can trust that she has reached that opinion by vetting it against everything else she's ever tried. Her career highs? Interviewing Cate Blanchett and winning a Jasmine Award for the deeply personal feature Cancer Stole My Mother's Scent.