Glossier just launched a new flavour of their bestselling Balm Dotcom lip balm
'Wild Fig' is the limited-edition version of the popular product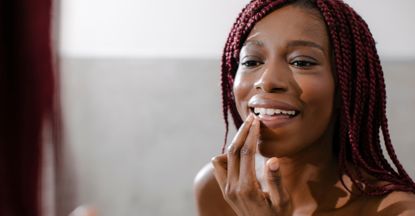 (Image credit: Getty Images)
Between cosy knitwear, colorful streets, crisp air, pumpkin spiced lattes and amazing TV releases, there are plenty of reasons to love Autumn. However, the dropping temperature means we have to be more attentive to our skincare - especially our lips.
Luckily, Glossier has just launched a new limited-edition flavour of their bestselling Balm Dotcom lip balms to help us all out.
VIEW NOW: Wild Fig Balm Dotcom Priced, £10 ($12), Glossier
Inspired by Instagram's fruit of the moment, the 'Wild Fig' flavour is packed with hydrating ingredients and is the first limited-edition release of the product.
As anyone who has tried the Balm Dotcom lip balms will know, they are the ultimate Autumn/Winter staple. In fact, they're pretty much a saving grace for our lips during the cold and dry months of the year thanks to their magic formulas.
This latest flavour consists of castor seed oil to lock in moisture, beeswax to combat seasonal dryness, fatty acids-rich cupuacu fruit extract to create smooth texture and antioxidant rosemary leaf extract, all of which are cruelty-free and work wonders on your lips. Plus, it smells incredible too thanks to its sweet, fruity scent.
If that wasn't enough, the colour of the lip balm itself resembles the inside of a fig, featuring a deep sheer coral tint that'll leave you with the ultimate Autumn pout.
Glossier introduced the new flavour via their Instagram page, sharing a post of the new product with the caption: "Here's the juice: Meet our first limited-edition Balm Dotcom, Wild Fig! A 🆕 sweet and fruity flavor wrapped in a deep coral tint."
Wild Fig joins Glossier's lineup of other delicious Balm Dotcom flavours including Original, Mint, Rose, Coconut, Cherry, Mango, Berry and Birthday (the Milk Bar-inspired flavor).
However, as mentioned, it won't be around forever so get yours while you can!
Sagal is a journalist, specialising in lifestyle, pop culture, fashion and beauty. She has written for a number of publications including Vogue, Glamour, Stylist, Evening Standard, Bustle, You Magazine, Dazed and Wonderland to name a few.