Keke Palmer shares powerful post about her battle with acne
Keke Palmer has opened up about dealing with acne for years, sharing a make up free selfie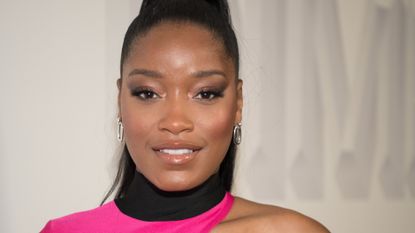 (Image credit: Photo by Morgan Lieberman/Getty Images)
Keke Palmer opened up to fans on Instagram about her long battle with acne in a powerful post, sharing her story alongside a make up free selfie.
The actress, singer and TV personality (and face of the viral "I'm sorry to that man" meme), used her platform to normalise a condition she suffers from called Poly Cystic Ovarian Syndrome - a hormone disorder that can have effects on the skin.
Keke, who is usually glammed up with flawless looking skin like most celebrities and influencers on Instagram, revealed that she had been suffering with the disorder her entire life and highlighted the inequalities within health and medical care for Black women.
"Hey you guys, for some of you this may be TMI, but for me my platform has always been used for things much greater than me. Poly Cystic Ovarian Syndrome has been attacking me from the inside out my entire life and I had no idea," she wrote in the post.
She then went onto explain that she had tried everything to get rid of the subsequent acne caused by the disorder, including two rounds of Accutane as well as all the other tips and tricks suggested for treating acne including drinking endless water and sticking to a healthy diet. None of it worked.
"It took ME taking a personal look into my family that has a history of diabetes and obesity, to understand what was ACTUALLY happening with me. And unfortunately doctors are people and if you don't "look the part" they may not think that's your problem," she said, expressing her frustration at the way Black women are treated in the medical field. "They may not even suggest it if you 'look healthy' whatever that means! I came to a doctor in tears once and all they offered was a measles vaccine... Exactly."
While there is a long, deeply-rooted history of Black people being mistreated in healthcare as a result of systemic racism, Keke concluded by highlighting that the point of her post was to tell her community that "it's okay and we can help ourselves".
She continued: "I do not have a medical degree but I did the research and took what I learned to a doctor and that led them to a proper diagnosis. I'm not saying trust web md for everything haha but what I am saying is no one can help us like we can help ourselves."
Keke also encouraged others suffering with PCOS, ensuring they were "not alone" and reminding us that acne is the least harmful thing the disorder can course.
The post was a refreshing reminder to embrace our "flaws" and her followers certainly appreciated her honestly, with the post receiving almost a million likes.
Sagal is a journalist, specialising in lifestyle, pop culture, fashion and beauty. She has written for a number of publications including Vogue, Glamour, Stylist, Evening Standard, Bustle, You Magazine, Dazed and Wonderland to name a few.