Apparently this is the most common sex dream for women
Chances are you've had this common sex dream more than once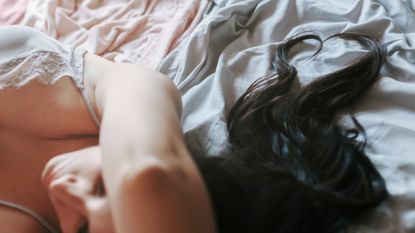 (Image credit: Getty Images)
Dreams are an escape from reality. Even when they leave us wondering about the meaning behind our nightmares, they're an unpredictable alternative world where anything can happen, making you feel everything from happiness, anger, surprise or even confused. But one type of dream that often leaves a lasting impression (whether we like it or not) is a sex dream.
We've all been there; be it fantasising about an unexpected colleague, getting steamy with the cashier at your local supermarket or reliving intimacy with an ex. However, there's one specific sex dream that all of us have the most, according to new research.
A recent survey by dating website illicitencounters.com has revealed that the most common thing for women to dream about is sex with someone close to them, usually a friend.
Yep, apparently most of us have had sex dreams about at least one of our close friends, even if it's someone that may have come as a surprise to you.
The conclusion was met after the survey questioned 1,000 women and 1,000 men, with under three quarters of women who participated saying they had dreamt about a friend, while 68% thought about having sex with a work colleague.
As well as this, 62% of women admitted that they had thoughts about sex with a stranger, while just 58% actually had dreams about their current partner.
The survey also brought to light that over half of the women (57%) had dreamt about their partner cheating on them. However, before you take that as a negative, it's important to remember that a dream doesn't necessarily come with a deeper meaning. It doesn't always bring life to your subconscious thoughts and feelings, sometimes, it's just as random and surface-levelled as it seems. So no, having a sex dream about Dave from IT doesn't mean you're in love with him, or even want it to become a reality.
Mariana is Editor of My Imperfect Life. She has previously worked for titles including woman&home and Goodto, covering all aspects of women's lifestyle — from beauty and fashion to wellness and travel. She was nominated for AOP Digital Journalist of the Year in 2020, and for New Digital Talent of the Year at the 2016 PPA Digital Awards. She's mildly obsessed with reality TV (Love Island memes included) and spends far too much time checking her horoscope and figuring out the perfect curly hair routine.