Rael beauty miracle patch: Why people are obsessed with these acne stickers
Rael Beauty Miracle Patch is receiving five star reviews on Amazon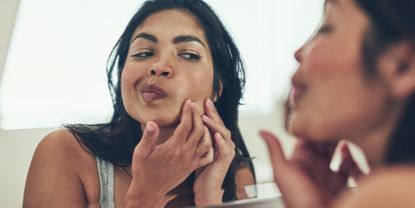 (Image credit: Getty Images)
Treating acne can often feel like an endless task and sometimes, it's as though the entire skincare industry is oversaturated with possible solutions and new products that promise to work wonders. However, there are a few gems that actually deliver on their promise and according to customers on Amazon, Rael Acne Pimple Healing Patch stickers are among them.
The product has received almost 8,000 ratings with 70% being five star as well as an impressive number of reviews, raving about the facial stickers. But what's so special about them?
VIEW NOW: Rael Acne Pimple Healing Patch, $13.20, Amazon
For starters, the stickers are made with high-grade hydrocolloids, adhere directly to the skin and are designed to extract all the pus and impurities straight out of it. Each pack includes 36 stickers, all of which are different sizes to sizes to fit small and large blemishes.
They're also clear, which means you can feel comfortable wearing them without drawing too much attention to the areas of your face where you have used them. What's more? Rael Beauty Miracle Patch stickers are both vegan and cruelty free, and the perforated sheets used to make them ensure they're easy to peel off too. Oh, and did we mention they're just $13.20 per pack? No wonder people are so obsessed with them.
One happy customer said: "I was very skeptical, but after one try I LOVE these!! When I removed the patch from my problem area, I could see on the spot itself had something on it! The swelling had gone down significantly, and there was no longer a visible head on my zit."
Similarly, another wrote a review saying: "I love these patches for several reasons: 1) they prevent me from touching the pimple further infecting the area around it, 2) I feel the pimple heals faster when covered with these (I have had several small pimples disappear overnight while large cystic acne healing within 4-5 days compared to several weeks!), 3) I wear them throughout the day in my corporate, business professional job since they are clear."
Meanwhile yet another review explained that the stickers were "really useful" for her and added "I love this one. I am afraid for acne no more!"
Sounds like they're worth a try!
Sagal is a journalist, specialising in lifestyle, pop culture, fashion and beauty. She has written for a number of publications including Vogue, Glamour, Stylist, Evening Standard, Bustle, You Magazine, Dazed and Wonderland to name a few.