This genius oily skin roller went viral on TikTok - here's why you need to snag it now
It's already sold out once.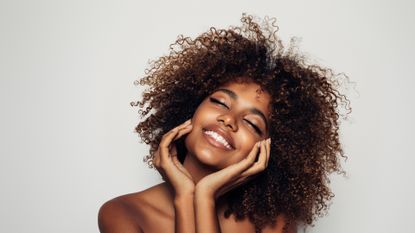 (Image credit: CoffeeAndMilk/Getty Images)
TikTok has the impressive ability to make you rush out and buy products you never knew you actually needed. Revlon's Oil-Absorbing Volcanic Roller is no exception. Yes you heard correctly. An. Oil. Absorbing. Roller.
Skincare savvy influencers have lost their minds over this gadget, causing it to go viral on the social platform. The original video posted by @looksbylexingotn racked up 1.5 million likes and the roller has already amassed over 11,000 reviews online, with satisfied shoppers calling it a 'miracle'.
And then - as is the case with most hyped products - it immediately sold out on every digital shelf.
Now the device is back and it's even available to UK shoppers on Amazon. With the summer months around the corner, your 11am T-zone oil slick will thank you for it.
So how does Revlon's Oil-Absorbing Volcanic Roller actually work? As its moniker implies, it is made of actual volcanic stone, which (little known fact) is incredibly effective at mopping up excess oil. By gliding the roller across the skin, it absorbs any oil as it goes.
As @looksbylexington demonstrates, the Roller works a bit like blotting paper so it won't interfere with the best non comedogenic foundation you're wearing. But it's not single use, making it better for the environment. Simply wash the Roller clean and reuse it over and over again. Added bonus: rolling it over your face feels like a mini massage
"So I saw this on TikTok, and as an esthetician, I'm all about skincare," said one shopper. "I got the product today and wanted to test it out in the evening when my skin is the most oily. Holy moly, what type of witchery is this? It literally absorbed my oily T-zone. I'm impressed. It's like an oil blot, but made of volcanic stone. I love that I can take it apart to wash and reuse. Def would recommend!"
With reviews like this, we recommend snapping up Revlon's Oil-Absorbing Volcanic Roller fast. So go, go, go!
Fiona Embleton is a multi-award-winning beauty editor who has tested over 10,000 products in her 10 years + of writing and shooting beauty stories. For the past four years, she was the Senior Beauty Editor at Marie Claire, having previously worked in the role of Beauty Editor at both Stylist and Cosmopolitan. She has recently gone freelance and alongside My Imperfect Life, she has written for titles including ELLE UK, ELLE Canada, Buro 247, Harper's Bazaar Arabia, Vogue Scandinavia, and ES Magazine. Beauty journalism allowed her to marry up her first-class degree in English Literature and Language (she's a stickler for grammar and a self-confessed ingredients geek) with a passion for make-up and skincare, photography, and catwalk trends. She loves jumping on the latest internet-breaking beauty news, dissecting the best red carpet looks, and having the crème de la crème of dermatologists, make-up artists, and hairstylists on speed dial so she can tap them for the best advice. She's a discerning beauty shopper and knows it can be confusing trying to navigate what's hype and what really works. So if she really likes something, you can trust that she has reached that opinion by vetting it against everything else she's ever tried. Her career highs? Interviewing Cate Blanchett and winning a Jasmine Award for the deeply personal feature Cancer Stole My Mother's Scent.