SCOTUS Roe v Wade ruling: the court votes to strike down abortion rights
A leaked SCOTUS draft decision shows Roe v Wade is very much in danger of being overturned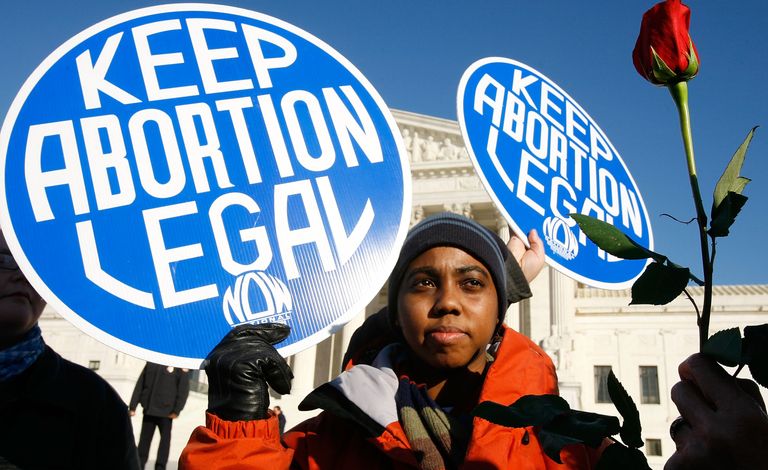 (Image credit: Alex Wong/Getty)
In a truly dystopian move straight out of The Handmaid's Tale, while most of our eyes were focused on the glam frivolity of the Met Gala 2022, the powers that be were issuing an outright assault on the rights of not only American women but all Americans.
In an exclusive leaked by Politico on Monday, May 2, a draft majority opinion written by Justice Samuel Alito that was circulated inside the Supreme Court back in February and obtained by the publication shows that the country's highest court has voted to strike down the 1973 Roe v. Wade and 1992 Planned Parenthood v. Casey rulings, landmark decisions that held that a woman's right to choose to have an abortion was protected under the Constitution of the United States "without excessive government restriction."
What does the SCOTUS Roe v Wade draft say?
Excessive government restriction looks to be back on the table if Justice Alito has his way. "We hold that Roe and Casey must be overruled. The Constitution makes no reference to abortion, and no such right is implicitly protected by any constitutional provision," Alito's draft opinion reads, per Politico.
The draft continued: "Roe was egregiously wrong from the start. Its reasoning was exceptionally weak, and the decision has had damaging consequences. And far from bringing about a national settlement of the abortion issue, Roe and Casey have enflamed debate and deepened division. It is time to heed the Constitution and return the issue of abortion to the people's elected representatives."
Alito's opinion is in regards to Dobbs v. Jackson Women's Health, the Mississippi abortion law that aims to make the termination of a pregnancy illegal after 15 weeks. If upheld, the draft decision will allow states to make their own reproductive laws and even further restrict abortion rights for their citizens. While oral arguments were heard back in December 2021, a final decision won't come until June, reports CNN.
According to Politico, four fellow Republican-appointed justices—Clarence Thomas, Neil Gorsuch, Brett Kavanaugh and Amy Coney Barrett, three of whom were appointed by former POTUS Donald Trump—have voted in line with Alito. Democratic-appointed justices including Stephen Breyer, Sonia Sotomayor and Elena Kagan are reportedly working on their dissents.
So what does this US abortion law challenge mean? Though Politico is quick to remind readers that "justices can and sometimes do change their votes as draft opinions circulate and major decisions can be subject to multiple drafts and vote-trading," any repudiation of constitutionally-held reproductive rights brings into question other seemingly settled civil rights, including same-sex marriage. Alito's decision includes chilling reference to Obergefell v. Hodges, the landmark 2015 case which required states to legally recognize same-sex marriage. It's not hard to see that an attack on some is an attack on all.
Americans will have to wait until later this spring for the official ruling. Until then, Roe v. Wade is still the law of this land and abortion funds need your support, especially in states where reproductive rights are in danger, including Arkansas, Idaho, Kentucky, Louisiana, Mississippi, Missouri, North Dakota, Oklahoma, Texas, Utah, and Wyoming.
Christina Izzo is the Deputy Editor of My Imperfect Life.
More generally, she is a writer-editor covering food and drink, travel, lifestyle and culture in New York City. She was previously the Features Editor at Rachael Ray In Season and Reveal, as well as the Food & Drink Editor and chief restaurant critic at Time Out New York.
When she's not doing all that, she can probably be found eating cheese somewhere.