SCOTUS: Roe v Wade is overturned
A 6-to-3 ruling on June 24, 2022, has confirmed it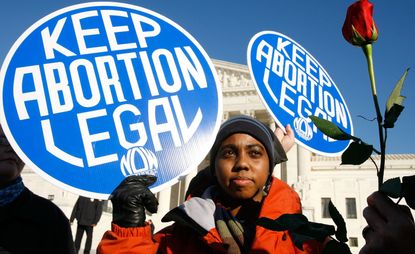 (Image credit: Alex Wong/Getty)
In a truly dystopian move straight out of The Handmaid's Tale, the Supreme Court of the United States has overturned Roe v. Wade in a 6-to-3 ruling on June 24, 2022.
Many had feared this outright assault on Americans' rights for quite some time. US abortion law challenges in Texas and Mississippi in 2021 put Roe's fate in danger. But an exclusive leak by Politico on May 2, 2022, is what truly alarmed citizens.
A draft majority opinion written by Justice Samuel Alito was circulated inside the Supreme Court in February 2022 and obtained by the publication several months later. It showed that the country's highest court has voted to strike down the 1973 Roe v. Wade and 1992 Planned Parenthood v. Casey rulings, landmark decisions that held that a woman's right to choose to have an abortion was protected under the Constitution of the United States "without excessive government restriction."
Now that Americans are faced with a new reality, both sides of the political spectrum are voicing their opinions about the SCOTUS decision. Along with other Republicans, former Vice President Mike Pence stated that "Life won." Democrats have been outraged at the attack on reproductive rights, and some leaders—including New York City's Mayor Eric Adams—reminded citizens that their states are safe spaces for women.
Michelle Obama released a lengthy statement about the ruling, where she admits that she's heartbroken for the people who have lost the "fundamental right to make informed decisions about their own bodies."
Her statement continued, "This is what our mothers and grandmothers and great-grandmothers lived through, and now we are here again."
However, this decision is in direct contrast to what the American people want. According to The New York Times, a recent SCOTUSPoll found that 62.3% of respondents opposed overturning Roe v. Wade and 37.8% of respondents believed the Supreme Court should do so.
SCOTUS Roe v Wade news: what next?
Almost half the states are expected to outlaw or severely restrict abortion, according to CNBC. Now, this ruling gives individual states the power to set their own abortion laws.
If you're looking to support reproductive rights, especially in states where they are in danger, here's how to make your mark in: Arkansas, Idaho, Kentucky, Louisiana, Mississippi, Missouri, North Dakota, Oklahoma, Texas, Utah, and Wyoming.
But this has set off other warning signs. Any repudiation of constitutionally-held reproductive rights brings into question other seemingly settled civil rights, including same-sex marriage. Time will tell how everything will unfold.
What did the SCOTUS Roe v Wade draft say?
Excessive government restriction looks to be back on the table, according to the leak. "We hold that Roe and Casey must be overruled. The Constitution makes no reference to abortion, and no such right is implicitly protected by any constitutional provision," Alito's draft opinion reads, per Politico.
The draft continued: "Roe was egregiously wrong from the start. Its reasoning was exceptionally weak, and the decision has had damaging consequences. And far from bringing about a national settlement of the abortion issue, Roe and Casey have enflamed debate and deepened division. It is time to heed the Constitution and return the issue of abortion to the people's elected representatives."
Four fellow Republican-appointed justices—Clarence Thomas, Neil Gorsuch, Brett Kavanaugh and Amy Coney Barrett, three of whom were appointed by former President Donald Trump—have voted in line with Alito. Democratic-appointed justices including Stephen Breyer, Sonia Sotomayor and Elena Kagan were reportedly working on their dissents, per Politico.
Additionally, Alito's decision included a chilling reference to Obergefell v. Hodges, the landmark 2015 case which required states to legally recognize same-sex marriage. It's not hard to see that an attack on some is an attack on all.
Christina Izzo is the Deputy Editor of My Imperfect Life.
More generally, she is a writer-editor covering food and drink, travel, lifestyle and culture in New York City. She was previously the Features Editor at Rachael Ray In Season and Reveal, as well as the Food & Drink Editor and chief restaurant critic at Time Out New York.
When she's not doing all that, she can probably be found eating cheese somewhere.