Tracee Ellis Ross just made the best point about being single
The actress emphasized the importance of happiness within yourself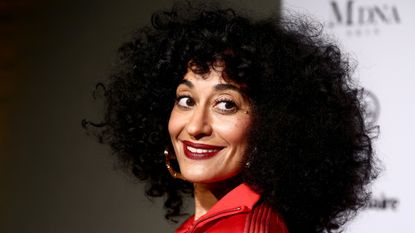 (Image credit: Rich Fury/Getty Images)
Tracee Ellis Ross just reminded us all how to answer the question "why are you still single?" or any other patronizing questions single women get about their relationship status.
The Black-ish star, who is currently on the cover of Shape magazine, opened up about the importance of being comfortable by yourself, explain that she is "happily single" and thrives off her own company.
Speaking to the publication, she revealed that her "goal is to have an experience with [herself] that is whole" whether she's in a relationship or not, and that she has learnt to navigate loneliness in a healthy way.
"In my wonderful and robust experience of being single, I have learned to have a productive relationship with loneliness and an intensely juicy relationship with my joyful solitude — I really enjoy my company," she said.
The 48-year-old actress added that although she's happy being single, she wouldn't rule out romance, but only if it was a positive addition to her existence. Tracee also explained that she believes love is an an action and therefore "actively" loves herself.
While she is known by anyone who follows her on social media to regularly treat herself to chic outfits and fancy restaurant meals for one, Tracee's self love ritual has been slightly altered due to the pandemic - much like the rest of the world.
"Well, I can't do that", she said when asked about her aforementioned habits, adding that she now goes for simpler things like morning rituals and other ways to relax.
"But you know what? I can do that at home. I make a beautiful plate. I set it out and have a glorious meal. I make my bed every morning.
"I believe that love is an action. You get back what you put in," she added, and we couldn't agree more!
Before adopting her new mindset, Tracee admitted that spent a lot of time trying to be "perfect". So much so that she ended up missing out on being present in the moment she claims the universe had meant for her to be in.
"Bad feelings come up," she revealed. But then she started looking at the bigger picture and prioritized positivity, things changed for the better. "That was the start of a turning point. If you keep putting good stuff in your cup, eventually it overflows. And you'll be like, 'Oh, I need a new container'."
What a wise woman!
Sagal is a journalist, specialising in lifestyle, pop culture, fashion and beauty. She has written for a number of publications including Vogue, Glamour, Stylist, Evening Standard, Bustle, You Magazine, Dazed and Wonderland to name a few.