UN16 days of activism brings powerful campaign to end violence against women
The UNseen Story is a new ad campaign to help end violence against women and girls around the world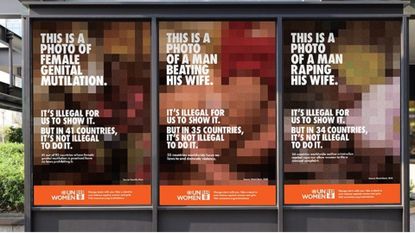 (Image credit: MullenLowe Group)
The UN 16 Days of Activism 2020 has kicked off with a powerful new campaign promoting the end of violence against women worldwide.
The campaign, titled The UNseen Story, is a response to the increase in violence against women during the COVID-19 pandemic after it was reported that an additional 15 million women are expected to be affected by violence for every three months the lockdown continues.
The campaign itself is made up of stark pixelated images and hard-hitting headlines such as "This is a photo of a man beating his wife" and "This is a photo of a man raping his wife." The words, paired with the pixelated imagery would be considered against government regulations to air on broadcast news, making them even more of a statement.
The campaign, created in collaboration with MullenLowe New York and Mediahub, also features a banner that reads "This is a photo of female genital mutilation", with an image that is blurred and unidentifiable, forcing the imagination to conjure up what happens to women and girls in many parts of the world.
The pixelated imagery has been designed to be deeply thought-provoking and that's exactly what it is. It was first rolled out on 25 November, the International Day for the Elimination of Violence against Women, and will run until 10 December, which is Human Rights Day.
Speaking of the impactful campaign, Oisika Chakrabarti, Chief of Communications & Advocacy a.i., UN Women said: "Ending violence against women and girls need effective laws and implementation as much as it needs strong policies, funding for essential services and for organizations responding to this crisis, and culture change that challenges stereotypes and societal norms that often shame the survivors of gender-based violence."
She continued: "We are grateful to MullenLowe New York and Mediahub for creating this provocative advertising campaign that sparks a much-needed dialogue and, we hope, a renewed sense of urgency, advocacy, and actions to be a part of the solution to end violence against women and girls."
The campaign will be shown across the United States and the UK through digital display, OLV, out-of-home, and print. You'll spot it everywhere from wild postings in New York to print ads across top newspapers in London, so keep an eye out.
Sagal is a journalist, specialising in lifestyle, pop culture, fashion and beauty. She has written for a number of publications including Vogue, Glamour, Stylist, Evening Standard, Bustle, You Magazine, Dazed and Wonderland to name a few.