The best ankle tattoo ideas to inspire your next bit of body art
Ankle tattoo ideas should be cute, fun, and most importantly, fit on the available space—these ideas will help you decide on your upcoming inking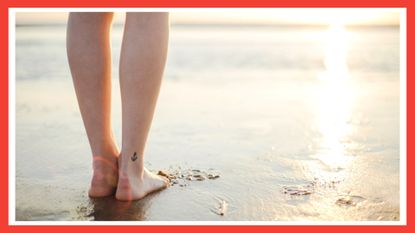 (Image credit: Getty Images/Future)
Deciding to get a new tattoo is super exciting, unless you're stuck for inspiration. Enter, the best ankle tattoo ideas to get you started.
Tattoos are a permanent choice, so many people are understandably indecisive about what design to choose. If you're considering a tattoo design for your ankle, micro tattoos might be a good choice. They're small and subtle, and a micro tattoo on your ankle is also easy to conceal should you ever need to.
Micro tattoos on your ankle will definitely hurt more than getting a new ear piercing, but they're less painful than getting bigger, more complicated designs on other areas. So if you're looking for inspiration for your ankle tattoo, read on, as we've gathered a few popular ideas that are fun and timeless.
7 best ankle tattoo ideas
1. Anklet tattoos
A classic idea for an ankle tattoo is the anklet. Ankle bracelets have been a popular jewelry option for years, so if you love the look of a subtle chain or an intricate design circling your ankle, this might be one of the best ankle tattoo ideas for you. As a bonus, you won't have that annoying feeling of a real anklet rubbing against your skin or getting caught on the hem of your clothes!
Design ideas for anklet tattoos can range from literal to symbolic. You can have your tattoo artist mimic an actual anklet chain with a charm or two dangling from the loops, or you can create a pattern of symbols to wrap around your ankle in a more obvious tattoo design. If you're unsure, chat with your tattoo artist about your vision and your options.
2. Flowers
Floral tattoos are one of the most popular ankle tattoo ideas, because of how beautifully they can wrap around that specific area of the body.
Don't panic if you're after original ankle tattoo ideas though—there are a range of options to choose from, and you might prefer a variety of flower that holds a special meaning for you. For example, you might choose a blossom like white chrysanthemums, which signifies truth, or an aster, which often represents patience. Alternatively, you might decide that you just want a flower that's lovely to look at! The decision is yours.
3. Hearts
It may sound like a bit of a tattoo cliche, but a heart tattoo on your ankle can be a great option if you're looking for small, subtle option. You might decide on a heart tattoo as a dedication to a loved one, but they're also great because of their simple, timeless beauty too—it's unlikely that you'll regret a small heart tattoo in years to come.
Hearts can be very versatile too, and your custom heart tattoo can be totally different from anyone else's. Whether you choose simple, black linework or a bold red design, you can personalize your heart with initials, small text, unique shading, or small adornments like flowers and diamonds. They make great matching tattoo options for couples or best friends, too.
4. Animals
If you are considering an intricate design on your ankle, you may decide on an animal illustration. This can be a beloved pet or simply an animal that you love and feel connected with. You can even choose animals that represent certain qualities that you want to embody yourself—such as owls, for wisdom, and elephants, for strength and loyalty.
While animal tattoos are nothing new, they have been trending as micro tattoos recently in small areas such as ankle or arm, so you'll be bang on trend if you do decide on an animal tat. If you're considering an animal tattoo though, be sure to find an artist who can create a personalized look, so you don't end up with something too generic (or something straight from Google).
5. Celestial symbols
Getting certain space-themed symbols has become a hugely popular ankle tattoo option in recent years, as they can be designed in a small and intricate way that still makes an impact. Many people opt for a constellation of stars, an image of the moon, or other celestial symbols such as astrological motifs or illustrations.
A celestial-inspired ankle tattoo can take many different forms too; perhaps you want one solitary symbol—such as a planet—on your ankle, or maybe you'd prefer a vertical line of a few different symbols? Either way, these types of tattoos look brilliant in the small ankle area, where they can really be highlighted.
6. A small quote or word
If you want to get a specific word, quote, name or initials tattooed onto you, there are few places better than the ankle. It's the perfect space for a small word-based inking given how well it will stand out, whether you place it horizontally or vertically.
It's also one of the more unique ankle tattoo ideas—many people get words or names tattooed on their wrist, arm or back, so you'll be choosing something that little bit more unusual too. If you're not sure what word you want to get tattooed onto your ankle, consider whether anything in particular speaks to you, be it a song lyric, a famous quote, a particularly symbolic word, or perhaps the name of a loved one.
7. A weather symbol
Similar to a celestial symbol, many people favour a symbol of the weather or of natural scenes for their ankle tattoo.
For example, you might opt for a rising sun tattoo as seen above, or perhaps a tattoo of a crashing wave, a lightening bolt, or a rain drop? All of these are popular choices that can look super artistic if designed right. Often, they'll be created as a simple linework piece, but you can add a splash of color if you wish, too.
---
We've provided a small selection of ideas, but the possibilities for an ankle tattoo are truly endless, so spend some time deciding what you want and what style of tattoo design you prefer. Unless you want to go through the painful process of tattoo removal, this decision is permanent, so make sure it's something you absolutely love!
Lucy is a beauty journalist who has written for titles including Marie Claire, Cosmopolitan, OK!, woman&home and Women's Health, as well as regularly contributing to My Imperfect Life. Her work covers everything from skin and haircare tips to trying and testing the latest beauty launches, and interviewing celebrities and experts. A certified dog person, her other interests include mental wellbeing, books, piña coladas and not getting caught in the rain.