How to pick an ear piercing according to the experts
Considering a new ear piercing? Decide where to put it with our top piercing tips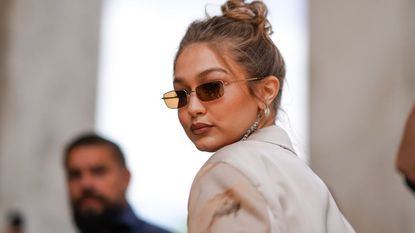 (Image credit: Edward Berthelot/Getty Images)
An ever-popular way of expressing your style and showcasing chic jewellery, the beauty of ear piercings is there are so many places to put them.
But with so many options - from helix to conch, daith, tragus and rook - how can you choose the best ear-piercing location?
Whether you love a curated ear, edgy jewellery, minimalist piercings or are simply seeking inspiration, one thing's for certain- ear piercing trends aren't going anywhere.
In fact, as Jewellerybox recently found, searches for ear piercing options online have jumped by almost 50% in the last three years, confirming their place in our fashion-conscious hearts.
Types of ear piercings
The traditional main or upper lobes remain a classic choice, while stretch lobe piercings take things up a notch. Alternatively, the transverse lobe involves a 90° piercing of which the length runs parallel with the bottom edge of your earlobe (also known as a sagittal plane). A snake bite refers to placing two piercings closely together creating this descriptively named effect.
Owner of Black Moon Professional Body Piercing Sophie Saint reveals which are most popular, saying: "Helix & tragus piercings are the most popular cartilage piercings on the ear, with lobe being a close follow up".
Helix piercings are positioned on the upper cartilage of your ear. A forward helix is the inner curve of cartilage closest to your face meeting the tragus, a small curve of cartilage in front of the ear canal. This is close to the conch piercing spot, also known as the outer shell of your ear (hence its name).
The rook is between the inner and outer conch, just above the tragus, as an underside piercing. Similar to a snug piercing, it is placed through the anti-helix part of your ear.
Daith piercings are linked to minimising headaches and sit in the top inner fold. Finally, industrial piercings involve double holes across the upper cartilage in which a single piece of jewellery is inserted.
What part of my ear should I get pierced?
Bear in mind the type of earrings you wear and your ear shape could help influence where to get pierced. With endless earring types around, explore styles which may suit your ear, such as huggies (tiny hoops essentially hugging the ear), studs or barbells. Standard piercing jewellery examples are stainless steel, titanium, and gold, but you can switch to sterling silver earrings after the piercings heal.
If you're stuck, your piercer can help you with some guidance too. Sophie explains: "I provide a pre piercing consultation and discuss jewellery choices, so we can then come to a decision together on the perfect placement."
Do your research before you book
If and when you do decide to take the piercing plunge, research professional body piercers near you. Search Instagram hashtags for recommendations and scroll through images of their work. Ear piercings typically start at £20 and work upwards in cost depending on the studio and jewellery.
If at all unsure, Sophie suggests contacting your local council to see if piercers have a licence both personally and for their premises. Better to be safe than sorry!
What is the most painful ear piercing?
It goes without saying, some ear piercings are more painful than others. A connective tissue, cartilage is much thicker than the lobe. Cartilage piercings can swell, requiring longer jewellery posts while healing. Specialist sterile needles are used for cartilage piercings and sterilised jewellery is inserted straight after the hole is made.
Cartilage piercings like the tragus, conch and daith do inevitably hurt most.
How long should ears be sore after piercing?
Lobes heal quickest, at 8-10 weeks, while ear cartilage takes 6-9 months. The main priority for all ear piercings is keeping them clean and dry as they heal. Sophie recommends spraying sterile saline solution onto your piercing, being careful not to twist or turn it. Dry gently with a clean cotton wool pad or your hairdryer on the coolest setting. Signs of an infection include red, sore, inflamed skin and yellow or green discharge at the piercing site.
Already planning the next one?
Enjoy building up your ear piercings, because planning where to pierce next is part of the fun. If you love the thought of a curated ear, explore individual earrings thoughtfully chosen to create an array of multiple piercings, positioned differently on each ear.
As you go along, shop for new earring favourites, from investment buys to bargain finds. Select asymmetry or matching earrings, a paired down effect or statement piercings, embracing every type of ear-piercing potential.
Helen is a freelance writer, who has contributed to titles including Glamour, Grazia, The Independent, Fabulous and Fit & Well. Specialising in beauty, fashion, and lifestyle, she writes about new finds, standout brands, and expert insight. Helen loves multiple ear piercings, layering up looks and seeking out fresh style inspiration.