Making a case for Grandmillennial style
Embrace your inner grandma with Grandmillennial style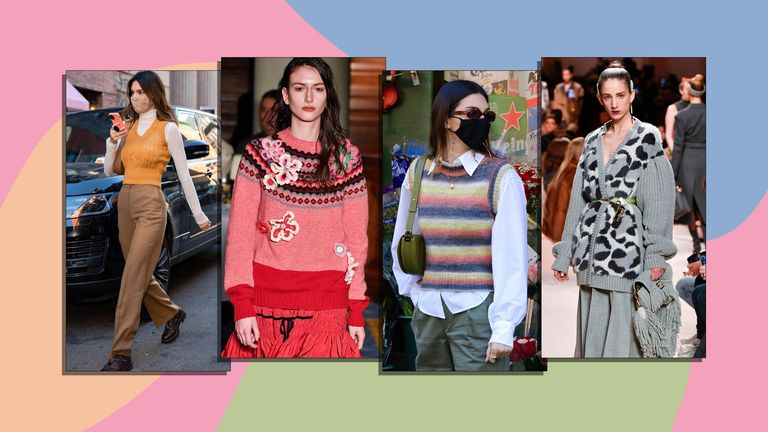 (Image credit: Getty Images / PA / GC / Victor Virgile)
The Grandmillennial trend is giving us serious inspiration for our dream capsule wardrobe. With retro styles like loafers and 70s style prints having a moment right now and flooding your IG feed, you're probably wondering whether it's time to ditch your dad trainers.
Grandmillennial's prefer designs that lean to the mature, and more structured pieces, opting for patterns like gingham, argyle, and florals. It embodies timeless, classic styles and shapes that you can keep and re-wear forever - and they'll always be stylish. Yes, clogs, knits, and old-school jewelry is where it's at now.
If you're still wondering what 'Grandmillennial style' actually is? Just take a look at Harry Styles, he pretty much nails it in every sense. With looks put together by fashion stylist, Harry Lambert, Styles is no stranger to clashing knits and prints that hark back to other eras.
The trend is all about crochet tops, pearl necklaces, chunky cardigans, baggy smart trousers, and leather loafers. According to Lyst: 'Grandma-approved items are gaining traction amongst women and men alike.'
Lyst has recorded a rise in searches for big broaches, silk scarfs, loafers, and crochet pieces since January, while the Grammy's saw DaBaby and Harry Styles wearing yellow checks and silk scarves – 'grandma chic' attire in its prime
We're no strangers to this mind, Gucci has given us this aesthetic ever since Alessandro Michele took to the helm. With looks that seem to transcend gender and enable the double-tap, it's no wonder then, that 'granny chic' has already gained over 70,000 tags on Instagram. And, it's something we keep seeing, with designers like Molly Goddard and Fendi presenting looks with lashings of paisley and chunky knits for AW21.
Aside from Harry Styles, you can also see Grandmillennial looks emerging on our favorite celebs: Alexa Chung wearing camel and Kendall Jenner has been recently rocking knitted sweater vests, smart trousers, and loafers, embodies the feel.
And of course, The Crown's Emma Corrin has been giving us outfit envy with her Gucci campaign – never has a tie and cardigan combo looked so cool.
Grandmillennial style: how to get the look
Thankfully all the items you need to create your perfect grandma look are so accessible. All our favorite brands are fully embracing the trend, you can grab grandma essentials from almost everywhere.
To start, you'll need a pair of smart/casual high-waisted, loose trousers. This style of trousers as expertly shown by Kendall can be dressed up and down with ease.
Mango, Multi-colored knitted vest
Zara, Minimalist leather clogs
Zara, Minimalist leather clogs, $129.00 
To finish the look simply add a pair of leather loafers or some clogs and you're ready to go, grandma would be so proud!
And the trend doesn't just stop at clothes, granny chic homeware is also a thing. All the cool kids are snapping up knitted blankets, gingham curtains, patterned wallpaper, and antique-style furniture. So, what are you waiting for? Get into it.
Naomi is trainee news writer who writes for My Imperfect life, Woman & Home and Goodto. Naomi writes articles from fashion trends and skincare to entertainment news.