This beauty editor-approved skincare line soothes my sensitive skin in a flash
One writer shares why the Kate Somerville DeliKate range has been a lifesaver for stressed-out skin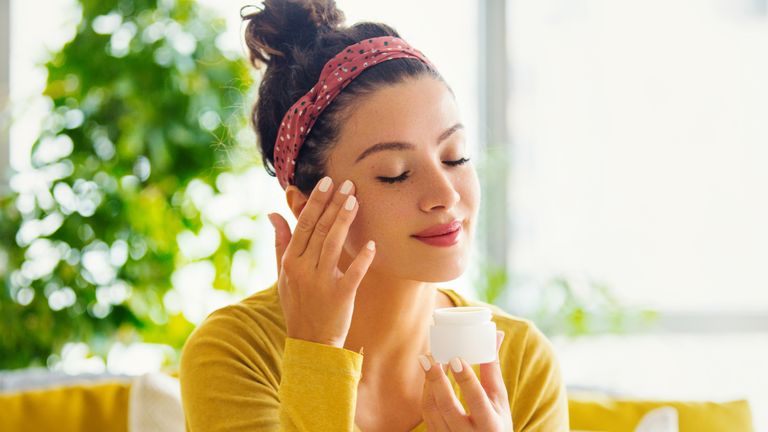 (Image credit: Aja Koska via Getty Images)
I think it's safe to assume that everybody has experienced some degree of stress in the last year – something that can really take its toll on our skin. Enter, Kate Somerville's DeliKate range. 
Somerville is one of the go-to facialists in celebville, with some of her famous clients including Kate Hudson, Jessica Alba and Olivia Wilde. And before she became the Duchess of Sussex, Meghan Markle wrote on her (now defunct) blog that she was a big fan of her Quench Hydrating Serum.
But it's a 2020 launch that I'm talking about today in the form of her DeliKate range. While I wouldn't categorize my skin as being sensitive "full time" it is prone to the odd bout of dryness and soreness, more so in lockdown. Recently the colder weather and working from home with the heating on full blast caused it to freak out and become a little red and flushed, too.
So in my time of need I called on the DeliKate range, which I knew had positive reviews from my peers for soothing skin. For me the Recovery Serum is the MVP, a cocktail of skin-loving ingredients like ceramides, peptides and cucumber seed oil to calm the skin and restore your skin barrier. I added this to my morning routine and within a week my skin was back to its normal self (which is actually combination to oily, if you're wondering).
I also love the Recovery Cream as my night time moisturizer and the last step in my evening skincare routine. This is a formula that Somerville has used in clinic for years on her clients after a peel when the skin needs to recover, and one that she describes as a "game changer for putting out the fire and calming irritation". It's thick, pillowy and calms your skin almost immediately.
I'm not the only one who's now a committed fan – fellow beauty editors have been raving about the range on Instagram too. Want to get your hands on some DeliKate action? Shop the full line of products below.
Shop the Kate Somerville DeliKate Range
Kate Somerville DeliKate Soothing Cleanser, $38, Sephora (UK £33, Cult Beauty)
A fragrance free, gentle and all-round lovely cleanser that won't sting or strip your skin.View Deal
Kate Somerville DeliKate Recovery Serum, $85, Sephora (UK £70, Cult Beauty)
Promises to relieve redness, itching, burning and tightness by helping to restore the skin barrier.View Deal
Kate Somerville DeliKate Recovery Cream, $80, Sephora (UK £69, Cult Beauty)
A thick and gentle cream that Somerville uses in her own clinic to soothe irritated skin.View Deal
From the bottom of my heart, Kate Somerville, I thank you for bringing these products into my life.
Are you already a DeliKate fan? Let us know on social at @thisismyimperfectlife.
Lucy is a beauty journalist who has written for titles including Marie Claire, Cosmopolitan, Women's Health, InStyle and Woman & Home, and regularly contributes to My Imperfect Life. Most recently she was Junior Beauty Editor at Marie Claire. Covering skincare, haircare, make-up and wellbeing, her job involves anything from picking the brains of the world's top dermatologists to swatching the latest and greatest foundations. When she's not got beauty on the brain, you're most likely to find her spending time with dogs (her sister owns one very sassy cockapoo), reading or sleeping. She's also a big fan of RuPaul's Drag Race, rosé and and house plants that stay alive.