The best vitamin C serums to add to your skincare routine
Browse the best vitamin C serums and enjoy a host of benefits from a brighter complexion to a more even skin tone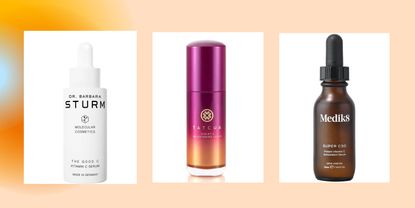 (Image credit: Canva )
Our pick of the best vitamin C serums will help you see improvements with everything from pigmentation, dullness and discoloration to how to get rid of dark circles, uneven texture and fine lines.
Vitamin C is one of the most essential a building blocks for healthy skin and a good skincare routine, as it has been scientifically proven to improve signs of sun damage. Whether you're choosing between sunscreen vs sunblock, look to vitamin C when working out how to fade dark spots and even out skin tone—whilst protecting against pollution and free radicals too.
From vitamin C serums that received tonnes of great reviews to ones that have whipped up a cult frenzy, we put several serums to the test to find the very best. Keep reading for a list of serums that deliver on what they promise—for every type of skincare issue. Naturally, there are some that have risen to the top of our best list, so honorable mentions go to Medik8's Super C 30 because it combines efficacy with an accessible price point. If affordability is your concern look to The Ordinary's Ascorbyl Glucoside Solution 10%, which is a much cheaper option for anybody new to vitamin C. And, if you're a fan of natural products, then Mad Hippie's vitamin C serum could be just the one for you.
How we tested the best vitamin C serums
When testing vitamin C, they were each used for around a week, taking into account:
Texture
Type and strength of vitamin C used
Cost
Packaging—is it air-tight and able to remain stable if necessary?
How it feels on skin
It was important to take into account numerous price points—as vitamin C formulas can range hugely in price—alongside the packaging. And we also spoke to experts in order to find out what we should be looking for in a vitamin C serum and what different types of vitamin C are best to look out for and why. It's all important to consider what vitamin C serums will work with the best foundations for sensitive skin, and all skin types.
Meet the tester
Meet the tester
Lucy Partington
My skin can be sensitive to some ingredients but it's generally quite hardy, is a bit blemish-prone and falls on the slightly oily side.
For me, vitamin C serums come in many different types and textures, and finding out suitable for your own skin is trial and error. Personally, I like something lightweight that doesn't feel overly oily—in fact, the more water-like, the better—and that will absorb into skin easily without leaving a trace.
Best vitamin C serums as reviewed by expert beauty editors
Best vitamin C serum to suit all skin types
Specifications
Type of vitamin C: Ethylated L-ascorbic acid
Strength: 30%
Additional ingredients: Vitamin E for added antioxidant protection
Reasons to buy
+
It's super lightweight
+
A high-strength
+
Gentle, vegan and cruelty-free
Reasons to avoid
-
It's more expensive than some
-
Could make oily skins feel more oily
This lightweight, dry oil sinks into the skin without leaving it feeling greasy or slippery. A couple of drops smoothed all over your skin is all you need, and thanks to its quick absorption, it works perfectly as the first step after cleansing in your AM or PM routines.
The formula contains 30% ethylated L-ascorbic acid, meaning it's both potent and incredibly stable. Plus, it's free of artificial fragrance yet has a refreshing, zesty scent to it which comes from the addition of grapefruit extract (which also acts as an additional, natural antioxidant). It's oil-based so not only will it help to brighten and protect skin but it's also incredibly hydrating. Skin looks brighter with a couple of weeks' consistent use.
See our full Medik8 Super C 30 review to read exactly why it's such an industry favorite
2. Dr Barbara Sturm The Good C Vitamin C Serum
Best for vitamin C serum dry skin
Specifications
Type of vitamin C: oil-soluble Vitamin C THD, plant-based Vitamin C and stabilized, synthetic Vitamin C in glucosidic form
Strength: 5%
Additional ingredients: zinc, hyaluronic acid and aloe vera
Reasons to buy
+
Three innovative forms of vitamin C
+
Science-driven formula designed to increase absorption of vitamin C into the skin
+
A good option for sensitive skin
+
Aloe Vera and hyaluronic acid provide intensive moisture and hydration
Reasons to avoid
-
Lower concentration of vitamin C means it may take longer to fade pigmentation (this needn't be a bad thing though if your skin is easily irritated)
-
Is pricey—but totally worth it IMHO
This serum takes a novel approach to vitamin C and is packed with proven hydrators. Rather than flood skin with a high concentration of vitamin C, skincare expert and aesthetician Dr. Barbara Sturm believes that 5% is the sweet spot to brighten, improve the look of hyperpigmentation and boost collagen production—all without potentially impairing the protective skin barrier and leading to inflammation. Not to mention this powerhouse contains three different forms of vitamin C, including Kakadu Plum—a potent fruit source of plant-based vitamin C—and zinc, which aids with absorption into the skin.
Unlike most vitamin C formulas that are a deep orange shade, this is white and feels more like a watery cream. And as it's a completely stable form of vitamin C, there's no danger of the liquid turning an unsightly brown color due to oxidation. Better still, our tester found that it sunk quickly into the skin without leaving a sticky residue—although the brand does recommend waiting for five minutes before applying moisturizer over the top to really let it works its magic.
3. Tatcha Violet-C Brightening Serum
Best vitamin C serum for brightening acne scars and dark spots
Specifications
Type of vitamin C: oil-soluble Ascorbic Tetraisopalmitate
Strength: 20%
Additional ingredients: Japanese Beautyberry, AHAs, Japanese Angelica Root
Reasons to buy
+
Inclusion of resurfacing fruit AHAs turbo-charges its brightening properties
+
A good option for those with hyperpigmentation or acne scars
+
Formulated without: Mineral oil, synthetic fragrances, parabens, or phthalates
Reasons to avoid
-
Ascorbyl Tetraisopalmitate is a derivative of vitamin C, so not as potent as pure L-Ascorbic Acid
-
Not ideal for sensitive skin
J Beauty is all about balance and this formula is a testament to that. Alongside a vitamin C derivative that helps to minimize attack on your collagen and DNA from free radicals, there's Japanese Beautyberry, another rich source of antioxidants that helps to stabilize vitamin C. AHAs, derived largely from citrus fruits, have also been added at a gentle yet effective 10% to lift away uneven, dull skin. These are given an additional boost by Japanese Angelica Root, which helps to diffuse the look of excess melanin. Given the built-in AHAs, you won't need to use any chemical or mechanical exfoliators while using this product.
Those with more sensitive skin may want to slowly introduce the serum into their routine, starting with use every other night to allow the skin to acclimate. The lack of mineral oil means this serum feels lightweight, won't clog pores, and plays nicely under makeup. It's an all-rounder when it comes to a more translucent, youthful glow.