9 of the best vitamin C serums for bright and healthy skin
Two beauty editors test and review the best vitamin C serums and share those that truly leave skin brighter and even skin texture and tone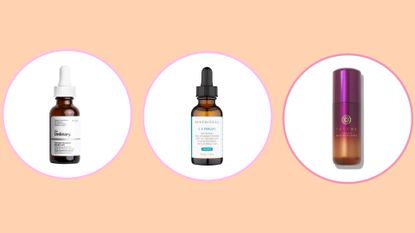 (Image credit: The Ordinary / SkinCeuticals / Tatcha)
Recommended by dermatologists, facialists and estheticians around the world, the best vitamin C serums will feel comfortable on the skin while slowly brightening over time to fade the look of dark spots, leaving it looking overall less dull and more glowy.
Vitamin C is one of the essential building blocks for healthy skin and a good skincare routine, as it has been scientifically proven to improve signs of sun damage. As well as deciding between sunscreen vs sunblock, this ingredient can be the key to how to fade dark spots and even out skin tone—all while protecting against pollution and free radicals, too.
From vitamin C serums that received tonnes of great reviews to ones that have whipped up a cult frenzy, our team of expert contributing beauty editors put several serums to the test to find the very best. Keep reading for a list of serums that deliver on what they promise—for every type of skincare issue. These vitamin C serums will help to improve everything from pigmentation, dullness, discoloration, uneven texture, fine lines.... the list is almost endless.
The best vitamin C serums, as reviewed by two beauty editors
How we tested the best vitamin C serums
Meet the tester
Meet the tester
Lucy Partington
My skin can be sensitive to some ingredients but it's generally quite hardy, is a bit blemish-prone and falls on the slightly oily side.
For me, vitamin C serums come in many different types and textures, and finding out suitable for your own skin is trial and error. Personally, I like something lightweight that doesn't feel overly oily—in fact, the more water-like, the better—and that will absorb into skin easily without leaving a trace.
When testing vitamin C, they were each used for around a week, taking into account the following factors.
Texture: Thinner formulas tend to work best for vitamin C serums, as they soak into the skin more easily
Type and strength of vitamin C used: Ahigher strength will obviously yield faster and more obvious results, but a lower strength is best for those starting out or those with more sensitive skin
Cost: There are various different price points for vitamin C and while some of the best ones can be quite expensive, there are also really effective options on the lower end of the price spectrum
Packaging: Is it air-tight and does it use dark packaging in order to keep the formula stable for as long as possible?
How it feels on skin: While it can sting a little at first, it should be generally comfortable to wear, especially after a couple of uses
As vitamin C formulas can range hugely in price, as well as how they are packaged, it was important to take into account numerous price points during the testing process. We also spoke to skin experts in order to have a clear understanding of exactly what we should be looking for in a vitamin C serum, which types of vitamin C are best to look out for, and why. It's all important in order to understand best foundations for sensitive skin, and all skin types.
The best vitamin C serums
1. The Ordinary Ascorbyl Glucoside Solution 12%
Best vitamin C serum for beginners
Specifications
RRP: $14.30 for 1oz
Type of vitamin C: Ascorbyl Glucoside
Strength: 12%
Additional ingredients: This one is just a vitamin with no additional benefits
Reasons to buy
+
Most affordable in our edit
+
Popular, widely trusted brand
Reasons to avoid
-
Doesn't contain additional antioxidants unlike others on this list
-
May cause pilling if used with too many other products
The Ordinary has gained cult status by democratizing the skincare industry and as the go-to skincare brand for ingredients-led and results-driven products—its aim is to simplify the overcrowded, often-confusing world of skincare and this serum is yet another great product that does exactly what it says on the bottle.
Formulated with ascorbyl glucoside, a type of water-soluble vitamin C that has a longer shelf left in terms of stability than some, it's a true no-frills serum that glides onto the skin. I found that the non-oily texture absorbs easily but—contrary to what the brand describes—can be a bit sticky and can lead to pilling if too much is applied. It can be mixed with other antioxidants, such as resveratrol or ferulic acid, for a full 360 approach—but to get better results with this you need to do your research.
2. Dr Barbara Sturm The Good C Vitamin C Serum
Best vitamin C serum for dry skin
Specifications
RRP : $145 for 1oz
Type of vitamin C: Oil-soluble Vitamin C THD, plant-based Vitamin C and stabilized, synthetic Vitamin C in glucosidic form
Strength: 5%
Additional ingredients: Zinc, hyaluronic acid and Aloe vera
Reasons to buy
+
Three innovative forms of vitamin C
+
Science-driven formula designed to increase skin's absorption of vitamin C
+
Good for sensitive skin
+
Aloe Vera and hyaluronic acid provide intensive moisture and hydration
Reasons to avoid
-
Lower concentration of vitamin C means may take longer to fade pigmentation (not a bad thing if your skin is easily irritated)
-
Pricey, but totally worth it IMHO
This serum takes a novel approach to vitamin C and is packed with proven hydrators. Rather than flood skin with a high concentration of vitamin C, skincare expert and aesthetician Dr. Barbara Sturm believes that 5% is the sweet spot to brighten, improve the look of hyperpigmentation, and boost collagen production—all without potentially impairing the protective skin barrier and leading to inflammation. Not to mention this powerhouse contains three different forms of vitamin C, including Kakadu Plum—a potent fruit source of plant-based vitamin C—and zinc, which aids with absorption into the skin.
Unlike most vitamin C formulas, which are often a deep orange shade, this is white and feels more like a watery cream. What's more, as it's a completely stable form of vitamin C, there's no danger of the liquid turning an unsightly brown color due to oxidation. I found that it sunk quickly into my skin without leaving a sticky residue—although the brand does recommend waiting for five minutes before applying moisturizer over the top to really let it work its magic.
3. Tatcha Violet-C Brightening Serum
Best vitamin C serum for brightening scars and dark spots
Specifications
RRP: $89 for 1oz
Type of vitamin C: Oil-soluble ascorbic tetraisopalmitate
Strength: 20%
Additional ingredients: Japanese beautyberry, AHAs, Japanese angelica root
Reasons to buy
+
Inclusion of resurfacing fruit AHAs turbo-charges its brightening properties
+
A good option for those with hyperpigmentation or acne scars
+
Formulated without: Mineral oil, synthetic fragrances, parabens, or phthalates
Reasons to avoid
-
Ascorbyl Tetraisopalmitate is a derivative of vitamin C, so not as potent as pure L-Ascorbic Acid
-
Not ideal for sensitive skin
J-Beauty is all about balance and this formula is a testament to that. Alongside a vitamin C derivative that helps to minimize any attack on your collagen and DNA from free radicals, there's Japanese Beautyberry, another rich source of antioxidants that helps to stabilize vitamin C. AHAs, often derived from citrus fruits, have also been added at a gentle yet effective 10% concentration, to lift away uneven, dull skin. These are given an additional boost by Japanese Angelica Root, which helps to diffuse the look of excess melanin. Given the built-in AHAs, you won't need to use any chemical or mechanical exfoliators while using this product.
Those with more sensitive skin may want to slowly introduce the serum into their routine, starting with use every other night to allow the skin to acclimate. I found that the lack of mineral oil means this serum feels lightweight, won't clog pores, and plays nicely under makeup. It's an all-rounder when it comes to a more translucent, youthful glow.
Best natural vitamin C serum
Specifications
RRP : $33.99 for 1oz
Type of vitamin C: Sodium ascorbic phosphate
Strength: 10%
Additional ingredients: Ferulic acid, vitamin E
Reasons to buy
+
Natural ingredients
+
A good option for sensitive skin
+
Lightweight texture
+
Free from parabens, synthetic fragrance, dyes, petrochemicals, SLS, or other additives
Reasons to avoid
-
Less potent in vitamin C than others on this list (but depending on your skin type, that doesn't have to be a bad thing)
-
Isn't the best if you have dry skin
For those who prefer natural skincare options, this is the best option for you, as it is free from parabens, synthetic fragrance, dyes, petrochemicals, SLS, or other additives. The antioxidant ingredients (ferulic acid, vitamin C and vitamin E) are the stars of this serum super lightweight serum.
When it comes to application, I found that the jelly-like texture soaked into my skin immediately and didn't leave the skin feeling tacky. The fact that it's water-based is good news for oily skin types, as it's less likely to clog pores, and is undeniably a draw in summer when we're lightening up our skincare layers. We also deem it a beneficial serum for oily skin types and for those who normally find their skin becomes riled after using vitamin C.
See our full Mad Hippie Vitamin C Serum review to learn about all of the benefits of this natural offering
Best vitamin C serum for seasoned vitamin C pros
Specifications
RRP : $182 for 1oz
Type of vitamin C: L-ascorbic acid
Strength: 15%
Additional ingredients: 1% vitamin E and 0.5% ferulic acid for extra added protection against the environment
Reasons to buy
+
The water-like serum is easy to apply
+
It absorbs quickly and has an extremely cult following
Reasons to avoid
-
It's the most expensive of the bunch but some people say that it can oxidise quickly
In just a few weeks into using the SkinCeuticals CE Ferulic serum, my skin was noticeably much more glowy than normal. Unlike other similar serums which tend to be on the slightly more viscous side, this one is like water—so I found that it was best to press into my face from the palms of your hands, rather than dripping straight onto the skin. It absorbs quickly and doesn't leave skin feeling sticky or tacky—instead, it's the perfect base to apply your best sunscreen for face on top of.
It's formulated with ferulic acid, a plant-based antioxidant that helps protect skin against free radicals and other environmental damage, as well as vitamin E which offers additional protection. It left our tester's skin looking and feeling plump, hydrated, and glowing.
"Out of the many vitamin C serums that I've tried in my career, this is no doubt my number one pick," adds My Imperfect Life's deputy editor and in-house beauty expert, Aleesha Badkar. "The first time I used it I was genuinely shocked by the results that I saw, as not only did it fade any signs of pigmentation on my skin in just a couple of weeks, but it also left my complexion with a plump, healthy appearance and a natural glow that I honestly only thought possible from cosmetic procedures".
See our full SkinCeuticals C E Ferulic review to see what else our deputy editor loves about this cult serum
6. La Roche Posay Pure Vitamin C10 Serum
Best vitamin C serum for sensitive skin
Specifications
RRP: $46.99 for 1oz
Type of vitamin C: L-ascorbic acid
Strength: 10%
Additional ingredients: Hyaluronic acid to hydrate and salicylic acid to gently exfoliate
Reasons to buy
+
Created by sensitive skin experts
+
It's infused with thermal spring water which helps repair and protect the skin's barrier
Reasons to avoid
-
It doesn't come in a UV-safe bottle
-
The pipette is slightly too big for the bottle making it harder to apply
La Roche-Posay is the go-to brand for those with sensitive skin so products are developed with that in mind, and this serum is no different. Formulated with 10% vitamin C, it's the lowest strength of the lot but it still works to even and smooth skin, while the added salicylic acid gently sloughs away surface layers of skin and hyaluronic acid deeply hydrates, leaving it plump and radiant.
It's also infused with La Roche-Posay's iconic thermal spring water which promises to deliver soothing, barrier-repairing benefits. I found that its texture sits somewhere between water and a lightweight gel meaning that it absorbs really easily—and it left my skin looking healthy.
Read our full La Roche-Posay Pure Vitamin C10 Serum review for an insight into this potent yet sensitive skin-appropriate formula
7. Clinique Fresh Pressed Daily Booster with Vitamin Pure Vitamin C 10%
Best vitamin C serum for an intense course
Specifications
RRP: $86 for 4x 8.5ml
Type of vitamin C: L-ascorbic acid
Strength: 10%
Additional ingredients: Glycerin and squalene to intensely hydrate
Reasons to buy
+
Individual vials mean it stays fresher for longer
+
Can be used alone or to boost your moisturiser, good for travelling
Reasons to avoid
-
More expensive cost per use
-
Is quite potent so may be too much for super sensitive skin types
Four individual vials with two compartments—one holds the ready-to-mix pure vitamin C powder and the other houses the serum. Peel the foil away at the base, click and press the powder into the serum, give it a shake and it's ready to use, either alone or dispense a couple of drops into your favorite daily moisturizer in order to give it a boost.
The so-called 'stay fresh' packaging is designed to keep the vitamin C powder as fresh and as active as possible, therefore meaning maximum results and impressive efficacy. Each vial is designed to last seven days and is available to buy in boxes of four—to last a month—or one, to see you through a week.
8. Murad Vita-C Glycolic Brightening Serum
Best vitamin C serum for quick results
Specifications
RRP: $88 for 1oz
Type of vitamin C: L-ascorbic acid
Strength: 5%
Additional Ingredients: Glycollic acid, phyto-luminescent extract
Reasons to buy
+
Created by skin experts
+
Leaves skin feeling radient
Reasons to avoid
-
Can be strong for sensitive skin
-
Slightly heavy formula
Glycolic acid slews away dead skin cells, which clears the way for vitamin C to really get to work thus supercharging the effects. This serum, from Murad, is perfect for targeted treatment. This formula works with most skin types from normal to dry and combination.
This is another favorite of deputy editor Aleesha's, who says: "My first plus with this one was the packaging, as the separate compartments meant that it lasted a bit longer than other vitamin C serums due to preventing oxidation. The texture is a little thicker than I usually like in a vitamin C serum though, but it does still absorb quite well and leave the skin feeling and looking fresh and bright.
"I have relatively robust skin, but I did find that I sometimes felt a slight sting or tingle when using this—nothing too uncomfortable or that couldn't be remedied with a quenching hyaluronic acid serum or calming moisturizer for dry skin—but it's probably one for sensitive skin types to avoid and that would best for experienced vitamin C users."
9. Skin Regimen Vitamin C Booster
Best vitamin C serum for an instant boost
Specifications
RRP: $124 for 0.7oz
Type of vitamin C: Sodium ascorbate, ascorbic acid
Strength: 15%
Additional Ingredients: Longevity ComplexTM.
Reasons to buy
+
Soaks into the skin perfectly
+
Great for dark spots
Reasons to avoid
-
Is pricey—but it ACTUALLY works
Suitable for all skin types, you only need a few drops as it's not very viscous. The texture is quite loose and can be compared to that of the Skin Ceuticals C E Ferulic. That being said, it soaks into the skin like a dream.
To activate this product, you have a separate sachet of vitamin C powder which you carefully add to the bottle. You then need to shake it for 30 seconds to ensure the product is completely mixed through and leave for 2 minutes before application. But, you only have to do this once.
I found that my skin was definitely noticeably brighter after the first use, and this continued with solid use, both in the morning—followed by SPF, of course—and at night.
They say the product is at its most efficacious up to one month after using, so in terms of price, it is definitely at the top bracket of products. But even so, if you're looking for an instant boost, this is the one to try. It does have a tendency to sell out quite quickly, so definitely one to add to your wishlist so that you can snap it up ASAP.
Your vitamin C serum questions, answered
How do you choose a vitamin C serum?
Whilst we can acknowledge that vitamin C is undoubtedly an incredible addition to any skincare routine—the vitamin C serum benefits are seriously impressive—it's worth noting that not all products were made equal. If you're wondering how to fade dark spots, vitamin C can do this and it also works to help even out skin tone while improving the appearance of post-inflammatory hyperpigmentation. It can also help to protect against pollution and free radicals, both of which can cause premature aging.
Despite being considered one of the best antioxidants by almost all dermatologists and skin experts, vitamin C is notoriously difficult to formulate because it's extremely unstable in water-based products. That means it's always best to choose a vitamin C serum that's oil-based to ensure maximum efficacy for the longest possible time.
Vitamin C serums tend to come in different strengths and can range anywhere from 2% through to 20 or 30%—the optimum is around 10-20%. The higher the number, the more potent the product will be. However, there's no need to choose something higher for the sake of it. If you have sensitive skin, it's always advisable to start lower and gradually work your way up. That way, your skin is able to adapt and is less likely to react.
"Formulation matters, particularly with vitamin C as the active ingredient is relatively unstable and in time, the vitamin C becomes less 'active'," says dermatology fellow Dr Bernard Ho. "I would suggest looking at the manufacturers or product details as it will tell you how long they expect your vitamin C product to last and when to use it up by."
There are also various types of vitamin C, and while they will all have the same end result, some are easier for brands to formulate with than others. The most popular and most common form of vitamin C is L-ascorbic acid—it's the most potent but it's also the most unstable. Other forms include tetrahexyldecyl ascorbate, which is the most gentle and least likely to cause irritation; and ascorbyl glucoside, which is a stable form of vitamin C that's been combined with glucose, making it more tolerable in sensitive skin.
Can you use vitamin C serum every day?
As for how to use vitamin C serum, it's fine for daily use, but best not to use with retinol—so we'd recommend alternating between the two or using them at different times of day.
"I would suggest not layering vitamin C with retinol, as it can cause irritation when used at the same time," explains Dr Ho . "I would advise using any product (providing it's not causing irritation or unwanted side effects) for 4-6 weeks before deciding if it has done anything to your skin. I would suggest looking for vitamin C product that combines other hydrating ingredients such as glycerin and hyaluronic acid."
And if you're wondering whether you should use your vitamin C serum morning or night, it's actually suitable to use both morning and night—or one or the other, depending on your skin's needs.
Lucy Partington has been a beauty journalist for eight years, writing for titles including Stylist and Cosmopolitan. She's a true skincare nerd who's on a lifelong quest for a glowing complexion and loves nothing more than learning about new ingredients and products. She's obsessed with having perfect eyebrows and collecting eyeshadow palettes she'll probably never use.