Best vitamin C serums: 6 miracle products to brighten skin
These best vitamin C serums are consistently hailed as one of the most effective skincare ingredients, here's why...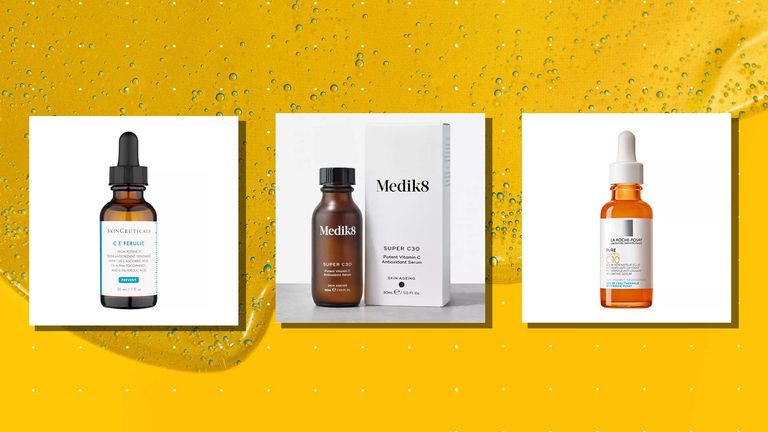 (Image credit: Getty Images / Moment / Skinceuticals / Medik8 / La Roche Posay)
Adding one of the best vitamin C serums to your daily skincare routine could be the key to unlocking glowing skin. 
While it's no secret that the world of skincare can be confusing and overwhelming, it really doesn't have to be that way. It's all about honing the ingredients that you use to ensure that every step is as efficient as it can be.
That's where vitamin C and its benefits come in. As well as being scientifically proven to have a positive impact on skin, it's also hailed as one of the most effective ingredients because it has the ability to improve visible signs of sun damage. It also works to help even out skin tone while improving the appearance of post-inflammatory hyperpigmentation and brown spots. It can also help to protect against pollution and free radicals, both of which can cause premature ageing. 
We've rounded up and reviewed some of the most popular vitamin C serums - our favourite is Medik8's Super C 30, because it combines efficacy with an accessible price point. If affordability is your concern look to The Ordinary's Ascorbyl Glucoside Solution 10% which is a much cheaper option for anybody new to vitamin C. 
How to choose the best vitamin C serum for you
Vitamin C is undoubtedly an incredible addition to any skincare routine but it's worth noting that not all products were made equal. Despite being considered one of the best antioxidants by almost all dermatologists and skin experts, vitamin C is notoriously difficult to formulate because it's extremely unstable in water-based products. That means it's always best to choose a vitamin C serum that's oil-based to ensure maximum efficacy for the longest possible time.
Vitamin C serums tend to come in different strengths and can range anywhere from 2% through to 20 or 30%, with the optimum at around 10-20%. The higher the number, the more potent the product will be. However there's no need to choose something higher for the sake of it; for those with sensitive skin, it's always best to start lower and gradually work your way up. That way, your skin is able to adapt and is less likely to react.
There are also various types of vitamin C, and while they will all have the same end result, some are easier for brands to formulate with than others. The most popular and most common form of vitamin C is L-ascorbic acid - it's the most potent but it's also the most unstable. Other forms include tetrahexyldecyl ascorbate, which is the most gentle and least likely to cause irritation; and ascorbyl glucoside, which is a stable form of vitamin C that's been combined with glucose, making it more tolerable in sensitive skin.
As well as being a powerhouse brightening ingredient, vitamin C also helps encourage and stimulate collagen production in skin, and it's suitable to use both morning and night – or one or the other, depending on your skin's needs. 
The My Imperfect Life edit
The best vitamin C serum for most people
Medik8 Super C 30
Best for… all skin types
Specifications
Type of vitamin C: Ethylated L-ascorbic acid
Strength: 30%
Additional ingredients: Vitamin E for added antioxidant protection
Reasons to buy
+It's super lightweight, is high-strength+Gentle, vegan and cruelty free
Reasons to avoid
-It's more expensive than some-Could make oily skins feel more oily
This oil-based serum is lightweight but packs a potent punch
This lightweight, dry oil sinks into skin without leaving it feeling greasy or slippery. A couple of drops smoothed all over your skin is all you need, and thanks to its quick absorption, it works perfectly as the first step after cleansing in your AM or PM routines. The formula contains 30% ethylated L-ascorbic acid, meaning it's both potent and incredibly stable. Plus, it's free of artificial fragrance yet has a refreshing, zesty scent to it which comes from the addition of grapefruit extract (which also acts as an additional, natural antioxidant). It's oil-based so not only will it help to brighten and protect skin but it's also incredibly hydrating. Skin looks brighter with a couple of weeks' consistent use. 
The best premium vitamin C serum
SkinCeuticals C E Ferulic
Best for… seasoned vitamin C pros
Specifications
Type of vitamin C: L-ascorbic acid
Strength: 15%
Additional ingredients: 1% vitamin E and 0.5% ferulic acid for extra added protection against the environment
Reasons to buy
+The water-like serum is easy to apply+It absorbs quickly and has an extremely cult following
Reasons to avoid
-It's the most expensive of the bunch but some people say that it can oxidise quickly
One of the first vitamin C serums created, it's gained cult status for a reason
Just a few weeks into using this serum, skin was noticeably much more glowy than normal. Unlike other similar serums which tend to be on the slightly more viscous side, this one is like water – making it perfect to press into your face with the palms of your hands. It absorbs quickly and doesn't leave skin feeling sticky or tacky, instead it's the perfect base to apply SPF on top of. It's formulated with ferulic acid, a plant-based antioxidant that helps protect skin against free radicals and other environmental damage, as well as vitamin E which offers additional protection. It left skin looking and feeling plump, hydrated and glowing. 
The best budget vitamin C serum
The Ordinary Ascorbyl Glucoside Solution 12%
Best for… first time vitamin C users
Specifications
Type of vitamin C: Ascorbyl Glucoside
Strength: 12%
Additional ingredients: This one is just a vitamin with no additional benefits
Reasons to buy
+It's the most affordable+Comes from a popular, extremely trusted brand
Reasons to avoid
-It doesn't have any additional antioxidants-It may cause pilling if used with too many other products
From the creators of super affordable and highly efficient skincare, this serum doesn't disappoint
The Ordinary has gained cult status as the go-to skincare brand for ingredients-led and results-driven products – its aim is to simplify the overcrowded, often-confusing world of skincare and this serum is yet another great product that does exactly what it says on the bottle. Formulated with ascorbyl glucoside, a type of water-soluble vitamin C that has a longer shelf left in terms of stability than some, it's a true no-frills serum that glides onto skin. The non-oily texture absorbs easily but it can be a bit sticky and can 'pill' if too much is applied. It can be mixed with other antioxidants, such as resveratrol or ferulic acid, for a full 360 approach.   

The best vitamin C serum for sensitive skin
La Roche Posay Pure Vitamin C10 Serum
Specifically formulated for sensitive skin
Specifications
Type of vitamin C: L-ascorbic acid
Strength: 10%
Additional ingredients: Hyaluronic acid to hydrate and salicylic acid to gently exfoliate
Reasons to buy
+Created by sensitive skin experts+It's infused with thermal spring water which helps repair and protect the skin's barrier
Reasons to avoid
-It doesn't come in a UV-safe bottle-The pipette is slightly too big for the bottle making it harder to apply
La Roche-Posay is the go-to brand for those with sensitive skin so products are developed with that in mind, and this serum is no different. Formulated with 10% vitamin C, it's the lowest strength of the lot but it still works to even and smooth skin, while the added salicylic acid gently sloughs away surface layers of skin and hyaluronic acid deeply hydrates, leaving it plump and radiant. It's also infused with La Roche-Posay's iconic thermal spring water which promises to deliver soothing, barrier-repairing benefits. Its texture sits somewhere between water and a lightweight gel, and it leaves skin looking healthy. 
The best vitamin C serum to mix with moisturiser
Clinique Fresh Pressed Daily Booster with Vitamin Pure Vitamin C 10%
Supercharge your favourite daily moisturiser or serum with a couple of drops of pure vitamin C
Specifications
Type of vitamin C: L-ascorbic acid
Strength: 10%
Additional ingredients: Glycerin and squalene to intensely hydrate
Reasons to buy
+Individual vials mean it stays fresher for longer+Can be used alone or to boost your moisturiser, good for travelling
Reasons to avoid
-More expensive cost per use-Is quite potent so may be too much for super sensitive skin types
Four individual vials with two compartments - one holds the ready-to-mix pure vitamin C powder and the other houses the serum. Peel the foil away at the base, click and press the powder into the serum, give it a shake and it's ready to use, either alone or dispense a couple of drops into your favourite daily moisturiser in order to give it a boost. The so-called 'stay fresh' packaging is designed to keep the vitamin C powder as fresh and as active as possible, therefore meaning maximum results and impressive efficacy. Each vial is designed to last seven days and are available to buy in boxes of four – to last a month – or one, to see you through a week. 
The best vitamin c serum for targeted results  
Murad Vita-C Glycolic Brightening Serum
Perfect for targeted and rapid results
Specifications
Type of vitamin C: L-ascorbic acid
Strength: 5%
Additional Ingredients: Glycollic acid, Phyto-Luminescent Extract
Reasons to buy
+Created by skin experts+Leaves skin feeling radient
Reasons to avoid
-Can be strong for sensitive skin-Slightly heavy formula
Glycolic acid slews away dead skin cells, which clears the way for vitamin C to really get to work thus supercharging the effects.  This serum, from Murad, is perfect for targeted treatment. This formula works with most skin types from normal to dry and combination.