The genius makeup tricks and tips you've never heard before
From lipstick contouring to waking up tired eyes, these makeup tricks and tips will change your daily routine for the better.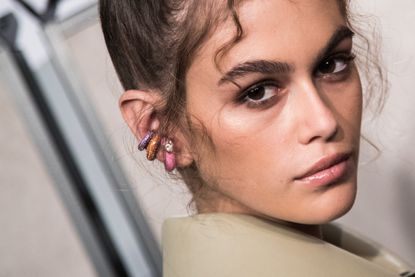 (Image credit: Getty Images)
We've gathered the best makeup tricks and tips to help you transform your beauty looks, courtesy of some of our favourite industry experts. So listen up and take notes...
Use lipstick to contour
"Try using a brown lipstick to contour instead of powders, simply draw a line using your cheekbones and along your hair then blend out with a buffing brush. The lipstick gives skin a fresh dewy finish rather than a flat, matte powder." Gucci Westman, Makeup Artist
The best way to apply foundation is…
"For light coverage apply your foundation with your fingertips, for a medium coverage use a brush and for a full coverage finish use a makeup sponge." Tom Pecheux, Makeup Artist
Wake up tired eyes instantly
"Apply a small dot of metallic blush [choose a shade that brightens your complexion] in the centre of the lower lashes to make eyes look wide-awake and brighter." Dominique Samuel, Makeup Artist
How to DIY an airbrushed lip stain
"Mix a balm and lipstick on the back of your hand, but don't apply it with your fingers – press it on with a makeup sponge. it gives lips a seamless, blown-out finish." Pat McGrath, Makeup Artist
Blend your own glow
"If you've cracked your illuminating powder, don't throw it away. Instead, mix it in with your moisturiser and pat it onto high points of the face — over the forehead and the tops of cheekbones, and down the nose. It'll make you look like you've just stepped off a sun lounger." Lauren Parsons, Makeup Artist
Custom-blend your blusher
"Instead of using one blush all over your cheeks, dust a matte, dusky pink over your whole cheeks then apply a brighter, luminous pink just over the apples, to really make them pop." Diane Kendall, Make-Up Artist
The right nail shape for you
"The sexiest nail shape? It's the one that matches the shape of your cuticle." Nail Guru, Deborah Lippman's husband, Jude
Magic mani extender
"To make your manicure last even longer, make sure you take the polish over the edge of the nail. This seals the tip to avoid chips and flakes." Michelle Saunders, Nail Expert
Bruise-hiding concoction
"You can easily mix up a bespoke body-perfecting cream to hide any bruises, simply mix your favourite cc cream + milky body lotion + a few drops of dry oil = a glowy even finish that hides imperfections!." Karim Rahman, L'Oreal Paris Global Makeup Director
Bambi lashes made easy
"On my clients, instead of pulling the lashes outward, I pull the mascara brush toward the bridge of their nose. This actually fans the lashes open to give the eyes a starburst effect." Mally Roncal, Makeup Artist
Au-naturel highlight
"Want a highlight on your cheekbones that is natural and not shimmery? On the back of your hand, mix lip balm with a creamy white eyeliner to create an eggshell cream. Tap it onto the top of your cheeks and along the bridge of your nose to give your skin a cashmere finish." Sharon Dowsett, Makeup Artist
The hydration booster
"I like to mix super-hydrating rose water with foundation before applying it to the girls' skin. It's amazing for dry and sensitive skin." Alice Lane, Makeup Artist
Smudgeproof your eyeliner
"Always pat a little powder eyeshadow over kohl to keep it from moving." Val Garland, Makeup Artist
Quick-fix skin brightener
"To make matte skin look glowing, add a highlight to your eyelids. It's a great backstage trick because it's so quick and really effective. There's no need to add eyeshadow – just a slick of mascara will do." Yadim, Makeup Artist
Sagal is a journalist, specialising in lifestyle, pop culture, fashion and beauty. She has written for a number of publications including Vogue, Glamour, Stylist, Evening Standard, Bustle, You Magazine, Dazed and Wonderland to name a few.