TikTok is obsessed with this easy method to clean makeup sponges—here's how to do it
An easier way to clean your Beautyblender? Sign us up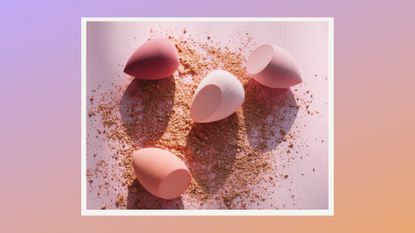 (Image credit: Getty Images)
TikTok has become the place to share and discover handy hacks, including makeup tips and advice on subjects like how to clean makeup brushes and sponges. To that end, there's a specific tool that's getting a lot of traction on the app for cleaning Beautyblenders and similar makeup sponges.
Even when you have one of the best makeup brush cleaners to hand, sponges are notoriously harder to really deep clean. A study conducted by STYLPRO that looked at makeup tools found that 34% "contained more bacteria than the average toilet brush".
But now, videos of the brand's Squeeze tool have collectively racked up almost 800 million views on TikTok, as it makes the sponge-cleaning process a lot easier—not to mention the results of all the gunk coming out of said sponges is kind of satisfying to watch...
TikTok fave
STYLPRO Squeeze Makeup Sponge Cleaner
It's not difficult to see why the tool is so popular, either. The tool is designed to give sponges a deep clean in just one minute. First, you soak your sponges in cleaning solution (the brand recommends its own Vegan Sponge Sparkle Cleanser, and the STYLPRO Squeeze comes with an 85ml bottle, though there are a few different sponge cleaners on the market).
The set comes with a "Press" device that can be used to massage this in. Then, per the brand's website, the process is as follows:
"Carefully fill the bowl to the fill line, with recently boiled water.
Push the button on the press, pull the handle up and lock the press open.
Using the open press, knead the makeup sponge a few times against the bowl base.
For best results, wait 60 seconds. Scoop up the makeup sponge with the press, push the button and carefully squeeze it closed.
Attach the pebble, and spin your sponge to its former glory.
STYLPRO also notes that you may need to repeat the process if it's been a while since you last cleaned your sponge(s)—which is all the more of an incentive to keep on top of cleaning your tools regularly.
Shop more makeup tool cleaning essentials
Lucy is a beauty journalist who has written for titles including Marie Claire, Cosmopolitan, OK!, woman&home and Women's Health, as well as regularly contributing to My Imperfect Life. Her work covers everything from skin and haircare tips to trying and testing the latest beauty launches, and interviewing celebrities and experts. A certified dog person, her other interests include mental wellbeing, books, piña coladas and not getting caught in the rain.