The best funny Thanksgiving memes that'll have you laughing through your turkey dinner
The internet is undefeated when it comes to Thanksgiving memes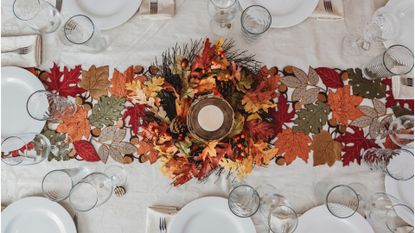 (Image credit: Getty Images)
It's that time of the year again - Thanksgiving memes are back on our feeds and frankly, we couldn't be happier.
It's been a long year and what we all need is to end it with a good laugh, starting tpday with the first holiday of the festive season - or more notably, the hilarious internet reenactments (and reactions) to what Turkey Day really looks like for most of us.
Thanksgiving may look a little different for some of us this year, with COVID-19 restrictions making it difficult to gather with family members in large groups. It may mean that there are fewer of you around the dinner table tonight but one thing that'll definitely remain the same are the quantity and quality of memes to look forward to.
From from Thanksgiving memes about about family dramas to funny Thanksgiving quotes about Turkey disasters, there's something for everything and we mean, everything. In fact, this year, you can expect a Thanksgiving COVID meme or too as well. It's an eventful time of year to say the least!
So to get you in the spirit, here are some of the most relatable and hilarious Thanksgiving memes to perfectly sum up the holiday....
We don't know about you but we've got our Thanksgiving pants on!
Is it ready yet?
Actual footage of what Thanksgiving 2020 will look like.
It's a hard time for all the vegans out there...
Is it even Thanksgiving without a political dispute with a relative?
The national Thanksgiving anthem is our personal highlight of the holiday!
Is it just us or does mac and cheese taste better on Thanksgiving?
After the year we've had, anything could tip us over the edge!
Words of advice: don't do it!
We all have that one aunt...
Whatever decision you made about eating less for Thanksgiving will be long gone as soon as you sit down at that dinner table!
A Thanksgiving essential!
It's 2020, there are no rules. Play all the Christmas music you like!
You're doing great, sweetie!
We've all been that person...
Mood!
How we're leaving the dinner table tonight
Sagal is a journalist, specialising in lifestyle, pop culture, fashion and beauty. She has written for a number of publications including Vogue, Glamour, Stylist, Evening Standard, Bustle, You Magazine, Dazed and Wonderland to name a few.