What is Toasted Skin Syndrome and can you treat it at home?
It's all over Beauty TikTok, but what does Toasted Skin Syndrome actually involve? We asked an expert to break it down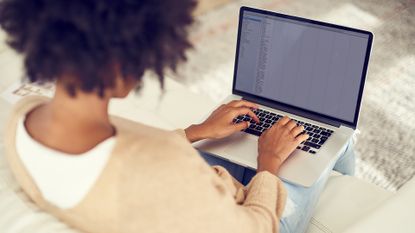 (Image credit: Peopleimages via Getty Images)
If you're on beauty TikTok, you may have noticed a few videos discussing Toasted Skin Syndrome popping up lately. The condition is characterized by a criss-cross type rash, so if you've noticed something similar on your skin, it's definitely one to get checked out.
During the colder months, although it's tempting to sit directly next to your portable heater or radiator or cuddle that hot water bottle, you could be doing your skin some serious damage.
But what actually is Toasted Skin Syndrome, and can you treat it yourself at home? (And more to the point, should you?) We caught up with Dr Sophie Shotter, founder of the Illuminate Skin Clinic, to break it down.
What is Toasted Skin Syndrome?
Dr Shotter explains that Toasted Skin Syndrome (TSS) is the colloquial name for the medical condition erythema ab igne. "It's characterised by red skin discolouration, itching and burning sensations. The condition is caused when the skin is repeatedly exposed to low grade heat sources (43-47°C or 109-117°F) – not enough to burn it, but enough to cause damage with repeated exposure," she tells us.
"The exact mechanism of damage is not fully understood, but it is believed that the prolonged heat exposure causes changes in the skin's elastic fibres and the microscopic blood vessels near the skin's surface," she adds.
What causes Toasted Skin Syndrome?
Heat sources that can cause TSS are numerous, but the condition can result from resting a hot laptop on your legs for long periods of time or, as TikTok users have noted, regularly using a hot water bottle to help ease period pain.
"It was originally found in coal workers and chefs," Dr Shotter explains. "Current common sources are laptop batteries which can cause TSS often on the left thigh, seat heaters in cars, and heating pads or hot water bottles." All the more reason to work from a desk at home!
How to treat Toasted Skin Syndrome at home
While it is possible to treat Toasted Skin Syndrome at home, Dr Shotter advises seeking medical advice if you think you have it. "The most important step is to remove the heat source to prevent further damage. This will usually lead to resolution of the discolouration," she explains.
Even if the TSS resolves on its own, Dr Shotter stresses that it's worth seeking the advice of a doctor or dermatologist, as it can increase your risk of certain skin cancers. "I think if it has resolved it's always wise to monitor the area in the future for changes that could be worrying," she adds.
"Removal of the heat source is enough [to treat TSS] in most people. Retinoids can be a useful treatment option in some people, but I would seek specialist advice for this before just randomly buying one."
For medical advice tailored to you, always consult your doctor.
Lucy is a beauty journalist who has written for titles including Marie Claire, Cosmopolitan, OK!, woman&home and Women's Health, as well as regularly contributing to My Imperfect Life. Her work covers everything from skin and haircare tips to trying and testing the latest beauty launches, and interviewing celebrities and experts. A certified dog person, her other interests include mental wellbeing, books, piña coladas and not getting caught in the rain.