Best moisturizers for dry skin: 10 most hydrating and soothing face creams
The best moisturizers for dry skin below have been tried and tested, and promise hydration that'll make dry, flakey or patchy skin a thing of the past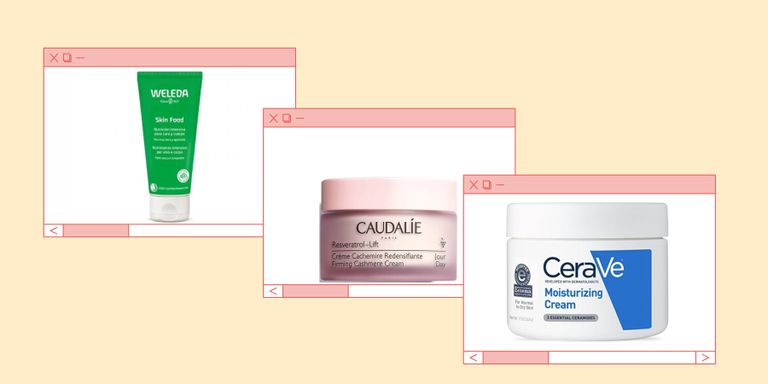 (Image credit: Future/Canva)
Searching for one of the best moisturizers for dry skin can be taxing, especially if you're suffering from pain thanks to skin that is crying out to be soothed. Wading your way through products, each of which claims to be the best at injecting moisture back into your face, would leave anyone feeling lost. That's why we've set our Beauty Editors a mission to try and test several, to find the very best on the market.
There can be all sorts of reasons behind dry skin, from a drop in temperature, an imbalance in your skin's pH, to simply genetics. And it's not fun to deal with. Dry skin can be patchy and tight at best, flakey and sore at worse. But luckily, there's no need to suffer in silence—like the best hyaluronic acid serums, the very best moisturizers contain formulas that specifically target all of the above issues. While dry skin is undeniably frustrating, high demand for the best moisturizers for dry skin means brands are continually investing in new research and development, striving for that perfect formula—meaning hydrating moisturizers are available in abundance.
But, how do you pick the right one for your skin type? Our guide to the best moisturizers for dry skin shares options for every particular skin concern. We've tested countless moisturizers in order to select the very best, hydrating, and nourishing formulas, at a range of price points. On our quest we found all the below to be worthy of a spot in our list, but honorable mention goes to the Origins GINZING Energy Boosting Oil-Free Gel Moisturizer—the best oilfree pick—and CeraVe moisturizing cream, which is good for very dry skin.
How to pick the best moisturizer if you have dry skin
If you have dry skin, it's important that you know how to choose moisturizer for your skin to give it the much-needed hydration it craves.
Whether you're after a moisturizer for dry skin that's packed with natural ingredients, offers anti-aging benefits, or is super gentle on sensitive skin, we've found the very best moisturizers for dry skin available. We've slathered on countless creams in order to select the very best non-greasy, skin-nourishing formulas that allow your skin to drink up the good stuff, leaving your complexion hydrated and dewy.
The best moisturizers for dry skin
Best for very dry skin, this much loves cult favorite delivers intense hydration
Specifications
Sizes available: From 8ml lip balm to 150ml body butter
RRP: $18.99/£13.50 for 150ml
Reasons to buy
+
100% natural and 80% organic formula
+
A real multitasker, this can be used all over the body
+
Great for sensitive skin as there aren't harsh chemicals
+
The brand has excellent eco-credentials
Reasons to avoid
-
Too occlusive for oily, acne-prone skin
There is a reason that Weleda Skin Food has gained cult status around the world and can be found in the kit of almost every make-up artist. This hard-working, multitasking product is great for those with sensitive skin as it doesn't contain any harsh chemicals. This is also a great option for those looking for a sustainable offering—the brand has very impressive eco-credentials, with 80% of their ingredients being organic and sustainable packaging used.
When it comes to formulas, it's worth noting that this cream is RICH, but it miraculously soaks into the skin, so there is no tacky feeling here. Used backstage at several fashion shows (it's expert approved!) each season, this delivers instant hydration leaving dewy skin in its wake.
Read the full Weleda Skin Food review to find out if this all-natural multitasker really hydrates
2. CeraVe Moisturising Cream
The best moisturizer for very dry skin
Specifications
Sizes available: 50ml-454ml
RRP: $14.99/£16.00 for 454ml
Reasons to buy
+
No-nonsense, reliable formula
+
Good for sensitive skin
+
Good value for money
There is a reason why people are adding CeraVe products to their skincare routines. This icon hydrating drug store product, which contains three essential components for skin hydration; ceramides (natural oils found in the skin), fatty acids, and phytosphingosine (a water binding agent). It's perfect for those with sensitive skin, with no perfumes or color added, making the cream super soothing, and perfect for use before the best foundations for sensitive skin.
It's a slightly pricer alternative to a classic thick, no-nonsense moisturizer like E45 or Nivea, but at around $20 / £16 it's still great value for money. The formula can be used day and night, but we'd recommend this as a nourishing night cream as its thickness doesn't lend itself for use under makeup as much as lighter textures do. CeraVe has gained a bit of a cult following in the last few years, and it's easy to see why with this product.
3. Caudalie Resveratrol Lift Firming Cashmere Creme
Best for mature skin
Specifications
Sizes available: 50ml jar only
RRP: $58.00/£44.00 for 50ml
Reasons to buy
+
New, anti-ageing formula
+
Luxurious texture
+
Uplifting scent
Reasons to avoid
-
Higher price point
-
Thicker consistency
Caudalie is the French brand that's achieved cult skincare status, with its appeal reaching far beyond the fantastic skincare products—have you seen the La Sources Caudalie (opens in new tab) spa? Aka: the Farmhouse of France, it's firmly on the wish list.
The brand's firming Cashmere Creme feels as luxurious as it sounds, with a thick, velvety texture that glides onto the skin. The brand knows their stuff when it comes to skincare too. Together, Caudalie and Harvard Medical School made the discovery that by combining popular skincare ingredients resveratrol and hyaluronic acid, you achieve a formula that's twice as effective as retinol for the natural production of collagen.
It's good to know that there's some clever technology behind the cream, but for us, the main selling point is how luxurious it feels on the skin, with a gentle, uplifting fragrance that, if we close my eyes tight enough, transports us to fields full of wildflowers in the French countryside (one can dream!).
4. La Roche-Posay Effaclar H Moisturizer
The best moisturizer for dry, sensitive skin
Specifications
Sizes available: 40ml bottle only
RRP: $22.25/£18.00 for 40ml
Reasons to buy
+
Extremely gentle and non-aggravating
+
Fragrance-free
+
Affordable
Reasons to avoid
-
Less luxury, more functional
La Roche-Posay is the go-to brand for products that are simple but efficacious too. This hydrating lotion was originally formulated to soothe skin that has become weakened by harsh acne medication and drying skincare (with dry skin even sometimes causing acne too), but it's fast become a firm favorite as a simple, fragrance-free moisturizer that does the job extremely effectively.
The formula is non-greasy and fast-absorbing, making it a great option for everyday use. Hero ingredients include MP-lipids, which help build up the skin's natural barrier, and ceramide 5, which reinforces the skin's hydrolipidic film—if we're going to get technical about it. In short, it's a soothing moisturizer that you can rely on, at an affordable price point.
5. The Organic Pharmacy Double Rose Ultra Face Cream
The best natural moisturizer for dry skin
Specifications
Sizes available: 50ml jar only
RRP: $88.00/£48.00 for 50ml
Reasons to buy
+
Sweet-smelling
+
Natural ingredients
+
Long-lasting hydration
Reasons to avoid
-
Strong scent
-
Heavy texture
The first thing you'll notice with this moisturizer is the rather divine scent, reminiscent of one of the best perfumes. However, if you're not a rose fan, then you'll want to skip past this one—it's quite a distinctive aroma. But if floral fragrances float your boat, this delicately-scented cream, reminiscent of soft and pillowy rose petals, will make your morning skincare routine all the more delicious.
Rose geranium, aloe, and squalene—a natural emollient that locks in moisture to help prevent fine lines and ease dry patches—work together harmoniously to soothe and soften dry skin. The result is full hydration, which lasted from my early morning pre-gym skincare routine to when I came to take my makeup off at night. This is a really soothing cream, so if your skin is feeling sensitive, patchy, or irritated, we'd recommend trialing it. Expect a heavier texture, so if you have an oily skin type, you may want to limit use to every other day.
The best moisturizer for fast absorption
Specifications
Sizes available: 15-125ml
RRP: $79.00/£50.00 for 125ml
Reasons to buy
+
Fast-absorbing
+
Lightweight texture
+
Creates a dewy complexion
Reasons to avoid
-
Depending on your skin, it may need to be teamed with another moisturizer
-
Not as heavy-duty as other formulas
Get ready to soak up all the hydrating qualities of this miracle cream. Clinique Moisture Surge is classed by the brand as a "hydrator", which means it can work on its own, or on top of your usual moisturizer. The refreshing and cooling gel is formulated with hyaluronic acid—which, according to the brand—delivers a moisture hit of up to 152%.
Hero ingredients include activated aloe vera and caffeine, which double up together to activate the skin's own '"internal water source". This essentially means that the ingredients help to draw water from deeper within the skin to hydrate the top of the epidermis.
The brand promises hydration for 72 hours after application. And, while I've not actually gone that long without washing my face and topping up on products, I can confirm that the dewy post-facial glow my skin enjoyed after application didn't fade. If your skin is really dry, we'd recommend using this as a post-moisturizer final step for extra hydration in the winter months.
Read the full Clinique Moisture Surge review to see if this moisturizer delivers on its 72 hours of hydration promise
7. Estée Lauder Revitalizing Supreme + Global Anti-Aging Cell Power Creme
The best moisturizer for dry skin that's also anti-aging
Specifications
Sizes available: 30ml-50ml
RRP: $89.56/£97.00 for 50ml
Reasons to buy
+
High-tech formula
+
Luxurious texture
+
Fast results
+
Anti-aging properties
This sumptuous cream is a cumulation of Estée Lauder's years of experience in creating moisturizers that really work. The Revitalizing Supreme + Global Anti-Aging Cell Power Creme, as well as being a bit of a mouthful, is an expensive-smelling, velvety soft formula that could awaken even the most sallow of complexions. The scent is a joy, with top perfume notes of citrus and a base of vetiver, sandalwood, and powdery vanilla.
Formulated with anti-aging in mind, the tech behind this formula is pretty expansive. The cream features the brand's exclusive IntuiGen Technology, which is derived from black bamboo extract and supports cell turnover. The cream has also been engineered with technology that helps support cells in order to carry out their restorative functions; essential for maintaining healthy skin. It means it's an expensive buy (RRP is around $80/£70), but it's well worth the splurge.
8. Origins GinZing Energy Boosting Gel Moisturiser
The best moisturizer for dry skin without oil
Specifications
Sizes available: 30ml-50ml
RRP: $32.00/£27.00 for 50ml
Reasons to buy
+
Uplifting scent
+
Perks up tired skin
+
Lasting hydration
Lightweight and refreshing, this zingy daily gel moisturizer is a great wake-up call for tired skin. If you already use one of the best non-comedogenic foundations, then this might be good for you as it is non-comedogenic too. We'd recommend this option for oily or combination skin types who also want to combat dry skin, especially during the winter months. It offers a lot of hydration (72 hours' worth, as goes the brand's claim) without blocking pores, or aggravating problem skin (I suffer from rosacea so oil-based products are a no-go).
The cooling texture is a tonic for early mornings and it's worth noting the product's citrusy scent—a blend of orange peel, grapefruit, and spearmint oil. Application is a joy, thanks to the lightweight texture that glides onto skin easily and is absorbed quickly. We'd peg this one as the ideal post-workout option.
The formula of this bestselling moisturizer has been recently reconsidered, with the introduction of "Hydra-Hug" hydration technology, a term coined by Origins. Hydra-hug technology works at a cellular level, bridging (or "hugging") cells together. While we don't have the use of a microscope to confirm or deny this claim, the overall impression is that this hydrating gel certainly quenches thirsty skin, creating a glow that lasts.
Read the full ORIGINS GINZING Energy Boosting Oil-Free Gel Moisturizer review
9. Dermalogica Intensive Moisture Balance
The best moisturizer for dry skin with antioxidants
Specifications
Sizes available: 15ml, 50ml, and 100ml
RRP: $74.00/£79.00 for 100ml
Reasons to buy
+
Deep hydration
+
Balancing
Reasons to avoid
-
More clinical, less luxury
-
Higher price point
The USP of this cream is that it promises to deliver moisture 10 layers of skin deep and is packed with antioxidants. Hero ingredients include hyaluronic acid, which is combined with echinacea, centella asiatica, and aloe vera.
The technical bit—it's an ultra-nourishing moisturizer that restores lipid balance to dry skin for optimal barrier performance. This moisturizer feels practical and functional, which is no bad thing, but if you're looking for a fragranced, luxurious cream to slather on morning and night, you may be better looking at one of the other options in this guide.
10. Avene Hydrance Hydrating Cream
The best for intense hydration—also very affordable too
Specifications
Sizes available: 40ml tube only
RRP: $32.00/£18.00 for 40ml
Reasons to buy
+
Deep hydration
+
French pharmacy chic
Reasons to avoid
-
Can be too greasy for some
Formulated with shea butter, Avène Thermal Spring Water, and Cohederm™—the brand's patented active—the skin was left feeling intensely hydrated with some seriously long-lasting results. It's suitable for those with sensitive skin too.
It could be slightly too rich for those that prefer a lighter cream, but it does soak into the skin effortlessly, just like one of the best bb creams. We were into the slightly dewy look it left us with, and the deep hydration we felt. We reckon this one is best used twice daily to soak up all the benefits.
---
---
Which moisturizer ingredients should I look out for if I have dry skin?
Some super nourishing ingredients to look out for are as follows according to Margo Marroe, founder of the Organic Skincare Company, and homeopathic skincare expert (this is not a definitive list, but a cumulation of advice from our skincare experts):
Plant oils
Natural actives
Rosehip
Beeswav
Shea butter
What about ingredients that those with dry skin should avoid?
"In my extensive research, I have found that the skin becomes addicted to these ingredients and if you stop the skin goes through a withdrawal period which induces flaking and peeling. This period lasts for 28-35 days until the skin is able to recover and turn over new cells."
Does the formula of moisturizer for dry skin always need to be heavier?
If you're stuck choosing between the consistency of CeraVe vs Clinique, it might be helpful to know that a light moisturizer can be just as mighty as a thicker one—but it all depends on the right ingredients. "Choose a good-quality, light moisturizer that soaks in readily, rather than just sitting on the surface of the skin," advises Dr Ross Perry, cosmetic doctor and managing director of Cosmedics Skin Clinics (opens in new tab).
Skincare guru and author of the best-selling Skin Care, Caroline Hirons, agrees. "Think of the top layers of skin as a sponge that is emerging halfway out of a bowl of water. The top part of the skin is drying and exposed. A common mistake when treating dry, dehydrated, or parched skin is to apply a thick layer of moisturizer. This is akin to applying a thick layer of cold butter to cold toast. It won't penetrate." Instead, Caroline advises applying a small amount of moisturizer, then wait a while before applying any more, repeating the process until the skin feels fully hydrated.
Fundamentally, the general skincare rule of thumb still stands; heavier creams are reserved for our nighttime routines, while lighter moisturizers should be applied in the morning.
How much moisturizer should I use?
When it comes to skincare applications, namely how to apply moisturizer, the experts favor a fruit analogy. And in the case of moisturizer, we're talking almonds. Aim for two almond-sized blobs, or three if you have a bigger face, and dot across the skin, distributing the moisturizer evenly. If the skin still feels dry and tight, apply another layer after a short wait.
Are the best moisturizers for dry skin more expensive?
In a word, no. There's nothing wrong with splashing out on a luxurious, divine-smelling face cream that prompts feelings of euphoric every time it's applied. In fact, that sounds like an extremely valid way to spend a self-care day! But on the flip side, drug store brands with reasonably priced offerings will also provide your skin with all the nourishment it needs. Dr Ross Perry agrees, telling us: "Expensive options may not be that different when it comes to ingredients - they just have more marketing behind them and play to people's perceptions of 'hope in a jar'."
Instead, look for quality ingredients from brands you can trust.
Lauren is deputy editor at woman&home.com and became a journalist mainly because she enjoys being nosy.
As well as keeping up with the latest news and most-talked-about TV shows, Lauren loves helping people share their stories, bringing experiences and adventures to life online. A big fan of adventure herself, she also loves sharing tips on where to find the best places to eat, drink, and be merry off the beaten track. Lauren has written a series of travel guides for London hotels and loves sharing her insights into a destination's cultural and culinary offerings. At the weekend, you'll usually find her hanging out with her pet cat (or anyone else's pet she can get her hands on), escaping to the countryside, or devouring a good book. You can mainly find pictures of her cat (and a few humans for good measure) on Instagram at @laurenkatehughes.