Who is in the '90 Day Fiancé' cast for season 9?
It's time to meet the couples! Here is the latest '90 Day Fiancé' cast...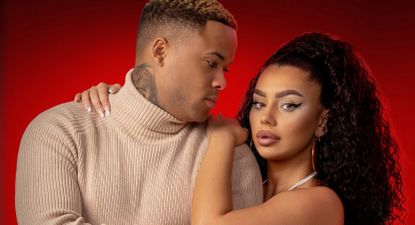 (Image credit: TLC)
Season 9 is around the corner with a fresh 90 Day Fiancé cast to boot, which can only mean two things: TV gold and hilarious new meme content. Happy days!
The new season will premiere on TLC on Sunday, April 17, and the network has now revealed the seven couples who will be letting us in on the rollercoaster ride of their relationships as they conquer long-distance love in pursuit of a K-1 visa. So, what can we expect this time?
#90DayFiance is back for an all-new season, premiering on Sunday, April 17 at 8/7c! Meet all of the couples — and welcome back one very familiar pair — right now! 👀https://t.co/4E3I2y2hZmMarch 10, 2022
See more
For those who aren't familiar with the concept of the show, it is a reality TV series based on long-distance lovers who apply for a K-1 visa, which allows the engaged partner of a US citizen to enter the United States so they can live happily ever after together in America.

Like any great TV show, however, there's a catch. As soon as the partners enter the US, they only have 90 days to determine whether they actually want to marry one another. If they don't say their "I dos" within that time frame, then the partner who is a non-US citizen gets sent back to their native country and it's all over.
One thing we can always rely on is cultural differences to cause drama between the couple and their families. But while some overcome them, others struggle to make it through. This season, the cast members hail from plates as diverse as Serbia, Cameroon and the Dominican Republic. Let's get to know them!
Meet the new '90 Day Fiancé' cast:
1. Kobe (Cameroon) and Emily (Salina, KS)
Twenty-nine-year-old Emily met 34-year-old Kobe during a night out in Xi'an, China and the two hit it off from the get-go. Within two weeks, their fling turned into an engagement and the couple had a baby on the way. Emily returned to Kansas where she gave birth to their son but Kobe wasn't able to join her due to his visa being delayed by the pandemic. He has yet to meet their son but the couple is trying to make it work in the US as a family.
2. Kara (Charlottesville, VA) and Guillermo (Venezuela)
Kara (29) caught the attention of Guillermo (23), a Venezuelan living in the Dominican Republic, during a work trip there and the two delved into a brief holiday romance. They kept in touch when she left and when Kara eventually moved to the Dominican Republic for her job, where cohabitating and an engagement quickly followed.

Due to the pandemic, Kara moved back home to the states, and the duo had been separated for nine months when they started filming the show. Now, Guillermo is set to move to Charlottesville, Virginia, but can they make a go at things in the US? It may be hard with Kara's partying habits and Guillermo's insecurities.
3. Bini (Ethiopia) and Ari (Princeton, NJ)
Fans will recognize 31-year-old Bini and 30-year-old Ari from the show's spin-off 90 Day Fiancé: The Other Way, where the couple met in Ethiopia whilst crossing the street and started a holiday romance.
However, when Ari found out she was pregnant, she moved to Africa to be with Bini. She was then forced to return to the US when their baby boy got sick and the couple have been doing long-distance ever since. Until now, that is. This season, they're trying to make things work as a family in New Jersey.
4. Shaeeda (Trinidad and Tobago) and Bilal (Kansas City, MO)
Bilal (42) and Shaeeda (37) sparked their romance online and their connection proved to be even stronger when they finally met in person months later—so much so that Bilal proposed after spending just one week with Shaeeda.
However, will they be able to make their contrasting lifestyles work long-term? Bilal is a divorced father of two, while Shaeeda still lives at home with her parents. Bilal isn't sure of the idea of having more kids, but Shaeeda has her heart set on starting a family of their own. Will it be a hurdle they can overcome? We'll have to wait and see!
5. Miona (Serbia) and Jibri (Rapid City, SD)
The young couple met when Jibri (28) noticed Miona (23) in the audience of his band's show in North Serbia and the two have been together ever since. Jibri popped the question during one of their romantic trips around the world but while Miona is ready to live a lavish life in Los Angeles, Jibri recently moved back to his family's home in South Dakota. Can Miona give the glitz and glam up for a small-town life to be with Jibri? It's a toughy.
6. Mohamed (Egypt) and Yvette (Albuquerque, NM)
Twenty-five-year-old Mohammed and 48-year-old Yvette may have a 23-year age gap but the couple fell for one another after Mohamed slid into Yvette's DMs after noticing their shared love of fitness—talk about a modern-day meet-cute!
They quickly became engaged after meeting in Egypt and now plan on starting a life together in the US. However, Yvette has a 12-year-old son with special needs, meaning Mohamed is going to be closer in age to his future stepson than to his wife if they say "I do." Is he up for the commitment?
7. Patrick (Austin, TX) and Thaís (Brazil)
Patrick (31) met Thaís (25) whilst looking for a Portuguese teacher on dating apps during a trip to Brazil where he visited his father's side of the family in hopes of reconnecting with them. He went on to court Thaís over several trips to Brazil, winning her heart, showering her with lavish gifts, and eventually proposing. The couple now plan on living together in the US but will Patrick be able to provide the extravagant life Thaís's used to in Brazil?
How to watch '90 Day Fiancé' from anywhere in the world:
American viewers can watch the new season of 90 Day Fiancé on TLC and Discovery+ on April 17 at 8 pm EST.
If you don't have access to Discovery+ or are not in the United States, you'll need the help of a VPN to watch season 9 of 90 Day Fiancé.
A VPN is a handy piece of software that allows you to browse anonymously, and to change your IP address so your mobile, computer, or laptop thinks it's in another location. Meaning, you can watch your favorite show, film or event—even if you're away from home.
Our favorite VPN service is ExpressVPN—rated the best VPN in the world right now, by our colleagues at TechRadar.
Sagal is a journalist, specialising in lifestyle, pop culture, fashion and beauty. She has written for a number of publications including Vogue, Glamour, Stylist, Evening Standard, Bustle, You Magazine, Dazed and Wonderland to name a few.